News & Press
£1 Million Investment In PTG's Expertise, For The Production Of Nickel Alloy Billets In The USA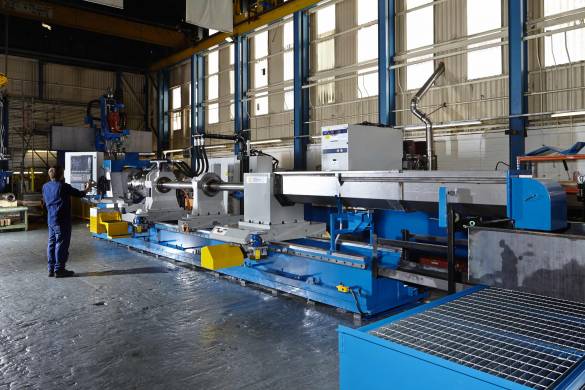 When one of the world's leading producers of nickel alloys required deep hole boring expertise for its main USA-based facility, it looked across the Atlantic to the United Kingdom and to PTG Heavy Industries.
The result was a £1 million order for the West Yorkshire heavy machine tools specialist, to design and build one of its highly acclaimed Binns & Berry Deep Hole Boring machines for the drilling and trepanning of solid billets weighing up to 1,000kg and measuring up to 1.5 metres in length.
Challenging production requirements
"Our customer had some quite challenging process requirements," comments PTG Heavy Industries' Sales Manager, Chris Cheetham. "In particular, they wanted to carry out drilling and trepanning followed by billet nose facing on the same machine – a benefit that would ensure much greater manufacturing efficiency as well as a significant reduction in process time."
X-axis turning slide
The customer's desire for all processes to be carried out on one machine was achieved through the inclusion of PTG Heavy Industries' unique 'X-axis' turning slide in the Binns & Berry machine design. This innovative feature permits the consecutive facing of each billet following the deep hole boring cycle. Therefore, through the inclusion of the turning slide, the need for each billet to be transferred to a separate lathe for subsequent facing is removed.
Understanding each customer's most specific requirements
PTG Heavy Industries is renowned for working extremely closely with each customer throughout those all-important machine tool design and build stages in order to ensure that the finished manufacturing solution meets their most specific requirements.
In this case, such uncompromising attention to detail resulted in the inclusion of a specially developed CNC control system with bespoke cutting screens, as well as real-time control of machine functions, such as cutting force, drilling speed and coolant pressure.
Binns & Berry Deep Hole Boring in more detail:
Proven across some of heavy industry's most challenging and demanding manufacturing environments, Binns & Berry Deep Hole Borers provide the most up-to-date boring capabilities, combined with uncompromising levels of reliability and accuracy.
Offering a full 'turnkey' design and build service, PTG Heavy Industries specialises in machine tool solutions that are purpose-developed to meet each customer's most exacting requirements. In addition to new machine tools, the company also sources 'donor' machines for re-engineering to customer requirements.
PTG Heavy Industries' Binns & Berry Deep Hole Boring machine tool solutions include:
Rotating workpiece, stationary tool
Counter rotation, workpiece and tool
Stationary symmetrical workpiece, rotating tool
Stationary asymmetrical workpiece, rotating tool
Each machine is based around a twin guideway, heavy duty cast iron bed. This is designed and engineered to transmit cutting forces centrally down the Z-axis drive, either by ball screw or dual rack and pinion system.
Machine capacities:
Drilling diameter: 50.8mm (2") to 254mm (10") diameter; trepan up to 381mm (15") diameter
Swing over bed capacities from 500mm to 1,500mm (20" to 59")
Boring depths from 3,000mm (118") to 20,000mm (800") in 500mm (20" increments)
Spindle powers from 22kW (30HP) to 150kW (200HP)
For full machine specification, visit the deep hole drilling machine page.
PTG. The first name in precision
PTG Heavy Industries is part of the UK-based Precision Technologies Group (PTG). Incorporating the brands of Binns & Berry, Crawford Swift, Holroyd and Holroyd Precision Components, PTG has established itself at the forefront of high precision machine tool design, build and supply. The PTG range includes heavy duty lathes, deep hole boring machines, friction stir welding machines, ultra precision grinding machines for rotor, thread and gear operations; rotor milling machines and special purposemachine tools for the manufacture of precision components. Industrial sectors served range from aerospace, medical and mould tool & die to marine, power generation, mining, oil & gas, steel, high end and heavy automotive. The friction stir welding process is patented by TWI Limited (The Welding Institute).
Photograph caption:
Proven across industry: Binns & Berry Deep Hole Boring from PTG Heavy Industries.
For more press information, please contact:
Neil Jones – Group Business Development Director, PTG
Tel: + 44 (0) 1706 526 590
Email: neil.jones@ptgltd.com