News & Press
£10m in Machine Sales During 2012 Confirms PTG Heavy Industries As a 'supplier of Choice'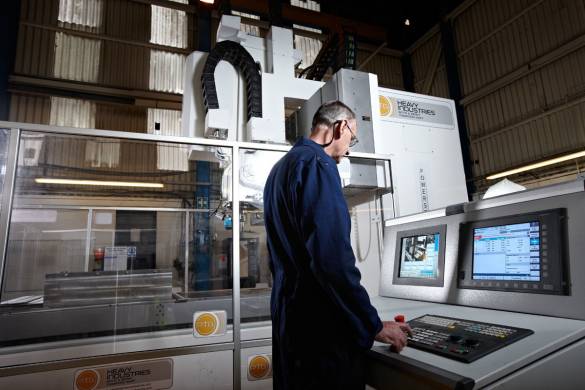 With the division's machine sales topping £10 million during 2012 – an increase of 30% over the previous 12-month period – customer appreciation of the inspiring engineering solutions that PTG Heavy Industries provides is clearly reflected in sales.
Breaking into new markets
"As you can imagine, we are delighted to report exceptional sales growth during 2012," comments Sales Manager, Chris Cheetham. "Perhaps most importantly, the year also saw us make considerable headway into several new markets. For example, we achieved a particularly significant order from the United States.
"Worth $2.3 million, this order was for a 25,000kg-capability deep hole boring machine that will be used for the deep hole drilling of nickel alloys, with up to 15" diameter holes. Another order from the USA then followed – this time for a roll turning lathe worth $900,000. It will be used by a customer in the steel industry."
World's largest friction stir welder for China
"Without a shadow of a doubt, however," he continued, "the real highlight of the year for us was the design and build of a Powerstir Friction Stir Welding Machine with a 6m x 4m gantry, for a customer in China's avionics industry."
Specially designed for research and development purposes – and believed to be the most powerful friction stir welder in the world – the machine is capable of producing superior friction stir welds in aluminium alloys, titanium and stainless steel.
Orders from Russian space industry
Yet if superior friction stir welds for China's avionics industry seem impressive, it is perhaps two orders from the Russian space sector that best demonstrate the considerable capabilities of PTG's Powerstir technology.  Scheduled for delivery in early 2013 – and with a combined value of more than £2 million – the machines will provide an exciting new market opportunity for PTG Heavy Industries.
Further new orders – and making old machines work like new
During 2012, PTG Heavy Industries also supplied six high capacity lathes to customers in India, while a UK steel manufacturer expanded its portfolio of PTG lathes to 13 machines. Two older machines, a roll grinder and a lathe, were then re-engineered for UK customers. PTG Heavy Industries offers a comprehensive refurbishment and upgrade service for older machines and the two models in question were brought up-to-date with current day specifications and technologies.
"We are entering 2013 with a full order book," added Chris Cheetham, "and look forward to the opportunities and challenges that the New Year will invariably bring."
PTG. The first name in precision
Incorporating the brands of Holroyd, Binns & Berry, Crawford Swift and Precision Components, PTG has established itself at the forefront of high precision machine tool design, build and supply. The PTG range includes ultra precision grinding machines for rotor, thread and gear operations; rotor milling machines; heavy duty lathes; deep hole boring machines; friction stir welding machines and special purpose machine tools for the manufacture of precision components. Industrial sectors served range from aerospace, medical and mould tool & die to marine, power generation, mining, oil & gas, steel, high end and heavy automotive. The friction stir welding process is patented by TWI Limited (The Welding Institute).
For more press information, please contact:
Neil Jones – Group Business Development Director, PTG
Tel: + 44 (0) 1706 526 590
Email: neil.jones@ptgltd.com