News & Press
Holroyd Apprentice Scoops a Top Honour at Rochdale Training's 44th Annual Prize-giving Event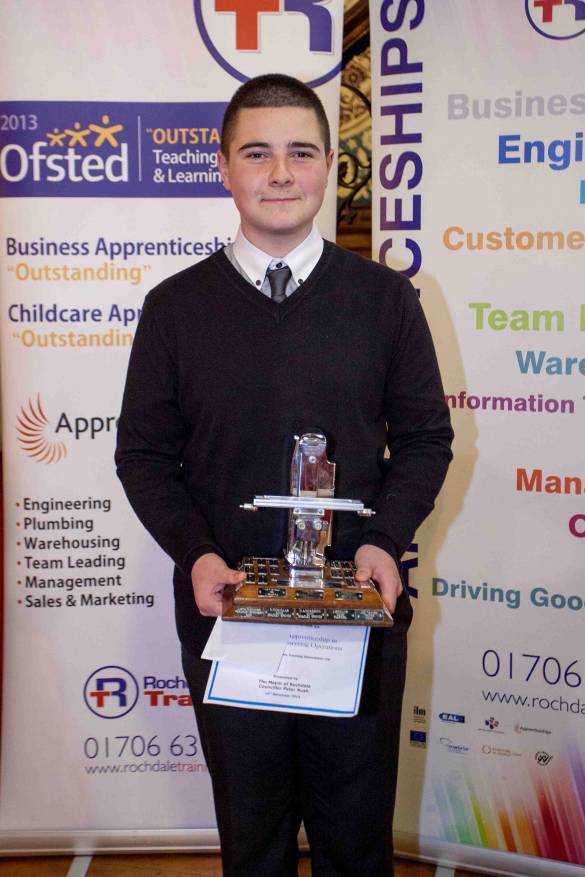 Rochdale-based specialist machine tools manufacturer, Holroyd Precision Limited, had good reason to celebrate when one of its Mechanical Engineering apprentices scooped a top honour at Rochdale Training's 44th Annual Prize-giving event on 14 November 20
Holroyd Precision's Sam Greenwood, 18, from Rochdale, won the 2013 First Year Engineering Apprentice of the Year award and received his NVQ Level 2 in Performing Engineering Operations.
Three other apprentices from Holroyd Precision Limited  – Stephen Alexander, Daniel Sheridan and Liam McCarry– also collected NVQ Level 2 awards at the event, which took place at Rochdale Town Hall and was attended by more than 200 guests. The Mayor of Rochdale, Councillor Peter Rush, presented the awards.
Appointed as an Apprentice Ambassador
As a further reflection of the high quality of Holroyd's apprentices and the company's apprenticeship programme, third-year Mechanical Engineering apprentice, Josh Mills, 21, also from Rochdale, was recently made an Apprentice Ambassador by Rochdale Training. Only a small number of apprentices are selected each year to act as Ambassadors. The role will require Josh to visit schools, job fairs and events to promote apprenticeships, talk about his experiences and explain what being an apprentice means.
Sam Greenwood: chosen for attitude, ability and workmanship
Talking about Sam Greenwood's achievement, Rochdale Training Engineering Manager, Kevin Beck, said: "The First Year Engineering Apprentice of the Year award is always a very difficult decision and this year was no different. The winner is selected by instructors with regards to attitude, ability, timekeeping and quality of workmanship."
Josh Mills: fully committed and has made excellent progress
Describing Josh Mills, who worked in a car body shop before joining Holroyd Precision Limited, Rochdale Training's Stuart Chapman, added: "Josh has been fully committed and made excellent progress in all areas and has often stated he wished he had followed the apprenticeship route straight after leaving school. With Josh's personality, ambition and character, I feel he will be best placed for the Ambassador role."
Holroyd Precision – investing in training
"I am delighted to congratulate both Josh and Sam on their awards," says Holroyd Precision's HR Director, Don Whittle. "They have worked extremely hard and diligently during the past 12 months and greatly deserve the recognition. For more than 25 years, we have invested in recruiting and training young persons as part of our apprenticeship and graduate training programmes. With expert engineering support from Rochdale Training, we are seeing our young apprentices mature and, in many cases, take on senior roles in the highly specialised and technically challenging machine tool industry with Holroyd Precision and Precision Technologies Group."
www.holroyd.com
Photograph caption:
Holroyd Precision apprentice, Sam Greenwood, winner of the 2013 First Year Engineering Apprentice of the Year award.
For more press information, please contact:
Neil Jones – Group Business Developement Director, PTG
Tel: +44 (0) 1706 526 590
Email: neil.jones@ptgltd.com