News & Press
North American Long Steel Specialist Turns To PTG Heavy Industries And Sandvik Coromant For Powerful New Roll Lathe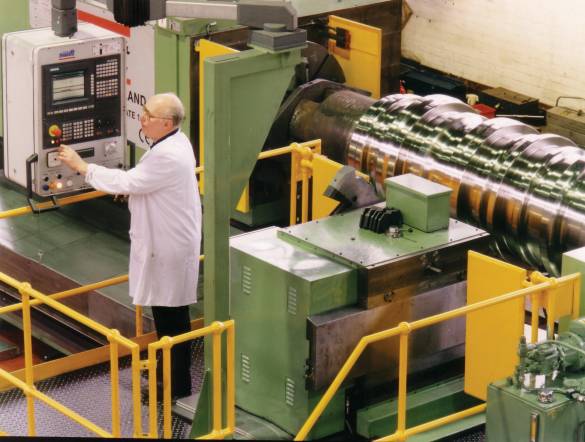 PTG Heavy Industries' roll turning expertise, and advanced cutting tool solutions from Sandvik Coromant, deliver robust lathe for steel rolls with diameters of up to 1250mm.
UK-based PTG Heavy Industries, working in conjunction with cutting tool specialist and long-term partner, Sandvik Coromant, has designed and built one of its acclaimed Binns & Berry roll lathes for use by one of the world's leading suppliers of speciality long steel products.
The lathe, a Binns & Berry Data 2000 model, was selected for its proven reliability, robust design, considerable power and ability to machine steel rolls of up to 1250mm in diameterand 15 tons in weight. Contributions from Sandvik Coromant included the engineering of special tools specific to component profiles for optimised performance, and the use of ceramic inserts to ensure high productivity when working with difficult-to-machine workpieces.
"We are delighted to have received such a substantial machine order from this North American customer," comments PTG Heavy Industries' Sales Manager, Chris Cheetham. "As the organisation is recognised globally for its steel-making capabilities, it was especially rewarding to be chosen for the immense quality and capability that our machines provide."
Understanding the demands of roll turning
PTG Heavy Industries thoroughly understands the demanding requirements of the roll turning process and, as such, incorporates highly intelligent solutions into its roll lathe designs. This not only ensures trouble free and efficient roll manufacture, but also highly efficient machine maintenance. While PTG Heavy Industries offers considerable experience in machining a wide range of roll specifications, however, it was their in-depth knowledge of machining rolls of hardness specifications in the high 80 Shore 'C' table that was of particular interest to their customer.
Putting the customer first
PTG Heavy Industries' expertise in building highly reliable, high precision machine tools, however, was only one reason for it securing the order. "We always strive to meet each customer's most specific requirements," adds Chris Cheetham. "This enables us to adapt our solutions to meet the most demanding of manufacturing strategies."
To this end, PTG Heavy Industries made use of its strong relationship with long-term partner Sandvik Coromant from the earliest stages of the project. The two companies worked closely to create tool designs, establish cutting data and identify suitable tool path strategies to meet the customer's requirements. These strategies ensured that component machining times and cycle time reduction demands were addressed, while delivering high cutting tool security and reliability and high quality surface finishes.  Sandvik Coromant also provided on-site support – including CAD/CAM expertise – to PTG Heavy Industries and the end user during the machine acceptance phase of the project.
Recognised for hot commissioning capability
PTG Heavy Industries was also able to demonstrate its considerable expertise during the hot commissioning stage of the project. "We are thoroughly aware of the significant pressures that manufacturers are under to realise a return on their capital investments," continues Chris Cheetham, "Accordingly, we have developed our own processes and procedures to ensure the prompt and successful commissioning of every Binns & Berry and Crawford Swift machine. Our customer was particularly impressed with the hot commissioning phase, as well as with the contribution that the Data 2000 is already making to long steel production in their roll shop. The design and construction of the lathe provides a machine tool with tremendous stability, to ensure exemplary surface finishes. This allows for the turning of deep and complex roll profiles 'in house' which, in turn, allows for greater efficiencies and less down time in the production schedule."
Data 2000 roll lathe – built for the most demanding requirements
The Binns & Berry Data 2000 roll lathe supplied to the long steel specialist is well equipped for the challenges presented by some of the world's most demanding steel production environments.
Capable of machining steel rolls of up to 1250mm in diameter and up to 15 tons in weight, the Data 2000 features a 1100mm (43.3") wide bed and a heavy-duty single piece full to floor casing. Headstock power is a considerable 80kW (108HP). The lathe is also equipped with a heavy-duty saddle and cross-slide, and heavy-duty tailstocks with built-in load gauge. Guideways are constructed from 62 – 64HRC box type precision tool steel.
Sandvik Coromant Capto® quick change tooling
As well as specially engineered tools and ceramic inserts, the lathe uses the Sandvik Coromant Capto® quick change tooling concept. Coromant Capto speeds tool changes, ensures high accuracy, repeatable coupling, and makes life easier for operators by delivering stability, strength and rigidity while being lighter and less cumbersome than conventional alternatives.
PTG Heavy Industries: a long history of supporting the steel industry
PTG Heavy Industries has a long history of supplying and supporting machine tools for the steel industry. Experience with iron, forged & welded and cladded rolls has ensured that the machine tools specialist fully understands the challenges associated with machining many roll specifications, including: spheroidal graphite pearlitic chill,
acicular chill, alloy indefinite chill, alloy clear chill, carbon clear chill and many others. Rolls with hardness specifications in the high 80 Shore 'C' table have been consistently machined and re-machined on Binns & Berry and Crawford Swift lathes by roll makers and steel mills worldwide.
PTG Heavy Industries' roll machining experience extends to rolls used in many different applications including: rod, bar, strip, rebar and tube mills; reeler, straightening and continuous-caster rolls and many other roll applications.
PTG. The first name in precision
PTG Heavy Industries is part of the UK-based Precision Technologies Group (PTG). Incorporating the brands of Binns & Berry, Crawford Swift, Holroyd and Holroyd Precision Components, PTG has established itself at the forefront of high precision machine tool design, build and supply. The PTG range includes heavy-duty lathes, deep hole boring machines, friction stir welding machines, ultra precision grinding machines for rotor, thread and gear operations; rotor milling machines and special purposemachine tools for the manufacture of precision components. Industrial sectors served range from aerospace, medical and mould tool & die to marine, power generation, mining, oil & gas, steel, high end and heavy automotive. The friction stir welding process is patented by TWI Limited (The Welding Institute).
For specific information about roll lathes, visit the PTG Roll Lathes Page
Photograph caption:
Binns & Berry roll turning expertise, from PTG Heavy Industries.
For more press information, please contact:
Neil Jones – Group Business Development Director, PTG
Tel: + 44 (0) 1706 526 590
Email: neil.jones@ptgltd.com