News & Press
PTG Absolute Care: Setting The Standard In Machine Tool Maintenance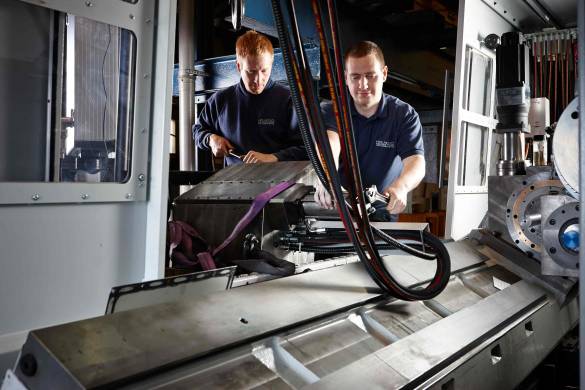 UK-based Precision Technologies Group (PTG) has totally revised its range of machine tool maintenance and support services, to provide what it believes to be one of the most comprehensive and cost-effective customer care packages available for machine tool users globally.
Tailored maintenance for Holroyd and PTG Heavy Industries' machines
Under the name of Absolute Care, the company has created a suite of tailored maintenance solutions for users of its Holroyd ultra-precise milling and grinding machines. A similar range of Absolute Care services is available for owners of PTG Heavy Industries' Powerstir friction stir welders, and Binns & Berry/Crawford Swift heavy-duty lathes, roll lathes, deep hole boring machines and roll grinding machines.
PTG care for other machine brands
In addition, extensive repair, refurbishment and upgrade services, as well as CNC repair and upgrade solutions, are available for lathes and machine tools from a wide range of other manufacturers.
Ensuring a long and reliable working life
"At Precision Technologies Group, we have always strived to offer the highest levels of machine tool maintenance," comments Customer Care General Manager, Alan Mead. "In creating our menu of Absolute Care services," he continues, "we have made it simpler than ever for our customers to select the precise maintenance solutions they require, and ensure their PTG machine tools provide a long and reliable working life. Additionally, by developing a bespoke range of services for owners of other machine tools, we provide the option of having their equipment maintained to the uncompromisingly high standards that Precision Technologies Group is renowned for.
Absolute Care: the comprehensive solution
The Absolute Care services offered by Precision Technologies Group include emergency UK, EU and worldwide engineer response, remote machine support and fault diagnosis, Planned Preventative Maintenance (PPM), process enhancements, CNC repairs and upgrades, machine refurbishment and reengineering, OEM parts, and a brand new dedicated machine tool care plan. For full details visit: www.holroyd.com
PTG. The first name in precision
Incorporating the brands of Holroyd, Binns & Berry, Crawford Swift and Holroyd Precision Components, PTG has established itself at the forefront of high precision machine tool design, build and supply. The PTG range includes ultra precision grinding machines for rotor, thread and gear operations; rotor milling machines; heavy-duty lathes; deep hole boring machines; friction stir welding machines and special purposemachine tools for the manufacture of precision components. Industrial sectors served range from aerospace, medical and mould tool & die to marine, power generation, mining, oil & gas, steel, high end and heavy automotive.

http://www.holroyd.com/customer-care/heavy.php
Photograph caption:
Absolute Care: Holroyd technicians maintain a TG series grinding machine.
For more press information, please contact:
Neil Jones – Group Business Development Director, PTG
Tel: + 44 (0) 1706 526 590
Email: neil.jones@ptgltd.com