News & Press
PTG Heavy Industries Introduces Sub-contract Friction Stir Welding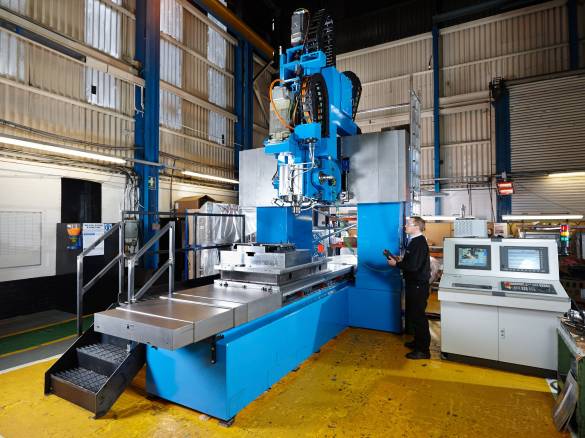 Precision Technologies Group company, PTG Heavy Industries, is now able to offer full Friction Stir Welding sub-contract welding facilities from its purpose-built FSW manufacturing facility in Elland, UK.
The result of considerable investment at the organisation's Yorkshire HQ, this new service also includes FSW product, prototype and component development as well as research into the jointing of difficult to weld and exotic alloys. It is available for the smallest of FSW applications, through to aircraft fuselage and railway carriage manufacture.
Recognised as a global leader in FSW
"Ever since the launch of Crawford Swift 'Powerstir' Friction Stir Welders, we have been recognised as a global leader in this innovative means of jointing metals," comments PTG Heavy Industries' Sales Manager Chris Cheetham. "Our brand new sub-contract welding and product development services use our own Crawford Swift Powerstir FSW machines and offer far-reaching opportunities for achieving high integrity, full-penetration welded joints that are virtually defect free."
Excellent mechanical properties
Sub-contract welding carried out using Powerstir Friction Stir Welders benefits from precise position control, force control, load sensing, real-time data logging of weld parameters, seam tracking and minimum deflection. The result is proven weld quality, excellent mechanical properties, virtually no porosity and the opportunity of reduced wall thickness in many applications
Powerstir FSW: superior welding for planes and high-speed trains
From small, intricate components to automotive products, aircraft manufacturing, railway carriage panels and shipbuilding, Powerstir Friction Stir Welding provides a clean, highly aesthetic alternative to traditional welding.
Over recent years, Powerstir models have found particular favour with companies from across the avionics and high-speed rail sectors. In a joint venture with its technology partner, the China Friction Stir Welding Center (CFSWC), for example, PTG Heavy Industries developed a Powerstir model for use in the manufacture of railway car bodies similar to those used with China's record-breaking 'Harmony' high-speed train. This required the design and build of a Powerstir machine with a 30m x 4m gantry – a machine able to produce the longest single FSW railway panel welds in China at over 15 metres in length.
PTG. The first name in precision
Incorporating the brands of Binns & Berry, Crawford Swift, Holroyd and Holroyd Precision Components, PTG has established itself at the forefront of high precision machine tool design, build and supply. The PTG range includes heavy duty lathes, deep hole drilling machines, Friction Stir Welding (FSW) machines, ultra precision grinding machines for rotor, thread and gear operations; rotor milling machines and special purposemachine tools for the manufacture of precision components. Industrial sectors served range from aerospace, medical and mould tool & die to marine, power generation, mining, oil & gas, steel, high end and heavy automotive.
PTG Heavy Industries is a technology partner of the China Friction Stir Welding Center and works closely with The Welding Institute (TWI).
Visit our sub-contract friction stir welding page for more information
Photograph caption:
Crawford Swift Powerstir Friction Stir Welding, from PTG Heavy Industries.
For more press information, please contact:
Neil Jones – Group Business Development Director, PTG
Tel: + 44 (0) 1706 526 590
Email: neil.jones@ptgltd.com