News & Press
PTG's Augmented Reality Display Topped the Emo 2013 Twitter Conversation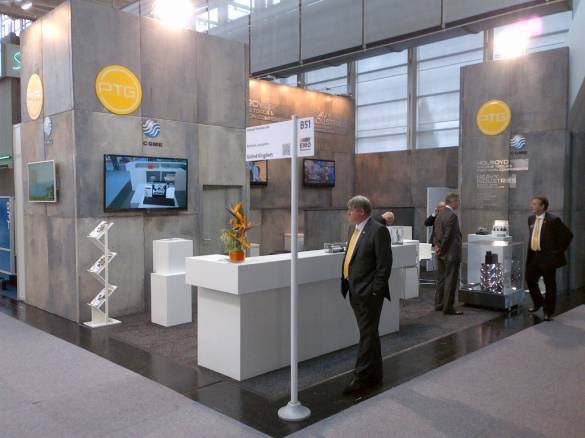 One company was clearly on the lips and tweets of visitors at the 2013 EMO Hannover metalworking trade fair in September – and that was UK-based Precision Technologies Group (PTG). Taking the event's theme of 'Intelligence in Production' to exciting new levels, instead of displaying examples of its ultra precision machinery, PTG treated delegates to an incredible display of augmented reality.
Unprecedented access to Zenith 400
Showcasing the Zenith 400 helical profile grinder, from PTG company, Holroyd Precision Limited, the augmented reality presentation provided delegates with unprecedented access to the machine's features and capabilities. Representing a whole new generation in grinding technology, the Zenith 400 has the capability to precision grind rotors of up to 420mm in diameter. It is also the only helical profile grinder of its kind to offer all three grinding technologies: aluminium oxide, diamond-hard plated cubic boron nitride and vitrified, dressable CBN.
#1 trending exhibitor
"We debated long and hard over whether to bring a Zenith 400 machine to EMO or to invest in augmented reality," commented Group Business Development Director, Neil Jones. "Clearly our decision paid off. The Precision Technologies Group stand very quickly became the talk of the event, not only attracting the attention of existing customers and competitors, but also drawing in a considerable number of potential buyers. Photos of PTG's stand topped the #EMO2013 conversation on Twitter during the first day of the exhibition.
Opportunity to view precision components
In addition to the augmented reality presentation, delegates were also able to view high strength welded joints created by Powerstir friction stir welders from PTG Heavy Industries Limited, as well as bespoke helical forms from PTG company, Precision Components Limited.
PTG. The first name in precision
Incorporating the brands of Holroyd, Binns & Berry, Crawford Swift and Precision Components, PTG has established itself at the forefront of high precision machine tool design, build and supply. The PTG range includes ultra precision grinding machines for rotor, thread and gear operations; rotor milling machines; heavy duty lathes; deep hole boring machines; friction stir welding machines and special purpose machine tools for the manufacture of precision components. Industrial sectors served range from aerospace, medical and mould tool & die to marine, power generation, mining, oil & gas, steel, high end and heavy automotive.