News & Press
The Holroyd Apprenticeship Programme: Investing in the future of Rochdale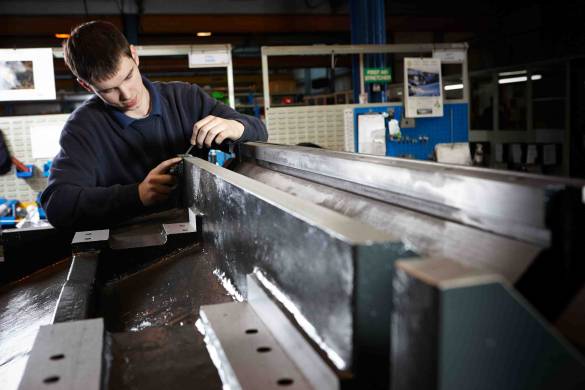 When the latest cohort of craft apprentices joins Rochdale-based Holroyd Precision Limited in September 2013, the individuals concerned will be continuing a tradition that goes back for almost as long as the 150-plus years that Holroyd has been a leading employer in the region.
Committed to the local workforce
"As a company, we are committed to investing in the local workforce," comments HR Director, Don Whittle. "Indeed, as part of our strategy to maintain the exacting engineering standards that we have become renowned for, every year we look to take on a number of young people; developing their skills through a strong, engineering-based modern apprenticeship programme that typically takes up to four years to complete. This is in addition to offering summer placement opportunities to promising engineering degree students."
Very real career opportunities
"Perhaps most importantly," he continues, "when interviewing for each year's apprentices, we look very carefully at where future skills gaps may exist in our business. This not only ensures solid succession planning by developing the core skills essential for the future of Holroyd, but also gives each apprentice a very real career opportunity to work towards."
Close partnership with Rochdale Training Association
Apprentices joining Holroyd only a few years ago would have completed their first year of training at the company's on-site training school. However, today's apprentices spend twelve months with the teaching partner to Holroyd, Rochdale Training Association.
A shared approach to training
Having worked with Rochdale Training Association for many years, in 2006 Don Whittle took the decision to move Holroyd's first year apprenticeship learning programme off-site to the training provider. "We decided that it made good sense to pool our resources," he says. "As a result, Holroyd apprentices continue to receive the highest standards of initial training, Rochdale Training Association benefits from the government funding that our apprentices attract, while other apprentices are now able to see and experience the Holroyd way of doing things."
Developing key skills from day one
During year one, Holroyd apprentices learn a range of key engineering skills at Rochdale Training. This is in addition to attending college for one day each week to study towards the BTEC Ordinary National Certificate. With their first year completed, they then return to Holroyd's Milnrow headquarters for on-the-job training. Ultimately working towards the NVQ Level 3, they continue with day release, progressing to the BTEC Higher National Certificate award.
Providing first-class progression
"Industry-recognised qualifications and a career with plenty of opportunities for progression, however, aren't necessarily where the story ends," adds Don Whittle. "Whenever we feel that an apprentice has the necessary ability and aptitude, we'll continue to support them through degree-level study – and beyond – if that's a route they're happy to pursue. We really do aim to provide our employees with the best opportunities available."
Long and successful careers
It's a testament to the quality of Holroyd's selection process and training that the majority of those awarded an apprenticeship with the company not only stay the course, but typically go on to enjoy long and successful careers with the machine tools and precision components specialist.
Full membership of the IMechE
Former apprentice, Philip Hart, 32, is a perfect example of Holroyd's commitment to staff development. It was while Philip was working through his NVQ Level 3 in 1998 that it was decided to 'fast track' him onto a university course instead. He went on to secure an honours degree in engineering at Salford University. Now a Research & Development Engineer with Holroyd, Philip has recently achieved full membership of the Institute of Mechanical Engineers (IMechE) – quite possibly the highest accolade to his technical expertise so far.
'The best you can get'
Another example of Holroyd's commitment to employee development is Production Foreman, Steve Greenwood. After completing his apprenticeship in 1988, Steve gained experience across several areas of the business, including time working on multi-axis rotor grinding machines and a specialist supercharger production cell, before being promoted to the role of Production Foreman in the Precision Components Division.
Currently responsible for a team of 30 staff, Steve heads a department with an annual turnover of £6.5 million. He says: "The apprenticeship programme at Holroyd is the best you can get. It provides first-rate training, incredible levels of support and encourages a real work ethos."
'…in good stead for the future'
Perhaps the best person to ask about the opportunities provided by Holroyd, however, is current apprentice, Josh Mills.  "I'm thoroughly enjoying what I'm doing and I'm getting paid for it," says Josh, 20, who began his engineering apprenticeship in 2011 after previously working in a car body shop. "I'm learning cutting-edge skills that will put me in good stead for the future."
Outstanding opportunities for young people
Commenting on her organisation's relationship with Holroyd Precision Limited, Rochdale Training Association's Chief Executive, Jill Nagy, adds:
"We have worked with Holroyd for over 25 years and immensely value the partnership we have developed. During this time we have helped recruit, develop and train their apprentices, many of whom are from the local community.
"Only recently," she continued, "Holroyd recruited a young person from one of our employability courses. That person not only completed an apprenticeship, but also progressed into higher education! Holroyd provides outstanding opportunities for local residents and young people. HR Director, Don Whittle, was also a board member of Rochdale Training for many years. As a result, we greatly benefited from Holroyd's advice and guidance, which enabled us to deliver our Apprenticeship Programme according to employers' needs."
To find out more about the Holroyd apprenticeship programme, please email: Mary.McGrath@Holroyd.com or call 01706 526 590.