News & Press
A Second Greater China Business Award For Precision Technologies Group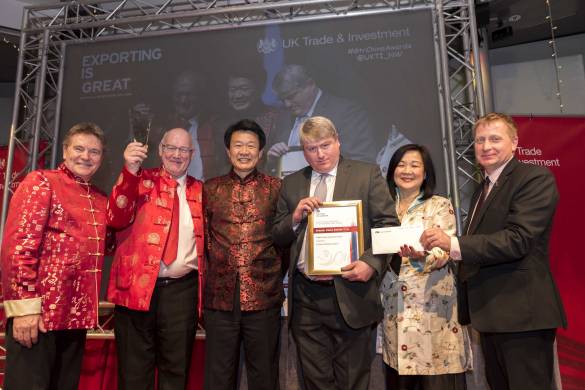 Rochdale-based Precision Technologies Group (PTG) was the proud winner of the Business Award category at the 11th Annual NW England Greater China Awards on Friday, 19th February 2016.
Organised by UK Trade & Investment (UKTI), the 2016 event was held at The Lowry Theatre, Salford. The award given to PTG was in recognition of the organisation's continued successes in developing business and network links across Greater China, including bilateral trade and investment.
Surprised and honoured
"We were surprised and honoured to secure the 2016 Business Award," comments PTG's Chief Executive Officer, Dr Tony Bannan, "particularly as we previously won the award in 2014. This further recognition by UKTI of our achievements is clear proof of our ongoing drive to build solid business relationships with organisations that could benefit from our ultra-precise rotor milling and grinding technologies.
"The judges' recognition is all the more significant as we are founder members of the Manchester-China Forum – a body that is passionate about strengthening ties between China and the city region."
Developing strong business links with China
Precision Technologies Group has been developing strong business connections with China and Taiwan since the 1980s. The business established a Chinese office in 2007 and has enjoyed increased sales into China year-on-year. In 2010 PTG was acquired by Chinese industrial corporation, Chongqing Machinery & Electric Co. Ltd. (CQME), which has made significant investment in the Rochdale business since acquisition. Typically, 98% of PTG's products are exported, with 71% destined for Greater China.
The NW England Greater China Awardsare sponsored by Cathay Pacific, CIMA, Koehler Group and Orangefield Group and recognise success through the following categories: the Recognition Award, the Education Links Award, the Rising Star Award, and the Business Award. By coincidence, the 2016 Education Links Award was won by Alliance Manchester Business School – an institution that PTG company, Holroyd Precision, has established solid ties with, by helping MSc students gain 'real-world' international business skills.
Winners of a 2015 Queen's Award for Enterprise
Only last year, Holroyd Precision received a 2015 Queen's Award for Enterprise – the UK's highest accolade for business success – having achieved year-on-year growth in exports. The Queen's Award was given in recognition of the company's successes in developing new markets globally, creating new machine tool technologies with particular focus on those markets, and for Holroyd's considerable successes in exporting its highly specialised grinding and milling machines to organisations around the world.
PTG. The first name in precision
Incorporating the brands of Holroyd, Binns & Berry, Crawford Swift and Holroyd Precision Components, PTG has established itself at the forefront of high precision machine tool design, build and supply. The PTG range includes ultra precision grinding machines for rotor, thread and gear operations; rotor milling machines; heavy duty lathes; deep hole boring machines; friction stir welding machines and special purpose machine tools for the manufacture of precision components. Industrial sectors served range from aerospace, medical and mould tool & die to marine, power generation, mining, oil & gas, steel, high end and heavy automotive.
Photograph caption:
Clive Drinkwater (UKTI), Don Whittle (PTG), Consul General Li Yongsheng, Lawrence Neary (PTG), Philomena Chen (UKTI), Keith Harrison (Cathay Pacific)
For more press information, please contact:
Neil Jones – PTG
Tel: + 44 (0) 1706 526 590
Email: neil.jones@ptgltd.com