News & Press
Bringing New Levels Of Intelligence To Helical Rotor Production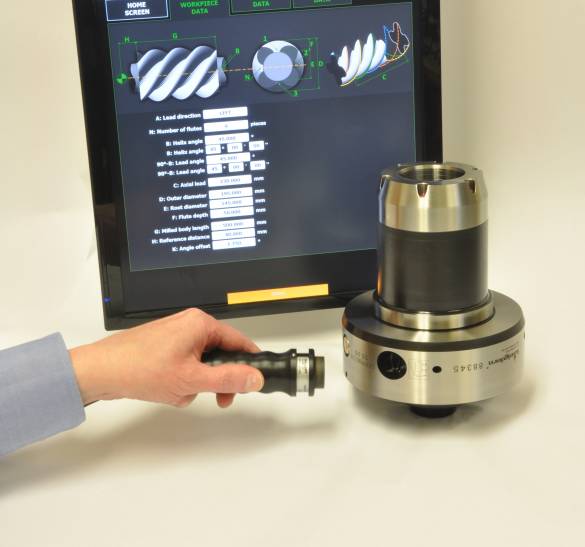 Precision Technologies Group company, Holroyd Precision, has introduced a number of innovative technologies to its rotor milling and grinding machines that will bring even greater levels of intelligence and efficiency to its customers' manufacturing strategies.
"Our goal has always been to develop technologies which simplify the manufacturing of even the most complex helical components," comments Holroyd Regional Sales Director, Steven Benn. "The opportunity for customers to specify our own HMI, for example, and the introduction of the Holroyd Profile Management System software program to assist with the entire helical component manufacturing process, are perfect examples. As is our ability to provide rotor milling and grinding machines that integrate seamlessly with individual Industry 4.0 strategies – and offer future-proofed technologies."
Holroyd RFID
Advanced RFID scanning, as developed for Holroyd's Zenith 400 helical profile grinder, is now available with all Holroyd EX Series rotor milling machines and Holroyd TG Series rotor and screw grinding machines. Particularly valuable where machines are integrated into automated production cells, Holroyd's RFID tagging process offers a fool-proof solution to quality control, ensuring that chuck, collet, cutter and tailstock – in fact virtually any component or tooling item that needs to be switched between manufacturing cycles – is changed to the correct item for any individual setup.
New levels of performance and production data
In a world where information is king, Holroyd is also working with leading automation specialists to not only incorporate IO-Link communication technology into new machines, but also offer it as an upgrade opportunity to deliver rapid, 'single cable' data transfer and performance monitoring capability from older machine tools.
"The opportunities that IO-Link communication provides for process data collection and analysis are immense," adds Steven Benn. "We selected IO-Link for its ability to handle vast amounts of data, its recognised capability in providing powerful opportunities for industrial automation and its capacity to communicate at every level, right down to the simplest automation.
"For Holroyd machine tool customers," he continues, "the real benefit will be the opportunity to learn from incredible levels of rich, real-time as well as historic production and performance data ­– in order to make comparisons that can benefit efficiency, accuracy and quality, and determine trends. For example: does a machine's workhead temperature alter significantly during a particular process – and, if so, what is the cause? Do production rates and cycle times vary by operator? Again, why? And does a variation in a machine's coolant pressure or flow rate relate to expected tool life? These are just hypothetical questions. But with production and machine condition data available immediately to desktop, tablet and phone, we will provide customers with a wealth of information to help drive performance and advance the predictive diagnostic capabilities of our PPM service programs."
Access to totally anonymised machine performance data, collected – with consent – from customers globally could also assist Holroyd in further enhancing what it believes to be class-leading customer care and planned preventive maintenance (PPM) packages, including scheduling maintenance around production regimes. Such valuable information will also help with Holroyd's continuous design improvement strategy, maintaining its position as a manufacturer and supplier of high quality, precision machine tools.
Manufacturing efficiency like never before
"Knowing exactly how different machines perform in quite different manufacturing environments, even if – as anticipated – any variation in performance is miniscule, will enable us to deliver even higher standards of support to all our customers," concludes Steven Benn. "At the end of the day, our objective is simple: to enable customers to answer what we call the 100% rule. Is a given machine running at 100% speed and achieving 100% performance? Is it available for use 100% of the time? And do its operators always achieve 100% quality? With answers to these questions, and our support, customers will be able to realise levels of productivity and efficiency like never before."