News & Press
Crawford Swift Machine Plays its Part for World's Swiftest Train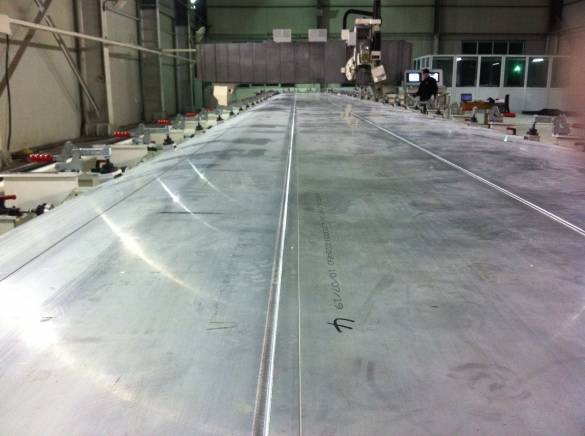 The installation and commissioning of a 30m x 4m gantry Crawford Swift "Powerstir" FSW machine by PTG Heavy Industries of Elland, West Yorkshire, in a joint project with China Friction Stir Welding Centre, doesn't just represent a first for China and for PTG.
The "Powerstir" friction stir welding machine has now played its part in a world first too, in manufacturing the railway car bodies similar to those used in the "Harmony" high speed train, otherwise known as CRH 380A, which recently achieved a record speed for an unmodified passenger train of 486.1 km/hr or 303 mph. The record-breaking test run took place along China's new high speed rail link between the capital, Beijing, and the country's financial epicentre, Shanghai.
Not only that but yet another record was broken too, with the machine producing the longest-ever single FSW railway panel weld in China coming in at over 15 metres in length!
PLASTIC SURGERY
In simple terms, FSW is a "solid state" welding process which joins materials by plasticizing and consolidating the material around the joint line. A rotating pin generates heat which creates a tubular shaft of plasticized material around the pin. Then pressure, provided by forward motion and the downward force of the tool shoulder, forces the plasticized material to the back of the pin, cooling and consolidating the material.
No melting takes place. And the final result is a fine-grained, hot-worked weld with no entrapped oxides or porosity.
FASTER WELDING, FASTER TRAIN
FSW represents a quantum leap forward from previous welding methods. For a start, with speeds of up to 2000 mm/min, FSW is, appropriately enough, more than five times faster than conventional welding techniques which also suffer from a number of other disadvantages with the conventionally welded material being weakened in the heat affected zone, high energy consumption, distortion requiring secondary operations, the requirement for two operators per weld head, no record of weld data, fume extraction and environmental hazards.
The FSW process, by comparison, gives low distortion even in long welds, excellent mechanical properties, established by rigorous fatigue, tensile and bend testing, with no fumes, porosity or spatter. The tool is non-consumable, can operate in all positions and is energy-efficient requiring no filler wire or gas shielding with some tolerance to imperfect weld preparation. While, most importantly of all, it produces vastly superior joint strength and weld appearance with no post-weld grinding.
A TECHNICAL KNOCK-OUT
The machine's superiority derives from its advanced technology. It comes complete with a UK designed and built, medium duty 3000 RPM 15kW water cooled spindle, 60kN Z axis welding force, and 30kN X & Y welding force.
The machine specification includes a Siemens 840 D solution line with 5 axes control and Crawford Swift Powerstir optimised front end, which has been developed by PTG specifically for FSW applications and employs force control, in which the operator sets a welding force and the machine adapts welding parameters through closed loop control to maintain a pre set welding tonnage ensuring that welding parameters are optimised.
The machine also features state-of-the-art seam tracking and height sensing laser equipment enabling weld height and seam in the "X, Y" plane to be tracked along the curves of an aluminium panel or extrusion, an essential requirement in the welding of high speed train carriage panels and roof sections.
A UNIQUE LINK WITH CHINA
PTG Heavy Industries has forged a strong partnership with China Friction Stir Welding Centre.
And this link is destined to deliver further dividends for the Elland-based concern as China pushes on with its audacious plan to link all its major centres by high speed rail and become the leading global player in the high speed rail business. The planned nationwide network will ease the pressure on China's airports and deliver environmental benefits as a "greener'" alternative to short-haul internal flights.
The Beijing-Shanghai link alone has cost £21 billion and is expected to double the capacity of the current service to a staggering 80 million passengers a year and halve travel time to a mere five hours. By 2013, China will have the world's most comprehensive high-speed railway network with no less than 800 streamlined bullet trains. While China's 4706 miles of high-speed track is expected to more than double to 10,000 miles by 2020. And, most remarkably of all, China's ambitions for the project even include plans for a service that will carry passengers all the way from London to Beijing in just two days.
Friction Stir Welding
Patented in 1991 by TWI