News & Press
Expect A Stirring Display From PTG Heavy Industries At FABTECH 2015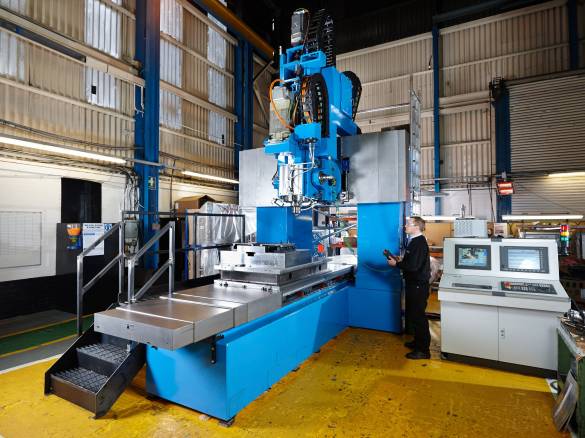 UK-based PTG Heavy Industries, a global leader in Friction Stir Welding technologies, will be showcasing the capabilities of its Crawford Swift Powerstir FSW machines at FABTECH 2015 – North America's largest metal forming, fabricating and welding event.
Visitors to Booth No. 21084 will have a first-handopportunity to see Crawford Swift Friction Stir Welding in detail, thanks to a specially created augmented reality display. In addition, a wide range of FSW tooling and component samples will be on show.
"Since their launch, Powerstir Friction Stir Welders have become a favoured choice among organisations seeking an innovative way of creating high-strength welded joints, without the detrimental and visible effects often associated with conventional welding," comments PTG Heavy Industries' Sales Manager, Chris Cheetham. "By presenting the capabilities of Powerstir at FABTECH, we will be offering delegates an unrivalled opportunity to discover more about these machines."
Comprehensive research programme
Offering far-reaching opportunities for jointing often difficult to weld alloys, Powerstir machines have been developed for applications as wide ranging as avionics, the manufacture of railway carriage panels for high-speed trains, and many other sectors.
Through its ongoing research into the capabilities of Friction Stir Welding, PTG Heavy Industries has successfully welded both aerospace-grade steel alloy and aerospace-grade titanium in thicknesses of 3mm and 8mm, using its proprietary PTG fixed pin tooling techniques. The organisation has also achieved excellent results when working with various exotic aluminium alloys ranging from 2mm to 35mm in a number of challenging configurations. "Our successes have been such that we now look forward to applying our findings, approach and technologies to robust testing on other bespoke alloys that are used across the avionics sector," adds Chris Cheetham.
Sub-contract Friction Stir Welding
Following considerable investment at PTG Heavy Industries' UK HQ, the organisation is also able to offer full Friction Stir Welding sub-contract welding facilities.  This new service also includes FSW product, prototype and component development as well as research into the jointing of difficult to weld and exotic alloys. It is available for the smallest of FSW applications, through to aircraft fuselage and railway carriage manufacture.
To find out more about Powerstir Friction Stir Welding:
Tel: + 44 (0) 1422 379 222
Email: Chris.Cheetham@ptgheavyindustries.com
PTG. The first name in precision
Incorporating the brands of Binns & Berry, Crawford Swift, Holroyd and Holroyd Precision Components, PTG has established itself at the forefront of high precision machine tool design, build and supply. The PTG range includes heavy duty lathes, deep hole drilling machines, Friction Stir Welding (FSW) machines, ultra precision grinding machines for rotor, thread and gear operations; rotor milling machines and special purposemachine tools for the manufacture of precision components. Industrial sectors served range from aerospace, medical and mould tool & die to marine, power generation, mining, oil & gas, steel, high end and heavy automotive.
PTG Heavy Industries is a technology partner of the China Friction Stir Welding Center and works closely with The Welding Institute (TWI).
Photograph caption:
Crawford Swift Powerstir Friction Stir Welding, from PTG Heavy Industries.
For more press information, please contact:
Neil Jones – Group Business Development Director, PTG
Tel: + 44 (0) 1706 526 590
Email: neil.jones@ptgltd.com