News & Press
German screw compressor makers order four British-built PTG Holroyd rotor milling machines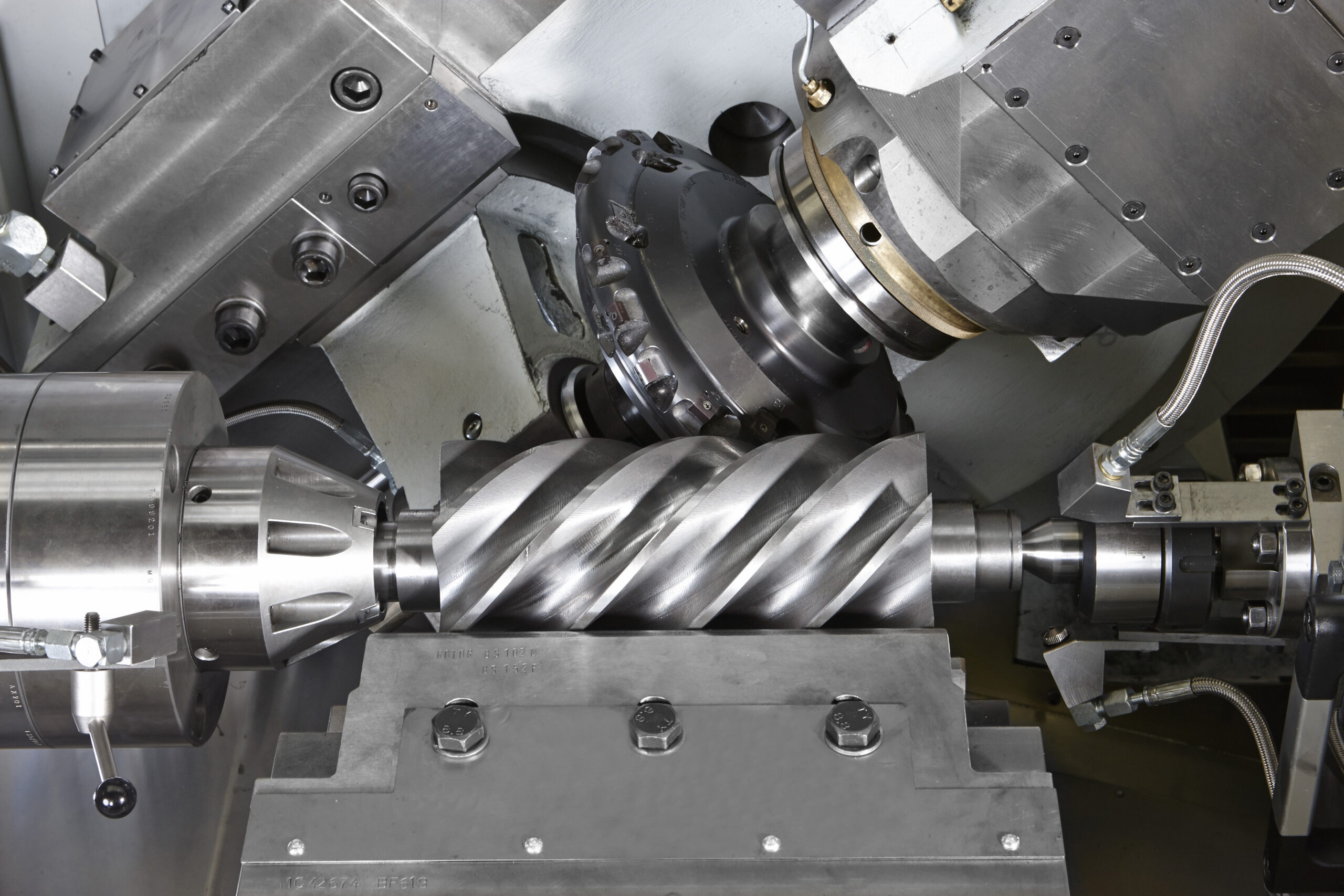 July 2023 – In just one week, Rochdale-based PTG Holroyd has secured orders for four of its EX Series CNC helical rotor milling machines from two German-based screw compressor manufacturers. The machines will be shipped during 2024.
Two of the machines, both 3EX-R models (for helical parts of up to 350 mm in diameter), are destined for a leading producer of screw compressors for refrigeration applications. The other two EX rotor milling machines, a 3EX-R and a 4EX-BL model (for milling parts of up to 420 mm in diameter and Roots-type blowers) have been ordered by a specialist in screw compressors and energy efficient blowers.
"PTG Holroyd's EX Series rotor milling machines have long been renowned for their performance, precision, reliability and repeatability, regardless of whether they are producing highly complex components with helical screw profiles, or milling worms and gear parts," comments PTG Holroyd Sales Director, Mark Curran. "Never content to rest on our laurels, however, we have added some key upgrades to the entire EX Series range – perhaps the most significant of which is the use of the Sinumerik ONE future-proof CNC from industrial automation specialists, Siemens."
PTG Holroyd was the first UK machine tool manufacturer to embrace the benefits of the Sinumerik ONE control, choosing the CNC for its recently launched HG350 range of gear, worm and screw pump grinding machines. It was a decision that enabled the company to bring the new HG range to market much sooner than otherwise would have been possible. It also meant that HG Series customers benefited from a future-proofed operating system, class-leading integrated safety & failsafe features, enhanced reporting of machine health & performance data, and uncompromising levels of industrial security.
"Our positive experiences of using the Sinumerik ONE CNC for the HG350 grinding machine range, combined with excellent customer feedback, confirmed our decision that it was the right control for our upgraded EX Series of rotor milling machines," adds Mark Curran.
Digital twin for 'right first time' approach
By working in close collaboration with Siemens, PTG Holroyd has also been able to incorporate the 'Create my virtual machine' and 'Run my virtual machine' software capabilities of the Sinumerik ONE suite into its EX Series machines. Used in tandem with its own internal machine design packages, these capabilities enable PTG Holroyd to create a virtual 'digital twin' of each new EX Series rotor milling machine on the desktop, before ordering components and commencing a physical build. Virtual rotors or worm helix profiles can be cut – all while observing entire simulated manufacturing cycles, and testing safety and failsafe features.
"By first creating each customer's specific machine requirements virtually, physical build time is reduced – something which, in turn, helps us to remain exceptionally competitive in these cost-conscious times," says Mark Curran. "The Sinumerik ONE software also makes acceptance testing incredibly straightforward, as our customers are able to sign-off on their new machine before it has even been built."
The PTG Holroyd EX Series of rotor milling machines
PTG Holroyd's EX range begins with the 2EX, a machine capable of milling helical components of up to 250 mm in diameter, and offers stepped increases in capability, right up to the 8EX (850 mm maximum component diameter) rotor milling machine. There are also models with the additional capability to mill Roots-type blowers.
EX machines cut a full-depth groove by traversing the cutting tool through the material at the relevant helix angle, whilst at the same time rotating the component in the 'C' axis. Accurate synchronisation between the axes is maintained via the Sinumerik ONE CNC, with digital drive technology controlling all axis movements. The cutting head is able to remove so much material in one step because the majority of heat generated is transferred to the swarf chips. These are then removed from inside the machine by means of a conveyor system.
Extremely flexible in their manufacturing capabilities, EX Series machines are equally efficient at producing complex components with helical screw profiles, as they are when milling gear parts such as worm shafts. Developed to improve productivity through a combination of high-speed operation, powerful menu-driven touchscreen, quick-change tooling, high-power spindles and immense rigidity, EX Series machines benefit from advanced technologies such as on-machine probing and dry milling techniques for certain materials.