News & Press
Greater China Business Award for Precision Technologies Group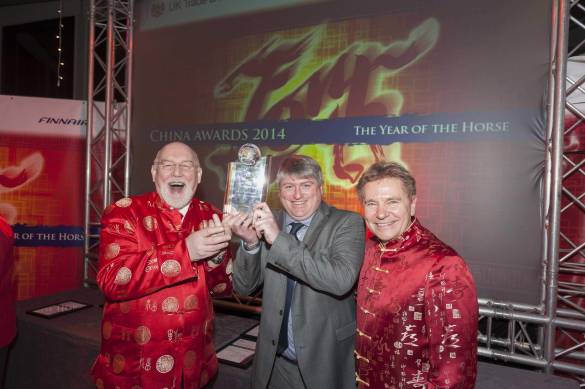 Rochdale-based Precision Technologies Group (PTG) was the proud recipient of the Greater China Business Award for the North West, at the Greater China Awards and Chinese New Year Dinner on Friday, 21 February 2014.
The event was held at The Lowry Theatre, Salford, and the Greater China Business Award won by Precision Technologies Group recognised the company's significant contribution to developing business and network links with Greater China, including bi-lateral trade and investment.
"We are delighted to have been recognised for our efforts with such a prestigious honour," commented PTG Group Business Development Director, Neil Jones. "That recognition is all the more significant for us as we are founder members of the Manchester-China Forum, an initiative that is passionate about strengthening ties between the city region and China."
Developing strong business links with China
Precision Technologies Group has been developing strong business connections with China and Taiwan since the 1980s. The business established a Chinese office in 2007 and has enjoyed increased sales into China year-on-year. In 2013, for example, a Zenith 400 helical profile grinder from PTG Holroyd was purchased by one of China's leading manufacturers of refrigeration compressors. Valued at £1.16m, the machine tool is capable of precision grinding screw compressor rotors of up to 420mm in diameter.
Sharing best practice
CQME is focused on learning best practice, improving budgeting, design, technology, marketing, talent development and production processes. As such, it sends people to PTG for in-house training and to gain valuable experience. Alongside this, PTG is developing programmes with UK universities, to provide sponsored Chinese students with tailor-made study programmes.
Striking an excellent balance between China and the UK
Philomena Chen, Head of Asia Pacific Development for UK Trade & Investment North West said: "There was an outstanding level of entries for this year's Greater China Awards, across a wide range of sectors from advanced manufacturing to foodproduction and from IT to chemicals. Our winner, PTG Holroyd, has struck an excellent balance between China and the UK in the areas of research, production and market penetration. The company has always shown great determination in the Chinese market, immersing itself in local culture and business practices as early as the 1980s when few businesses had the foresight to anticipate China's growth potential."
Clive Drinkwater, Regional Director for UK Trade & Investment North West, said: "Exports from our region to Greater China in the 12 months ending September 2013 were around £2 billion, and China has been the North West's strongest growth market for several years.  Our 3rd biggest export customer, it has overtaken historically big markets such as Ireland and the Netherlands.
The Greater China Business Awards are organised by UK Trade & Investment North West and sponsored by Finnair, HSBC and Klako Group. The awards were presented by Fred Charpentier from Finnair, with the Finalists announced by Consul General Pan Yundong. The winners received international flight tickets, courtesy of Finnair.
PTG. The first name in precision
Incorporating the brands of Holroyd, Binns & Berry, Crawford Swift and Holroyd Precision Components, PTG has established itself at the forefront of high precision machine tool design, build and supply. The PTG range includes ultra precision grinding machines for rotor, thread and gear operations; rotor milling machines; heavy duty lathes; deep hole boring machines; friction stir welding machines and special purposemachine tools for the manufacture of precision components. Industrial sectors served range from aerospace, medical and mould tool & die to marine, power generation, mining, oil & gas, steel, high end and heavy automotive.
Photograph caption
PTG's HR Director, Don Whittle (left), and Chief Financial Officer, Laurence Neary (centre), with Clive Drinkwater (right), Regional Director of UKTI North West
For more press information, please contact:
Neil Jones – Group Business Development Director, PTG
Tel: +44 (0) 1706 526 590
Email: neil.jones@ptgltd.com