News & Press
Holroyd HG350-G gear grinding centre is first to use Siemens' Sinumerik ONE CNC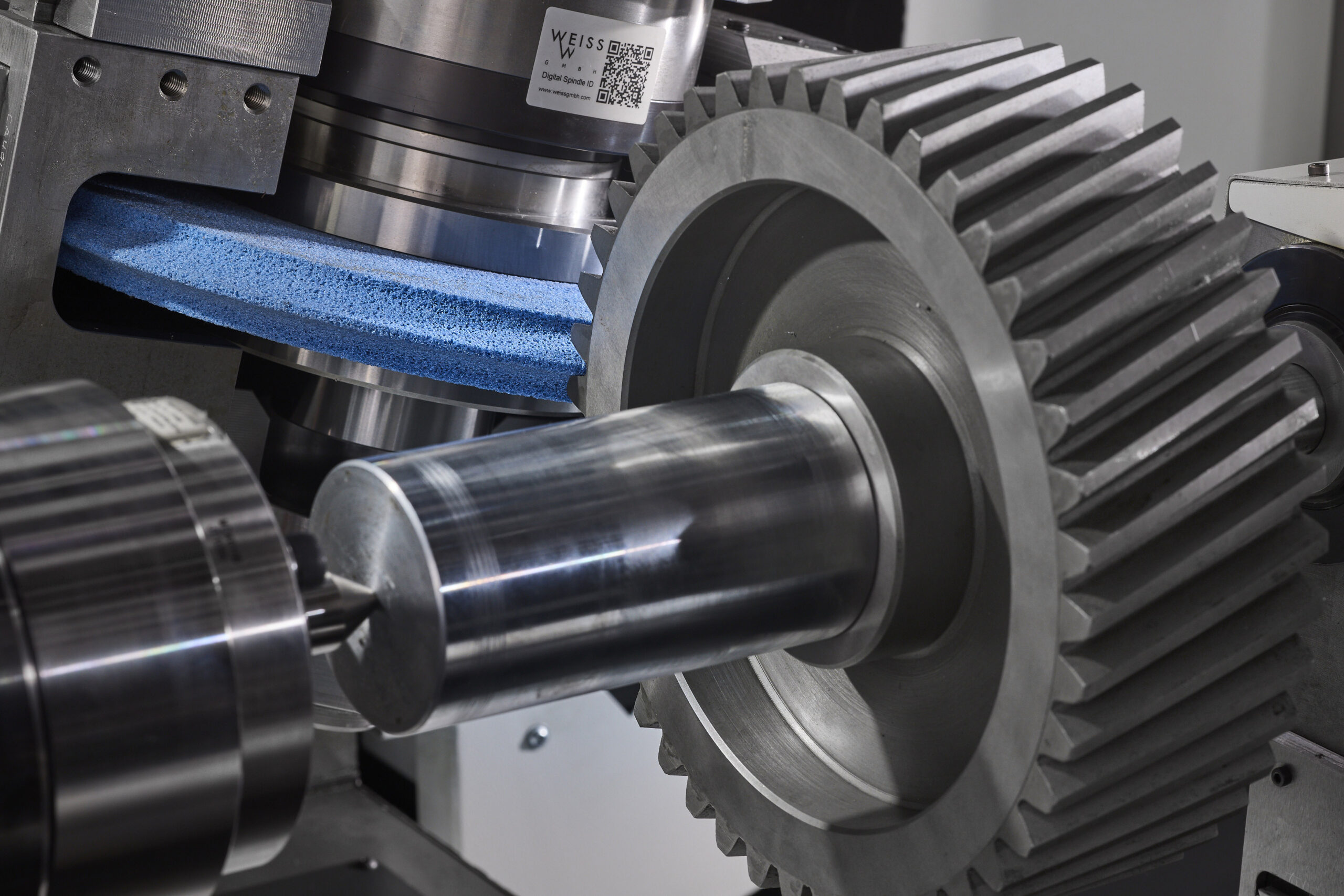 A new precision gear grinding centre from PTG Holroyd hasn't simply been designed to bring greater levels of efficiency and accuracy to the production of specialised gears and tooth forms. The new machine, called the HG350-G, is also the first from PTG Holroyd – and believed to be the first in the UK – to use Siemens' new Sinumerik ONE future-proof CNC, the successor to the automation specialist's 840D CNC.
PTG Holroyd has committed in excess of £1.6 million to develop its brand new gear grinding centre, a machine which has been designed to give the company a significant edge in the horizontal form grinding of high-quality gears. "We plan to build two HG350-G machines to begin with," comments Regional Sales Director, Mark Curran. "One will remain on site in Rochdale for R&D purposes. The other has been purchased by a long-standing PTG Holroyd customer."
Uncompromising objectives
In designing the HG350-G, PTG Holroyd's goal was to offer customers much more than a new generation machine for the one-off and batch grinding of high-accuracy precision spur and helical gears, as well as worms and screws of up to 350 mm in diameter. "We wanted to create a machine with class-leading integrated safety and failsafe features, rich, real-time reporting of machine health and performance data, as well as the highest levels of industrial security," adds Mark Curran. "Other non-negotiables for the HG350-G included being exceptionally intuitive for operators, easily able to accommodate each customer's Industry 4.0 strategy and being future proofed against legacy software issues. These were all attributes that the Sinumerik ONE CNC was able to offer. Additionally, the associated software suite's ability to create a digital 'working' twin of the machine on the desktop before build commenced was a considerable advantage."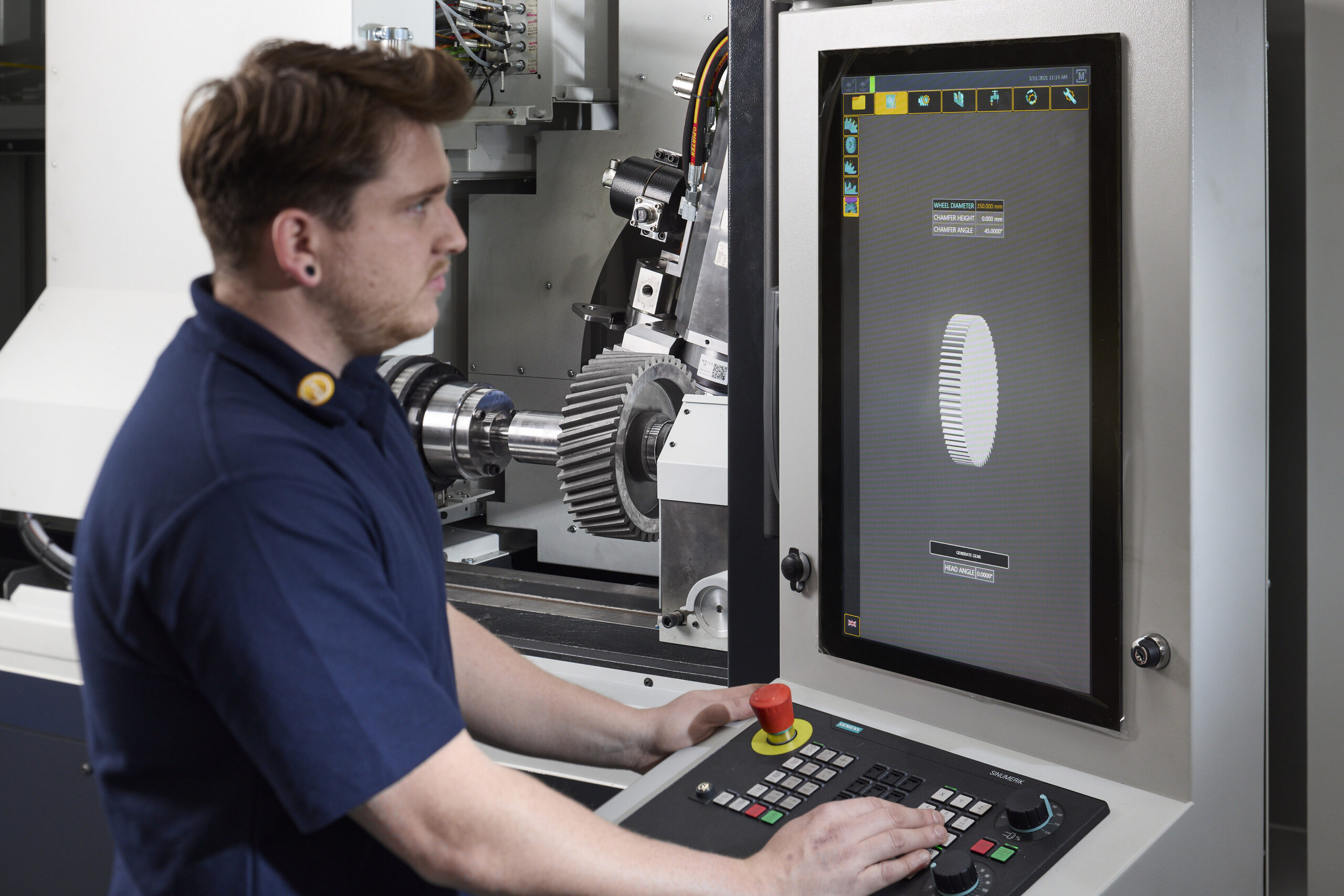 Digital twin for 'right first time' approach
"Typically, when creating a new machine tool, you begin with a vision – a concept of what you would like your new machine to achieve," says Mark Curran. "That said, software can't normally be written or mechanical components ordered until the design is complete and has been verified – and, even then, changes may be required. By working in close collaboration with Siemens, however, we were also able to embrace the 'Create my virtual machine' and 'Run my virtual machine' software capabilities of the Sinumerik ONE suite, in order to create and run a 'digital twin' of the proposed HG350-G."
Used in tandem with its own internal machine design packages, these capabilities enabled PTG Holroyd to build a virtual machine on the desktop, then grind virtual gears and threads, test safety and failsafe capabilities and eliminate potential problems before commencing the machine build. "At PTG Holroyd, we pride ourselves on a 'right first time' approach," adds Mark Curran. "The virtual machine build and run capabilities offered in the Sinumerik ONE suite further helped us to fulfil this ethos, enabling us to input and observe entire manufacturing cycles before commencing a physical build. This will also make acceptance testing with future HG350-G customers simpler and straightforward. In short, they will be able to sign off on their gear grinder before it has even been built."
Future-proofed advantages
"It has been a privilege to work with the PTG Holroyd team to incorporate the capabilities of the new Sinumerik ONE CNC into the HG350-G gear grinder and to help utilise the benefits of the Sinumerik software suite to perfect the machine's design," comments Siemens' application engineer, Garry Mepham. "PTG Holroyd is an important customer of Siemens in the UK and I am confident their decision to use Sinumerik ONE will provide significant benefits – both in terms of machine design & development and by providing customers with future-proof capabilities and control."
About the HG350-G gear grinding centre
Replacing PTG Holroyd's well-established GTG2 model, the HG350-G features the high power required for deep grinding operations. A specially developed extended machine bed allows screws and worm shafts of up to one metre in length to be accommodated. Dedicated software compensates for helical twist, and full topological capability comes as standard.
Embracing the Sinumerik ONE CNC's Profinet capabilities, IO-Link communication technology will be offered with all new HG350-G machines. "We selected IO-Link for its significant data-handling capabilities and its ability to communicate at every level of the production process, with rich levels of data such as pressure, temperature and detailed machine diagnostics," says Mark Curran. "RFID scanning is a further option that will assist HG350-G users in achieving new levels of performance. Particularly suitable for machines destined for production cells, the feature will all but eliminate human error by helping ensure that chuck, collet, cutter and tailstock, in fact virtually any component or tooling item that needs to be switched between manufacturing cycles, is correctly changed for each gear grinding operation."
Simplifying the most complex processes
Maintaining the Holroyd tradition of building machines that simplify even highly complex manufacturing processes, the HG350-G combines extreme rigidity with high power for both CBN and conventional deep grinding operations. On-board features include: automatic coordinate adjustment, in-cycle wheel dressing, integrated profile management and coordinate measurement. Grinding cycles are included for: spur gears; helical gears; crowned helical and spur gears with root or tip relief; worm gears of the form ZK, ZI, ZN and ZA; dual lead (duplex) worm gears; splines. The HG350-G also features PTG Holroyd's Profile Management System (HPMS) for highly accurate profile grinding, while an advanced touch-screen interface allows the operator to enter design drawing information directly into the machine.