News & Press
Holroyd Opens A Specialist Rotor Manufacturing Cell In South Carolina, USA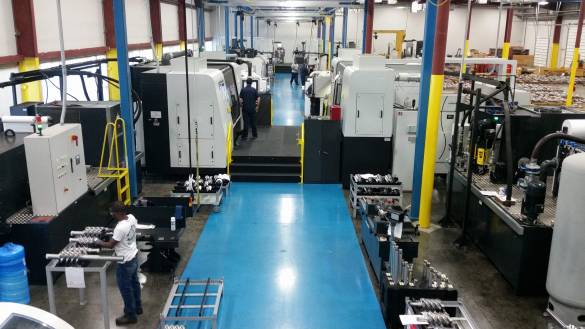 Holroyd Precision Rotors, the specialist helical screw and rotor manufacturing division of Precision Technologies Group (PTG) has opened a new production cell in South Carolina, USA.
Located in the thriving manufacturing centre of Spartanburg SC, the facility has been created to supply North America's leading producers of industrial air, air conditioning and refrigeration equipmentwith compressor screw rotors. The result of a $12 million investment, it has been equipped with rotor milling and grinding technologies from PTG's machine tool business, Holroyd Precision Ltd.
Establishing satellite operations
"In cases where it is possible to identify a clear, high demand for very precise rotors, Holroyd looks at the opportunity and weighs the merits of investing locally in the equipment and systems to supply the market. The investment requirement is substantial, but there are many advantages – to our customers – in having satellite operations close to their manufacturing centres," comments Holroyd Precision Rotors' Managing Director, Colin Carr.
"In this instance, following the success of the rotor production cell we recently established in the municipality of Chongqing PRC to serve the Chinese market, we decided to invest and develop a similar set-up in the USA.  In this case, we designed the plant to have sufficient production capacity and flexibility to meet a wide range of customer demands, while preserving the necessary agility to enable short changeover times and rapid batch switching. Additionally, we built in a system of Kanban inventory controls to allow for 'just in time' delivery."
With a cluster of Holroyd's prospective customers located in Eastern USA, the search began to find a convenient centre for manufacturing – a base that would be geographically convenient, and situated to allow easy access to all the various services required to ensure the smooth running of a precision production cell.
"After considering various sites, we settled on premises in Spartanburg," adds Colin Carr. "A key centre for automotive manufacturing, the area has a rich engineering pedigree, a highly skilled labour pool, well-respected machinery and cutting tools distributors – for CNC lathes and machining centres – as well as good access to metals stockholders. Added to that, the state of South Carolina was keen to attract inward investment."
Holroyd Precision Rotors' new facility in Spartanburg SC covers 35,000 square metres, employs approximately 30 staff locally and is supported by a team of specialist engineers from Holroyd's HQ in Rochdale, UK. A wide range of compressor rotors – with overall diameters up to 420 mm and lengths up to 1.5 metres – is manufactured from a variety of materials at the Spartanburg facility. The facility is registered to ISO9001:2015, as are all Holroyd manufacturing locations.
High speed and high precision
After being first milled and turned to size using high-quality CNC machine tools, rotor blanks are profile milled then precision-ground using Holroyd's UK-built machine tool technologies. Helical milling is completed using two Holroyd 3EX-R CNC rotor milling centres, models renowned for their high speed, high precision and world-class performance and reliability. Following profile milling and precision cylindrical grinding of shaft diameters, and depending on the components in question, rotor profiles are then finish ground on Holroyd's TG and Zenith ultra-precision CNC helical grinding machines. Typical component tolerances are within ± 10 µm on profile, lead and divide index.
Setting the standard
Designed primarily for the finish grinding of helical screw components after they have been milled to a semi-finished state, Holroyd's TG CNC rotor grinders are widely recognised as providing the industry benchmark for high levels of accuracy and efficient stock removal. Representing the very pinnacle of Holroyd's profile grinding technologies, the Zenith 400 is one of the first machines of its kind to embrace multiple abrasive-grinding technologies, including vitrified aluminium oxide, ultra-hard plated CBN and 'dressable' bonded CBN.
Meeting future requirements
As well as meeting customers' current compressor rotor manufacturing requirements, each Holroyd machine tool installed in the Spartanburg facility was carefully selected for its ability to fulfil anticipated future manufacturing needs. The 3EX-R rotor milling machines and the TG350E rotor grinding machine, for example, are able to work with components of up to 350 mm in diameter, while the Zenith 400 can grind components of up to 420 mm in diameter, with maximum weights in excess of 700 kg.
"We seized the opportunity to build a rotor production cell to meet the requirements of our American customers," concludes Colin Carr. "We are now able to provide manufacturing of our ultra-precise compressor rotors 'locally', which is a major benefit when it isn't practical to ship large quantities from our UK site."
PTG. The first name in precision
Incorporating the brands of Holroyd and Holroyd Precision Rotors, PTG has established itself at the forefront of high-precision machine tool design, build and supply for specialised applications. The Holroyd range includes advanced machine tools for the production of complex helical components such as compressor rotors, pump screws and high-accuracy gears, and machine tools for friction stir welding advanced alloys used in transport applications. With production facilities in the UK, USA and China, Holroyd Precision Rotors manufactures the special purpose, ultra-precision helical components used in a wide range of industries, including refrigeration, air-conditioning, gas and vacuum pumping, industrial air handling, aerospace, medical equipment, motion control, power transmission, power generation, oil & gas, fluid transfer and high-end automotive. PTG also provides advanced technical consulting services.