News & Press
Holroyd Precision Components Brings Ultra-precision To China Refrigeration 2015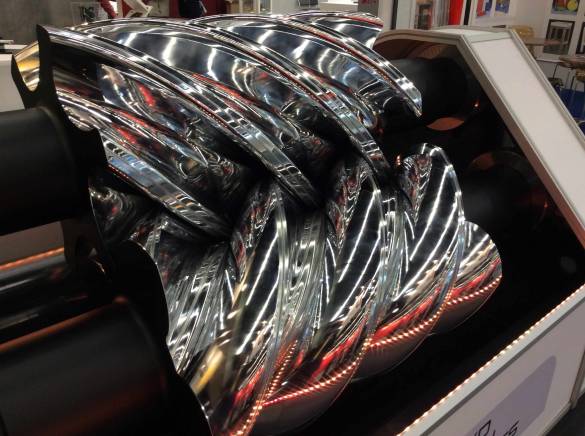 Holroyd Precision Components will be showcasing its screw and compressor rotor design, prototyping and manufacturing capabilities at China Refrigeration 2015 – the International Exhibition for Refrigeration, Air-conditioning, Heating and Ventilation.
Visitors to Stand E4B60 will be able to see examples of the company's ultra-precise compressor rotors measuring up to 642mm in diameter. Holroyd Precision Components' design, prototyping and precision-manufacturing capabilities, however, extend to much larger rotors. Indeed, the business is one of only a few specialists capable of manufacturing rotors of up to 816mm in diameter.
About Holroyd Precision Components
A Precision Technologies Group (PTG) company, Holroyd Precision Components has been at the forefront of screw and compressor rotor prototyping and manufacture for over 60 years. Working closely with customers from right across the HVAC and air compression markets, as well as from a wide range of other sectors, the business designs and produces all types of helical forms, rotors, supercharger screws, blowers, pump screws and vacuum screws.
Holroyd Precision Components has the flexibility to quickly produce new types of screw profiles, dramatically reducing customer development and process lead times.
To discuss your requirements with Holroyd Precision Components, call  +44 (0)1706 526 590 or email: info@holroyd.com
Services include:
Component design and optimisation
Small-scale to volume production
Rapid production of new profile types
Reduced development and process lead times
Design and manufacture of all types of helical forms, rotors, superchargers, blowers, pump and vacuum screws
PTG. The first name in precision
Incorporating the brands of Holroyd, Binns & Berry, Crawford Swift and Holroyd Precision Components, PTG has established itself at the forefront of high precision machine tool design, build and supply. The PTG range includes ultra precision grinding machines for rotor, thread and gear operations; rotor milling machines; heavy duty lathes; deep hole boring machines; friction stir welding machines and special purposemachine tools for the manufacture of precision components. Industrial sectors served range from aerospace, medical and mould tool & die to marine, power generation, mining, oil & gas, steel, high end and heavy automotive.
Photograph caption:
Ultra-precise large diameter rotors from Holroyd Precision Components.
For more press information, please contact:
Neil Jones – Group Business Development Director, PTG
Tel: + 44 (0) 1706 526 590
Email: neil.jones@ptgltd.com