News & Press
Holroyd Precision Components Gets To The Heart Of Energy Recovery In Association With Heliex Power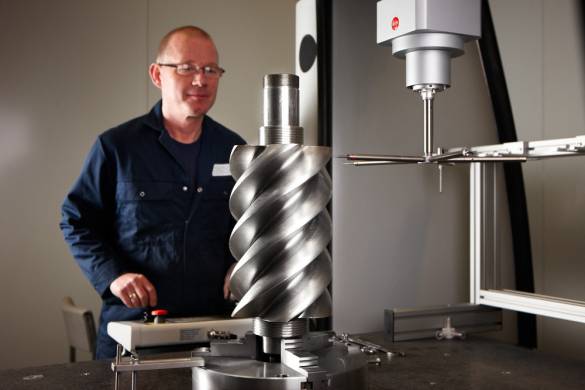 As the drive to recover valuable waste heat from natural and industrial processes gains momentum, Precision Technologies Group (PTG) company, Holroyd Precision Components, is rapidly confirming its credentials as a specialist in the development of the helical screw rotors that lie at the very heart of the technology.
The Rochdale-based screw and compressor rotor prototyping and manufacturing business has recently begun supplying the ultra-precise carbon steel helical rotor pairs that will be used in the steam screw expanders produced at Heliex Power Limited's manufacturing facility in East Kilbride, Scotland.
Chosen for expertise
The relationship between Heliex Power and Holroyd Precision Components, however, began in earnest in 2010 when Heliex CEO, Dan Wright, approached the company to prototype rotors designed in conjunction with City University London, a recognised global centre of excellence in screw compressor technology.  Having previously worked with Holroyd on other projects, he chose them for their expertise, high quality and proven track record in the compressor market.
Heliex: all set to become a world leader
Heliex Power is all set to become a world-leader in steam screw expanders and their application in the recovery of energy from industrial processes," comments Simon Rhodes, Sales Manager at Holroyd Precision Components.
Holroyd: delivering the optimum solution
"As you can imagine," he continues, "we are delighted to have been involved throughout the rotor design and development stages with Heliex and with our joint technology partner, City University London. Our involvement to-date has ranged from profile manipulation to materials and coatings development to help establish the optimum solution for Heliex's expander rotors. Throughout the course of this work, we have created a number of rotor prototypes for testing by Heliex. Our proprietary design tool, the Holroyd Profile Management System, has also proved invaluable in enabling us to optimise profile design."
Turning low grade heat into electricity
A large number of industrial processes release 'low grade' heat to the environment and expanders can use that heat to produce clean electrical power through the efficient expansion of wet steam. In Heliex Power's innovative process, which uses precision-engineered rotor pairs from Holroyd Precision Components, rotary screw expanders recover low grade energy from wet steam or two-phase fluids in order to generate clean electricity.
A beautifully simple solution
Simple and robust, Heliex's technology generates power in parallel with existing pressure reduction valves (PRV) and through industrial waste heat recovery steam installations. Based on the proven twin rotary screw principle, the expanders convert waste heat to energy via a simple and cost-effective Rankine Cycle (the mathematical formula used to predict the performance of steam engines). Additionally, unlike conventional turbines, the Heliex process can deliver energy from wet steam, thus eliminating the need for costly timing gears and other expensive components, such as refrigerants as used in ORC (Organic Rankine Cycle) systems.
Considerable opportunities
"The opportunities for Heliex Power's expanders across industry are considerable," adds Simon Rhodes. "They include pressure valve replacement in food, paper, pharmaceutical, petrochemical and other processes; biomass and biogas installations, and industrial and marine diesel and gas engine exhaust and process flue gasses. The novel wet steam cycle offered by Heliex's expanders also provides the opportunity to increase power generation from Concentrated Solar Power (CSP) plants. We look forward to continuing to assist Heliex as the awareness of their technology grows."
At the forefront of compressor design
Holroyd Precision Components has been at the forefront of screw and compressor rotor prototyping and design, as well as small-scale and volume manufacturing for over 60 years.  The company's client base spans the aerospace, air compression, automotive, fluids processing and metering, HVAC, marine, motorsport, offshore and power transmission sectors. Its wide-ranging capabilities and immense levels of flexibility enable customers to take advantage of considerable application knowledge, design and manufacturing capability, along with the highest levels of customer support.
The Holroyd Profile Management System (HPMS)
An industry-leading profile development tool, the Holroyd Profile Management System (HPMS) consists of a suite of profile-management software that enables the manipulation and analysis of profiles for Holroyd Precision's grinding technologies. HPMS is used in the development and control of a wide range of helical profiles for screw rotors, vacuum and pump screws and provides designers with unrivalled opportunities for improving a profile's machine-ability and reliability. HPMS can also be used to assist control of a given profile during production.
Longstanding relationship with City University London
Precision Technologies Group (PTG) has a longstanding relationship with City University London – a globally recognised centre of excellence for compressor design and development.  Committed to the advancement of compressor technology, PTG has been platinum sponsor of City University's biennial International Conference on Compressors and their Systems since the event was first held in 1999.
PTG. The first name in precision
Incorporating the brands of Holroyd, Binns & Berry, Crawford Swift and Holroyd Precision Components, PTG has established itself at the forefront of high precision machine tool design, build and supply. The PTG range includes ultra precision grinding machines for rotor, thread and gear operations; rotor milling machines; heavy duty lathes; deep hole boring machines; friction stir welding machines and special purposemachine tools for the manufacture of precision components. Industrial sectors served range from aerospace, medical and mould tool & die to marine, power generation, mining, oil & gas, steel, high end and heavy automotive.
Photograph caption:
Absolute precision: a rotor from Holroyd Precision Components is painstakingly checked.
For more press information, please contact:
Neil Jones – Group Business Development Director, PTG
Tel: + 44 (0) 1706 526 590
Email: neil.jones@ptgltd.com