News & Press
Holroyd Precision Receives A Queen's Award For Enterprise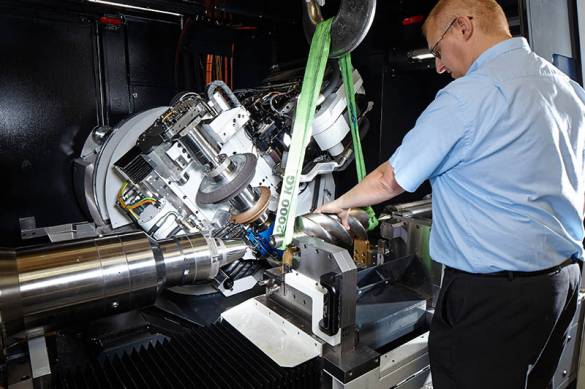 Rochdale-based Holroyd Precision Ltd is celebrating being named as a winner of the Queen's Award for Enterprise, the UK's highest accolade for business success.
Holroyd received the award for International Trade, having achieved year-on-year growth in exports. It was given in recognition of the company's achievements in developing new markets globally, creating new machine tool technologies with particular focus on those markets, and for Holroyd's considerable successes in exporting its highly specialised grinding and milling machines to organisations around the world. Over the last few months alone, Holroyd has secured export orders worth in excess of £7 million.
2015 marks the 50th anniversary of the Queen's Awards. Holroyd therefore joins an elite group of companies that have been recognised as deserving winners in what is a particularly significant year.
Extremely proud and honoured
"We are extremely proud and honoured to have won what is clearly the UK's most prestigious business award," comments Holroyd Precision's Chief Executive Officer, Dr Tony Bannan. "In securing the award, we were able to demonstrate significant growth in overseas trade, something that was achieved in spite of challenging global trading conditions. I would like to thank our staff here in Rochdale and our various support teams globally for the hard work and dedication that has made winning the Queen's Award possible."
Investment in technologies, research and people
Holroyd's recent £3 million development of the Zenith 400 helical profile grinding machine – a truly groundbreaking technology that has already resulted in orders from the USA, China and Germany – is just one example of its commitment to investment.
The company also has a long track record of investing in young people at its Rochdale HQ and for ongoing research into milling and grinding technologies at postgraduate and post-doctoral level. When developing new machine tools, such as the Zenith 400, Holroyd is also acutely aware of the importance of minimising environmental impact as much as fulfilling the needs of its customers.
A year of successes
Over the past 12 months, Holroyd Precision Ltd has secured a number of high profile business accolades. In February 2014, the company was the proud recipient of the Greater China Business Award for the North West. Also, in the same month, one of Holroyd's young engineers was presented with the respected AMTRI scholarship at the Manufacturing Technologies Association (MTA) awards dinner. In June 2014, the business was then identified as one of twenty up and coming medium-sized subsidiaries of foreign companies in the inaugural Sunday Times PA Consulting Inward Investment Track. Finally, in November 2014, Holroyd was named as Apprentice Employer of the Year in the prestigious Rochdale Business Awards.
For more information about Holroyd's achievements, please visit:
http://www.holroyd.com/awards/ 
PTG. The first name in precision
Incorporating the brands of Holroyd, Binns & Berry, Crawford Swift and Holroyd Precision Components, PTG has established itself at the forefront of high precision machine tool design, build and supply. The PTG range includes ultra precision grinding machines for rotor, thread and gear operations; rotor milling machines; heavy duty lathes; deep hole boring machines; friction stir welding machines and special purposemachine tools for the manufacture of precision components. Industrial sectors served range from aerospace, medical and mould tool & die to marine, power generation, mining, oil & gas, steel, high end and heavy automotive.
For more press information, please contact:
Neil Jones – Group Business Development Director, PTG
Tel: + 44 (0) 1706 526 590
Email: neil.jones@ptgltd.com