News & Press
Holroyd Secures A Cool £2.75 Million In Orders From A Leading Chinese Ice Systems Specialist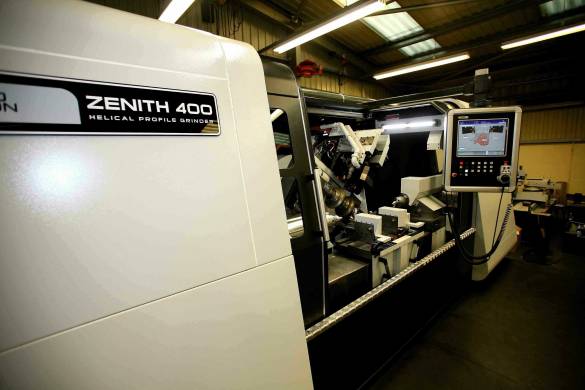 Precision Technologies Group company, Holroyd Precision Limited, has received orders for two of its 'next generation' Zenith 400 helical profile grinding machines from one of China's leading specialists in ice systems and industrial cooling technologies.
Scheduled for delivery to China's Fujian Province later this year, the machines are together valued at £2.75 million. They will be used to precision grind some 100 compressor rotors, each measuring up to 250mm in diameter, per day.
Confidence in ability to meet tightest of deadlines
"We are delighted to have received such significant machine orders from such a well-respected refrigeration specialist," comments Holroyd Precision Limited's Sales Manager, Steven Benn.  "Whilst the customer in question is well aware of the immense benefits that the Holroyd Zenith 400 models will bring to their manufacturing capabilities, the simple fact that both machines are required in such a short time frame speaks volumes for the considerable confidence they have in our ability to not only build industry-leading machine tools, but also meet the tightest of deadlines."
Unrivalled global reputation
Holroyd Precision Limited's record of success in winning the most challenging of contracts can be attributed largely to its unrivalled global reputation for developing ingenious manufacturing solutions that deliver very real and measurable benefits for its customers.
The Zenith 400: at the pinnacle of helical profile grinding
Launched at EMO Hannover 2011, Holroyd's Zenith 400 helical profile grinder, for example, very quickly caught the eye of screw compressor manufacturers seeking superior, ultra-precise grinding solutions.
Developed to precision grind components weighing up to 700kg and measuring up to 420mm in diameter and 2.2 metres in length, the Zenith 400 combines high stock removal rates and aggressive semi-finishing, with production rates and accuracies tailored to the most demanding of manufacturing strategies.
Three grinding capabilities in one machine
For many rotor manufacturers, however, the undeniable attraction of investing in Holroyd's Zenith 400 ultra-precise helical profile grinders, lies in the fact that the model has the capability to use aluminium oxide, 'diamond hard' plated Cubic Boron Nitride (CBN) and vitrified, dressable CBN grinding technologies – effectively providing roughing and finishing capabilities on one machine.
The Holroyd Profile Management System (HPMS)
In addition to equipping its Chinese customer with two Zenith 400 models, Holroyd Precision Limited will also be providing the ice systems specialist with the Holroyd Profile Management System (HPMS) – an industry leading, user-friendly and highly intuitive suite of profile management tools.
"We were extremely pleased to also be able to demonstrate the significant benefits provided by the HPMS suite," adds Steven Benn. "Offering unrivalled opportunities for improving a profile's machineability, reliability and efficiency, HPMS consists of a family of sub-programs that are used in the development and control of a wide range of helical profiles for screw rotors, vacuum and pump screws. During the production cycle, HPMS can even be used to modify the shape of the cutting tool, in order to achieve as near as possible to a perfect profile."
About the Zenith 400 helical profile grinder
The introduction of the Zenith 400 helical profile grinder represents a whole new generation of grinding technology and capability from Holroyd Precision Limited, a company with a reputation for producing the world's most accurate rotors, gears, threads plus ultra precision components. Encompassing advanced innovations and a new control system incorporating development and production software, Zenith 400 models have been designed to suit all user requirements, in either research and development or mass production.
Key features of Zenith 400 helical profile grinding machines include:
·         Vitrified Al2O3, vitrified CBN and plated CBN grinding wheel options
·         Accelerated set-up, with fully automated grinding wheel balancing system
·         Powerful, menu-driven touch screen programming
·         High stock removal rates, aggressive semi-finishing and precision fine finishing
·         Holroyd's unique on-board 3D CMM component scanning probe with full automatic compensation feedback
·         High speed spindles and advanced in-process dressing systems to maintain profile accuracy and keep the grinding wheel in optimum condition
·         Complete integration with automated parts handling systems
PTG. The first name in precision
Incorporating the brands of Holroyd, Binns & Berry, Crawford Swift and Holroyd Precision Components, PTG has established itself at the forefront of high precision machine tool design, build and supply. The PTG range includes ultra precision grinding machines for rotor, thread and gear operations; rotor milling machines; heavy duty lathes; deep hole boring machines; friction stir welding machines and special purposemachine tools for the manufacture of precision components. Industrial sectors served range from aerospace, medical and mould tool & die to marine, power generation, mining, oil & gas, steel, high end and heavy automotive.
Photograph caption:
Holroyd's Zenith 400 – at the pinnacle of helical profile grinding.
For more press information, please contact:
Neil Jones – Group Business Development Director, PTG
Tel: + 44 (0) 1706 526 590
Email: neil.jones@ptgltd.com