News & Press
Holroyd tool management centre brings greater flexibility to global compressor manufacturer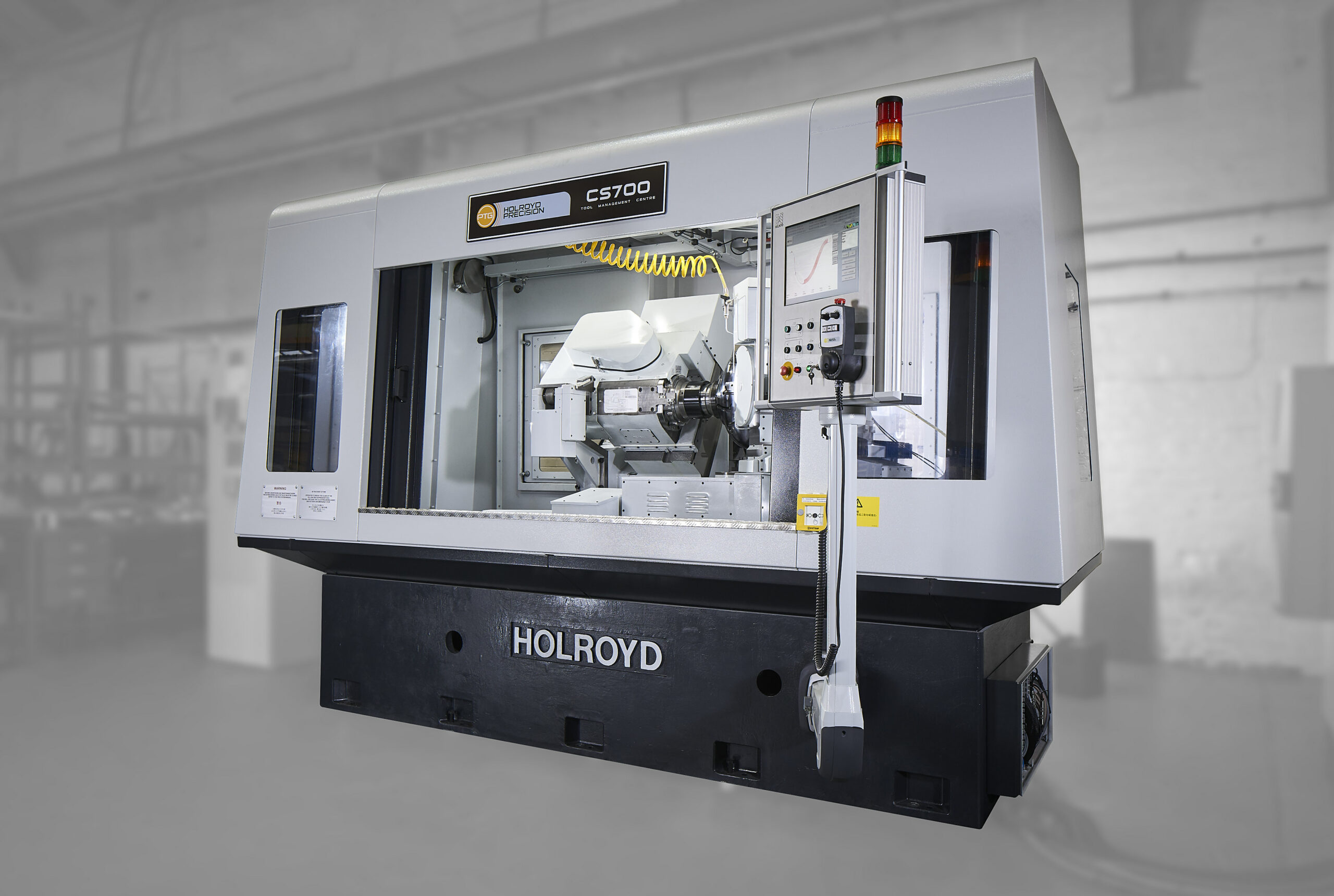 One of the world's leading manufacturers of refrigeration and air compressors has ordered a new PTG Holroyd CS700 tool management centre. The machine tool, which is currently in build at PTG Holroyd's UK-based technology centre, will be shipped to one of the compressor manufacturer's facilities in China's Jiangsu province early next year. It will be used to bring greater production flexibility to a PTG Holroyd 8EX rotor milling machine that has been in reliable daily operation since 2014 and is currently supported by a smaller PTG Holroyd CS500 tool management centre.
"Our customer has several PTG Holroyd milling and grinding machines in use across its global sites," comments PTG Holroyd sales director, Mark Curran. "The CS700 machine has been designed especially for the production of high-accuracy profile forms of up to 700 mm in diameter on finish milling cutters. Offering significantly greater capacity than the CS500 (500 mm diameter capacity) model currently in use, it will play a significant role in expanding the size range of the screw rotors produced by our customer on their 8EX rotor milling machine."
Complete control of cutting tool technology
"The accuracy of any helical screw form relates directly to the accuracy of the cutting tool that is used to create it," continues Mark Curran. "In offering the CS700 tool management centre, we are enabling producers of larger helical components to benefit from complete control of all aspects of the cutting tools they use. The CS700 produces high accuracy profile forms on a wide range of tool materials; these range from traditional, high-speed steel, to exotic materials such as carbide and 'AS' finish machining systems."
Automatic dressing capability
PTG Holroyd's CS700 tool management centre incorporates automatic dressing stations to ensure optimum integrity of the grinding wheel at all times. The stations are equipped to dress CBN and diamond grinding wheels, and use HSK-A160 arbors (as fitted to 8EX rotor milling machines), for rapid wheel changeover times and to further enhance accuracy.
Advanced touch screen programming
At the heart of the CS700 is Holroyd's user-friendly advanced touch screen programming system. This provides complete control over production accuracies, as well as invaluable on-screen modification of profile forms for the rapid evaluation of new profile shapes during the development and prototyping stages. Profile modifications are easily made thanks to the menu-driven system, which provides control of the cutting profile, with on-screen modification of profiles. Automatic touch probing of the tool profile during the grinding cycle is another major benefit provided by the CS700. Following probing, the actual tool profile is graphically superimposed over the theoretical profile and displayed within user-defined tolerance bands to ensure that all cutter blades are ground within tightly controlled limits. Indexing and multi-pass grinding/trimming cycles are also fully automated.
HSK-A160 arbor
Cutters with up to 29 blades can be sharpened on the CS700 tool management centre. The cutter indexing process is carried out automatically. The cutter is located on an HSK-A160 arbor for precise positioning on the 8EX rotor milling machine (for rotors up to 850 mm in diameter), or on other rotor millers employing the same arbor. The maximum profile height is 240 mm.
Designed and built in the UK, the CS700 features an ergonomic design, a solid cast iron base for outstanding rigidity and excellent thermal stability. Total machine guarding offers flood-cooling capability. Large sliding doors provide straightforward setup and separate rear/side access for workpiece loading. The CS700 is also equipped with a recirculating oil mist removal system.
PTG. The first name in precision
Incorporating the brands of PTG Holroyd, PTG Powerstir Friction Stir Welding and Holroyd Precision Rotors, PTG has established itself at the forefront of high-precision machine tool design, build and supply for specialised applications. The range includes advanced machine tools for the production of complex helical components such as compressor rotors, pump screws and high-accuracy gears, and PowerstirÒ machine tools for friction stir welding advanced alloys used in transport applications. With production facilities in the UK, USA and China, Holroyd Precision Rotors manufactures the special purpose, ultra-precision helical components used in a wide range of industries, including refrigeration, air-conditioning, gas and vacuum pumping, industrial air handling, aerospace, medical equipment, motion control, power transmission, power generation, oil & gas, fluid transfer and high-end automotive. PTG also provides advanced technical consulting services.