News & Press
Holroyd Wins $7.5 Million Order to Supply its 'Next Generation' Milling and Grinding Technologies to the USA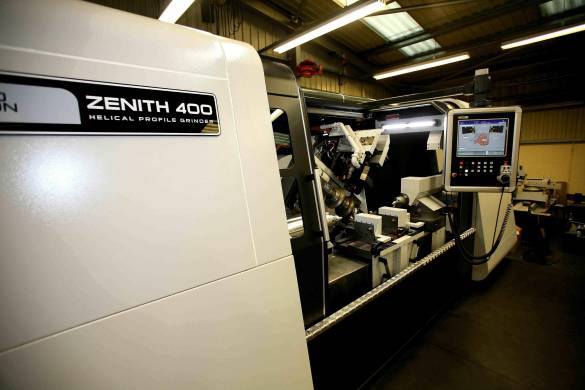 One of the world's leading industrial air compressor specialists has chosen UK-based Holroyd Precision Limited to supply 'next generation' milling and grinding machines for its main manufacturing facility in the USA.
Zenith 400 – at the pinnacle of helical profile grinding technology
Launched at the 2011 EMO Hannover metalworking trade fair, the Zenith 400 has been rapidly accepted by rotor manufacturers globally as representing the very pinnacle of helical profile grinding technology. Able to precision grind components of up to 420mm in diameter, that weigh up to 700kg and measure up to 2.2 metres in length, the Zenith 400 helical profile grinding machine offers exceptional levels of versatility. More significantly, however, the Zenith 400 is the first helical profile grinder to embrace all three grinding technologies: aluminium oxide, diamond hard plated CBN and vitrified, dressable CBN.
"The opportunity to use a single helical profile grinder for volume production and to achieve immense levels of profile accuracy, proved to be an irresistible combination for our customer," comments Holroyd Precision Limited's Sales Manager, Steven Benn. "By alternating between plated and vitrified cubic boron nitride and aluminium oxide grinding wheels as required, the company in question will benefit from triple capability from each Zenith 400 model ordered."
First Zenith 400 orders from the USA
Since the Zenith 400 was introduced, orders have stemmed from around the globe. Scheduled for delivery in January 2014, however, these latest Zenith machines will be the very first to be delivered to the United States.
"We are delighted to break into the North American marketplace with the Zenith 400," adds Steven Benn. "Holroyd milling and grinding machines are already used extensively across the USA and the delivery of two Zenith 400 machines represents a significant opportunity for us to present the ultra-precise capabilities of the model to a much wider audience."
Holroyd EX Series – reducing overall production requirements
Offering high stock removal rates and aggressive semi-finishing capabilities, Holroyd's EX Series helical milling machines are globally renowned for reducing overall production requirements and, therefore, saving manufacturers both time and money. The company's standard range of EX Series models can cut rotor or worm helix profiles from as little as 50mm (2") in diameter to as much as 850mm (33") in diameter.
Precision milling of rotor profiles
Scheduled for delivery later this year, the two Holroyd 3EX-R models ordered by the USA-based air compressor company will be used for the milling of rotor profile forms of up to 350mm (13") in diameter.  Continually aiming to raise the benchmark in precision manufacturing, Holroyd appreciates only too well that a key aspect of high efficiency rotor production is the accurate pre-machining of the rotor profile form. For that reason, although generally referred to as the 'rough milling operation', the process carried out by Holroyd EX Series models is actually the precise milling of the rotor profile in preparation for subsequent finishing.
Holroyd EX Series milling machines are designed with the ability to maximise the high surface speeds demanded by the very latest cutting technologies. Indeed, as efficiency, performance and longevity are key in machine development and build, all Holroyd EX Series models are built with considerable levels of speed in reserve, ready to embrace further developments in cutting tools.
PTG. The first name in precision
Holroyd Precision Limited is the specialist machine tool division of UK-based Precision Technologies Group (PTG). Incorporating the brands of Holroyd, Binns & Berry, Crawford Swift and Precision Components, PTG has established itself at the forefront of high precision machine tool design, build and supply. The PTG range includes ultra precision grinding machines for rotor, thread and gear operations; rotor milling machines; heavy duty lathes; deep hole boring machines; friction stir welding machines and special purposemachine tools for the manufacture of precision components. Industrial sectors served range from aerospace, medical and mould tool & die to marine, power generation, mining, oil & gas, steel, high end and heavy automotive.
For more press information, please contact:
Neil Jones – Group Business Development Director, PTG
Tel: + 44 (0) 1706 526 590
Email: neil.jones@ptgltd.com