News & Press
Holroyd's High-precision Rotor Milling Centres Now Available With A Choice Of Control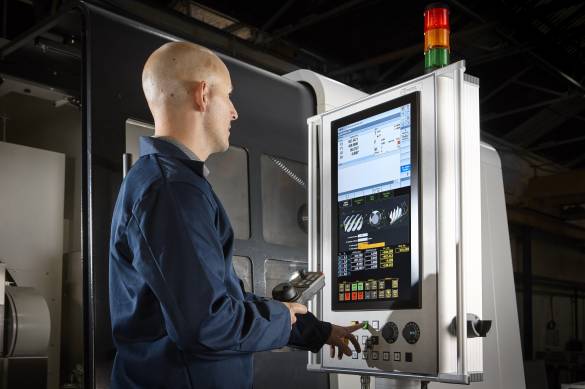 Committed to giving its customers the maximum choice when it comes to machine control technologies, UK-based Holroyd Precision now offers no fewer than three CNC control/HMI configurations with its high-precision helical rotor production centres.
"Traditionally, we have offered our own, highly user-friendly, in-house-developed CNC and HMI systems," comments Holroyd Regional Sales Director, Steven Benn. "To provide customers with greater levels of choice when specifying their rotor milling centres, we now also offer both Siemens and Fanuc controllers as 'standard-fit' alternatives to our own CNC."
Whichever CNC/HMI combination Holroyd customers opt for, they can be certain of superior productivity and reliability, as well as advanced features and functionality. Holroyd's own CNC system is partnered with Bosch motors and Bosch Rexroth digital drive systems. Both the Fanuc and Siemens controllers have been engineered as 'complete systems', and are supplied with their respective drives and motors. They have also been developed alongside a unique Holroyd HMI that has been specially designed to replicate the functionality and simplicity of programming that users of Holroyd CNCs will be used to.
Holroyd's new Siemens CNC/HMI option benefits from a large 300 mm x 525 mm screen and incorporates a user manual as well as all maintenance drawings relevant to the machine in question. Other features include a 'soft button' panel that can be 'swiped' to reveal further programming options or additional machine information. Optional CCTV cameras can be specified to assist operators during machine set-up and new ASUB cycles allow users to select set-up routines that can then be activated through the handheld unit. Twin helical vacuum or hydraulic pump screws can be easily manufactured thanks to auto-positioning of the helical paths, and new flow guide style programming allows the operation to start, stop and even omit sections of the machine program while the machine is in cycle.
The Holroyd Profile Management System 
In addition to providing a choice of CNC/HMI configurations, Holroyd also offers customers the opportunity to specify its unique Holroyd Profile Management System (HPMS) with machine orders. Specially developed to simplify the entire helical component manufacturing process, HPMS comprises of a specially written family of programs for the analysis and manipulation of profiles. HPMS is used in the development and control of a wide range of helical profiles for screw rotors, vacuum and pump screws, and worm gears.
PTG. The first name in precision
Incorporating the brands of Holroyd and Holroyd Precision Rotors, PTG has established itself at the forefront of high-precision machine tool design, build and supply for specialised applications. The Holroyd range includes advanced machine tools for the production of complex helical components such as compressor rotors, pump screws and high-accuracy gears, and machine tools for friction stir welding advanced alloys used in transport applications. With production facilities in the UK, USA and China, Holroyd Precision Rotors manufactures the special purpose, ultra-precision helical components used in a wide range of industries, including refrigeration, air-conditioning, gas and vacuum pumping, industrial air handling, aerospace, medical equipment, motion control, power transmission, power generation, oil & gas, fluid transfer and high-end automotive. PTG also provides advanced technical consulting services.