News & Press
Holroyd's Rotor Grinding Expertise Promises Greater Efficiencies For Japanese Refrigeration Specialist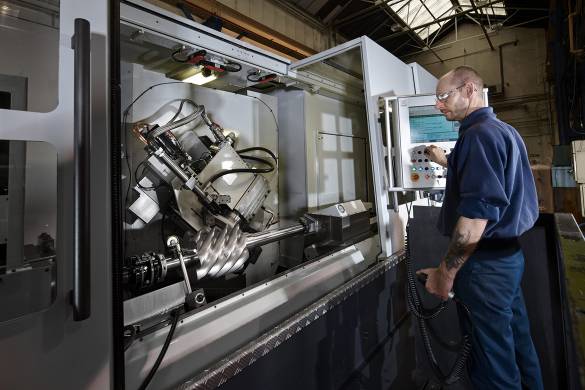 One of Holroyd Precision's acclaimed TG 350 rotor grinding machines is set to bring even higher levels of accuracy and speed to a leading Japanese manufacturer of rotors for refrigeration compressors.
The machine will be shipped during July 2017 and installed at the compressor manufacturer's Hiroshima facility in August 2017. It will be used to precision-grind cast iron and stainless steel screw rotors of up to 350mm in diameter, for use in industrial refrigeration units.
Benefiting from switching to rotor grinding
"A longstanding Holroyd customer, with nine of our machines in daily use,the business in question has traditionally rough milled then finish milled helical rotors, prior to 'final' precision-cutting. The finished profile shape is machined onto the cutter using a Holroyd CS 500 tool management centre," comments sales manager, Mark Curran. "With a wide range of rotor types to manufacture, however, it became apparent they could benefit from making the switch to CNC rotor grinding. Needless to say, we are delighted that they have chosen Holroyd Precision to supply this technology."
Manufacturing time reduced
As a result of their investment in the TG 350 rotor grinding machine, the refrigeration specialist will benefit from higher levels of accuracy, speed and repeatability – primarily as a result of greater levels of automation and reduced set-up time. For example, where it can presently take the business up to 50 minutes to manufacture rotors of up to 120mm in diameter by milling and cutting, Holroyd has been able to demonstrate a time saving of around 35 minutes.
A significant portion of the expected time saving results from the fact that on Holroyd TG Series machines, diamond dressing wheels continuously dress during the cycle. By contrast, cutting tools require periodic re-grinding, depending on the materials and volumes being cut.
TG Series: providing the industry standard
Holroyd's TG Series of multi-purpose grinding machines has long set the standard for high levels of accuracy and efficient stock removal. No fewer than 63 advanced Holroyd profile grinding machines are being used by manufacturers around the world.
Equally suited to prototyping, batch and volume production, TG Series machines are designed primarily for the finish grinding of helical screw components such as worm screws and rotors after they have beenmilled to a rough or semi-finished state. TG models offer production rates and accuracies to suit precise manufacturing strategies. Fully automated on-machine probing provides closed loop feedback of corrections to the dresser wheel and does not require a high level of operator skill.
TG Series grinding machines, at-a-glance:
Accelerated and simplified set-up
Fully automated grinding wheel balancing system
Powerful, menu-driven touch screen programming
Unique on-board Holroyd 3D CMM component scanning probe
High-power, high-speed grinding spindles
Optional hollow spindle for longer components
Advanced in-process dressing systems
Large diameter grinding wheels, for maximum wheel life
Optional Holroyd Profile Management System for profile development and control
Maximum component diameter from 3mm to 450mm, depending on component profile
Maximum component weight: 500kg
PTG. The first name in precision
Incorporating the brands of Holroyd, Holroyd Precision Rotors, Binns & Berry and Crawford Swift, PTG has established itself at the forefront of high precision machine tool design, build and supply. The PTG range includes ultra precision grinding machines for rotor, thread and gear operations; rotor milling machines; heavy duty lathes; deep hole boring machines; friction stir welding machines and special purpose machine tools for the manufacture of precision components. Industrial sectors served range from aerospace, medical and mould tool & die to marine, power generation, mining, oil & gas, steel, high end and heavy automotive.