News & Press
Holroyd's Rotor Milling Expertise Secures £1.8m Machine Order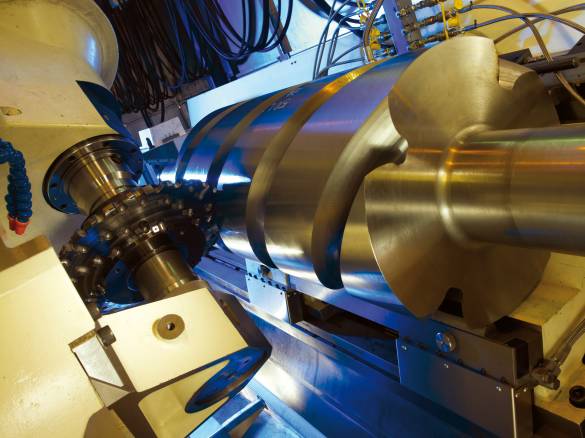 A little over two years after building one of the world's largest rotor milling machines – an EX Series '8EX' model – for a major Chinese compressor manufacturer, Holroyd Precision Ltd is about to ship a second, identical machine to the Zhejiang business.
Just like the 8EX rotor milling machine delivered in late 2013, this latest model from Holroyd Precision will be used to rough mill and 'finish machine' stainless steel rotors from blanks of up to 850mm in diameter and 4,500mm in length.
Manufactured from steel grades such as 1CR13 (UK: 410S21 stainless), rotors produced on the 8EX machine will weigh as much as 8,200kgs. Applications will include natural gas transportation, Organic Rankine Cycle expansion generators and process industry compressors.
The new generation of high capacity rotor milling machines
"Our development of the 8EX machine – a new generation in high capacity rotor milling, offering the precise cutting of particularly deep helical profiles – has brought exciting opportunities to organisations looking to machine highly accurate, large diameter compressor rotors," comments Holroyd Sales Manager, Mark Curran.
Increasing manufacturing capacity
"As you can imagine," he adds, "we were particularly pleased to receive this significant repeat order from one of our original 8EX customers. Underlining their confidence in our solutions and costing in excess of £1.8 million, the technology will enable them to further increase their capacity to satisfy China's growing energy market."
Speed, precision and efficiency
With models capable of accommodating all screw compressor diameters, Holroyd EX Series CNC rotor milling machines have earned global acclaim for their high speed, high precision, high levels of efficiency and unrivalled build quality.
Delivering class-leading reliability and performance, the 'standard' EX range begins with the 1EX – a machine capable of milling helical components of as little as 150mm – and offers stepped increases in capability, right up to the 8EX, an 850mm OD rotor miller. A 'special order' 10EX machine is also available for components exceeding one metre OD. In addition, various bespoke EX models are available. These include a 3EX-R (350mm OD) model with a specially extended drum rotation for milling compressors for Roots-type (positive displacement lobe pump) superchargers.
High surface speeds
Holroyd EX Series milling machines are designed with the ability to maximise the high surface speeds demanded by the very latest cutting technologies. Surface speeds in excess of 200m/min, for example, are often used when cutting the rotor profile forms in a single pass to leave only the allowance of 0.3mm stock for the finishing operation.
Cutting accuracy
EX machines cut a full-depth groove by traversing the cutting tool through the material at the relevant helix angle, whilst at the same time rotating the component in the 'C' axis. Accurate synchronisation between the axes is maintained via CNC, with digital drive technology controlling all axis movements. The cutting head is able to remove so much material in one step because the majority of heat generated is transferred to the swarf chips. These are then removed from inside the machine by means of a conveyor system.
At-a-glance, the EX Series rotor milling machines from Holroyd Precision Ltd
The flexibility of EX Series rotor milling machines means they are equally efficient at producing complex components with helical screw profiles, as they are at producing gear parts such as worm shafts. Indeed, in all manufacturing environments they will improve productivity through a combination of high-speed operation, powerful menu-driven touchscreen CNC programming, quick-change tooling, high power spindles and unbeatable rigidity.
The EX standard range includes:
·      1EX for parts up to 150mm diameter
·      2EX for parts up to 250mm diameter
·      3EX-R for parts up to 350mm diameter
·      5EX for parts up to 550mm diameter
·      6EX for parts up to 650mm diameter
·      8EX for parts up to 850mm diameter
PTG. The first name in precision
Incorporating the brands of Holroyd, Binns & Berry, Crawford Swift and Holroyd Precision Components, PTG has established itself at the forefront of high precision machine tool design, build and supply. The PTG range includes ultra precision grinding machines for rotor, thread and gear operations; rotor milling machines; heavy duty lathes; deep hole boring machines; friction stir welding machines and special purpose machine tools for the manufacture of precision components. Industrial sectors served range from aerospace, medical and mould tool & die to marine, power generation, mining, oil & gas, steel, high end and heavy automotive.
Photograph caption:
Large diameter rotor production, using the Holroyd 8EX rotor milling machine.
For more press information, please contact:
Neil Jones – PTG
Tel: + 44 (0) 1706 526 590
Email: neil.jones@ptgltd.com