News & Press
Leader In Air-conditioning Systems Selects New 'Larger Capacity' Holroyd Rotor Grinding Machine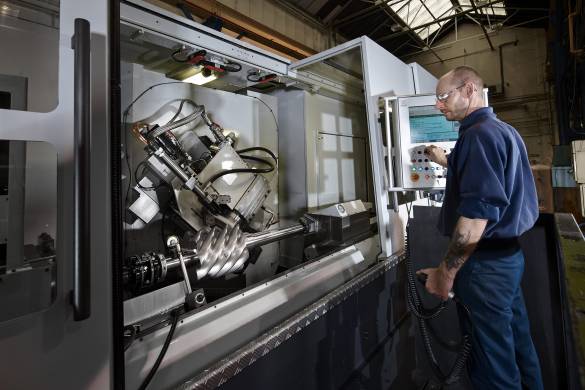 One of the world's leading manufacturers of air-conditioning systems has ordered an advanced helical rotor and thread grinding machine from UK-based Holroyd Precision.
The machine, a Holroyd TG 350E-XL (XL = extra-large traverse) will be shipped to China later this year, where it will be used by the air-conditioning technologies specialist to produce air ends, helical rotors and screw compressors for use in industrial cooling systems. This will be the second Holroyd TG 350E rotor grinder to be purchased by the organisation in recent years. Their decision to place this latest order reflects the significance they put on the uncompromising levels of accuracy and reliability that are provided by machines from Holroyd Precision.
Larger capacity rotor lengths
The TG 350E-XL's extra-large traverse capability offers an exciting development in helical rotor and thread production. This is due to an ingenious solution by Holroyd's design engineers, whereby larger capacity rotor lengths than can be accommodated on a 'standard' TG 350E can now be manufactured as and when required on a machine of exactly the same footprint. In short, the TG 350E-XL offers greater manufacturing flexibility, making it particularly suited to environments where there is a requirement to vary production to longer rotor lengths, or where factory floorspace is at a premium.
Typically, rotors produced on a TG 350E-XL will have longer shafts as used in semi-hermetic compressors with direct drive motors. Alternatively, the rotor body length might be longer to provide increased air or refrigerant capacity within the compressor. Compared to a standard TG 350E, which can be used to produce rotors of up to 350 mm in diameter and 1795 mm in length, the XL variant of the machine enables components of up to 2026 mm in length to be manufactured.
"Securing this major machine tool order – worth in excess of £1.3 million to our UK manufacturing facility – was particularly pleasing," comments Holroyd Regional Sales Director, Steven Benn. "In the face of stiff competition, we were chosen for our ability to provide the precise rotor grinding technology that the customer required, all supported by the high levels of performance and repeatability that they have come to expect from our ultra-precise grinding technologies."
TG Series: setting the industry standard
Holroyd's TG Series of multi-purpose grinding machines has long set the standard for high levels of accuracy and efficient stock removal. The TG range starts with the TG 50E, a machine designed to precision grind components of up to 50 mm in diameter and 610 mm long, with models offering stepped increases in capability up to the production of helical components measuring 350 mm in diameter and 2026 mm long.
Equally suited to prototyping, batch and volume production, TG Series machines are designed primarily for the finish grinding of helical screw components such as worm screws and rotors after they have been milled to a rough or semi-finished state. TG models offer production rates and accuracies to suit precise manufacturing strategies. Fully automated on-machine probing provides closed loop feedback of corrections to the dresser wheel and does not require a high level of operator skill.
TG Series grinding machines, at-a-glance:
Accelerated and simplified set-up
Fully automated grinding wheel balancing system
Powerful, menu-driven touch screen programming
On-board Holroyd 3D CMM component scanning probe
High-power, high-speed grinding spindles
Optional hollow spindle for longer components
Advanced in-process dressing systems
Large diameter grinding wheels, for maximum wheel life
Optional Holroyd Profile Management System for profile development and control
Maximum component diameter from 3 mm to 450 mm, depending on component profile
Maximum component weight 700 kg
PTG. The first name in precision
Incorporating the brands of Holroyd and Holroyd Precision Rotors, PTG has established itself at the forefront of high-precision machine tool design, build and supply for specialised applications. The Holroyd range includes advanced machine tools for the production of complex helical components such as compressor rotors, pump screws and high-accuracy gears, and machine tools for friction stir welding advanced alloys used in transport applications. With production facilities in the UK, USA and China, Holroyd Precision Rotors manufactures the special purpose, ultra-precision helical components used in a wide range of industries, including refrigeration, air-conditioning, gas and vacuum pumping, industrial air handling, aerospace, medical equipment, motion control, power transmission, power generation, oil & gas, fluid transfer and high-end automotive. PTG also provides advanced technical consulting services.