News & Press
Leistritz Invests £1.5 Million In The Zenith Of Holroyd's Pump Screw Grinding Expertise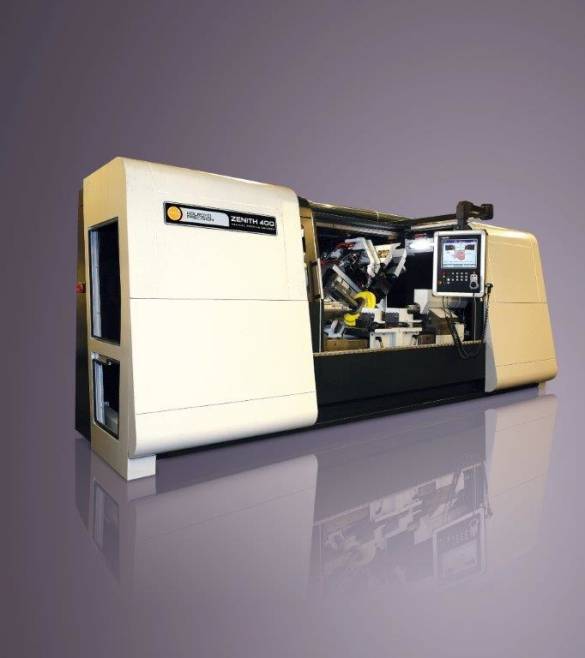 Precision Technologies Group (PTG) company, Rochdale-based Holroyd Precision Limited, has received an order for one of its Zenith 400 helical profile grinding machines from Leistritz Pumps GmbH, of Nuremberg, Germany.
Leistritz is a globally-respected pump screw manufacturer and will use the Zenith 400 machine to manufacture a wide range of precision screws, in sizes ranging from as little as 10mm in diameter to as much as 344mm in diameter and 2000mm in length.
Valued at £1.5 million, the Zenith 400 was chosen by Leistritz for its high-precision grinding capabilities and because of the immense levels of flexibility it brings to manufacturing strategies. It will be delivered, installed and commissioned in Spring 2015.
"We are delighted to have secured this significant order from Leistritz," comments Holroyd Precision's Sales Director, Steven Benn. "The quality of Leistritz screw pumps is well known across industry and we look forward to further enhancing the manufacturing capabilities of the business. Working in close association with PTG GmbH, our machine sales and service division in Germany, we were able to offer Leistritz not only the precise machine they required, but also the highest levels of 'on the ground' local support."
About the Zenith 400 helical profile grinder
The Zenith 400 represents the very pinnacle of Holroyd Precision's helical profile grinding technologies. Able to precision-grind helical components weighing up to 700kg and measuring up to 420mm in diameter, the Zenith 400 provides high stock removal rates and aggressive semi finishing, with production rates and accuracies tailored to each customer's precise needs. The Zenith 400 is also the first machine of its kind to offer all three grinding technologies: aluminium oxide, ultra hard plated CBN and vitrified, dressable CBN.
Holroyd 3D CMM component scanning
A further reason for Leistritz choosing the Zenith 400 machine was to benefit from its unique Holroyd 3D CMM component scanning probe with fully automatic compensation feedback. Offering class-leading accuracy and improved production rates, the scanning technology removes any need for off-machine component inspection. Instead, parts can be accurately ground then measured, with any deviations being automatically corrected before completion of the manufacturing cycle.
The Holroyd Profile Management System (HPMS)
In addition to the Zenith 400 helical profile grinder, Leistritz has also ordered the acclaimed Holroyd Profile Management System (HPMS). An industry-leading desktop development tool, HPMS consists of a family of sub programs for the manipulation and analysis of helical profiles. HPMS can be used in the development of a wide range of profiles for screw rotors, vacuum and pump screws, as well as to assist with control of the profile during production.
PTG. The first name in precision
Incorporating the brands of Holroyd, Binns & Berry, Crawford Swift and Holroyd Precision Components, PTG has established itself at the forefront of high precision machine tool design, build and supply. The PTG range includes ultra precision grinding machines for rotor, thread and gear operations; rotor milling machines; heavy-duty lathes; deep hole boring machines; friction stir welding machines and special purposemachine tools for the manufacture of precision components. Industrial sectors served range from aerospace, medical and mould tool & die to marine, power generation, mining, oil & gas, steel, high end and heavy automotive.
Photograph caption:
The Zenith 400 helical profile grinding machine from PTG company, Holroyd Precision Limited.
For more press information, please contact:
Neil Jones – Group Business Development Director, PTG
Tel: + 44 (0) 1706 526 590
Email: neil.jones@ptgltd.com