News & Press
More Than £7 Million in Enquiries for PTG Heavy Industries at IMTEX Bangalore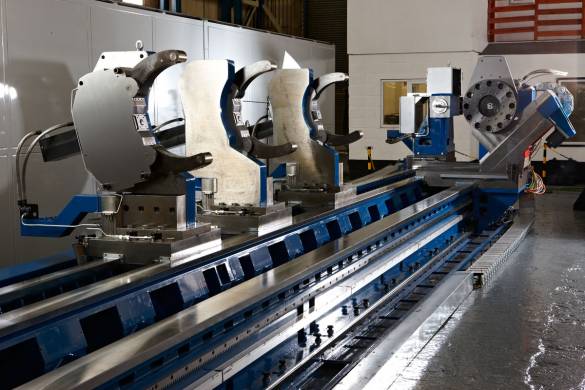 As first-time exhibitors at the biannual event held in Bangalore, the precision machinery group naturally expected a reasonable degree of interest in its technologies. What it wasn't prepared for, however, was well over £7 million in potential orders.
Fabulous opportunity
"IMTEX 2013 was a fabulous exhibition for PTG Heavy Industries," comments Sales Manager, Chris Cheetham. "The level of interest shown in our Powerstir friction stir welding technologies, deep hole boring machines, Versa Turn lathes and heavy-duty flat bed lathes truly was considerable."
Serious enquiries
"Moreover," he continued, "these were very serious enquiries, made by senior executives with very real manufacturing requirements. When a potential customer presents you with detailed engineering drawings and has specific processes in mind, you know they are genuinely looking for a solution. Precision manufacturing technologies such as ours are clearly in demand across South and South East Asia, particularly in the oil, steel-making and hydraulics sectors. As a result, we now look forward to several weeks of follow up meetings with the valuable contacts we made."
Record £10 million in sales in 2012
The successes enjoyed by PTG Heavy Industries at IMTEX 2013 follow hot on the heels of record sales in 2012. During the year, the organisation's machine sales exceeded £10 million – an increase of 30% over the previous 12-month period and a clear indication of customer appreciation of the inspiring engineering solutions that PTG Heavy Industries provides.
The name behind Binns & Berry and Crawford Swift
Part of the Precision Technologies Group, PTG Heavy Industries is the name behind Binns & Berry's well-respected deep hole boring machines, Versa Turn hollow spindle lathes and heavy duty flat bed lathes. PTG Heavy Industries also manufactures Crawford Swift Powerstir friction stir welders. Capable of producing superior friction stir welds in aluminium alloys, titanium and stainless steel, Powerstir models are already used in the Chinese avionics and high-speed rail sectors, as well as by organisations in the Russian space industry.
For more press information, please contact:
Neil Jones – Group Business Development Director, PTG
Tel: + 44 (0) 1706 526 590
Email: neil.jones@ptgltd.com