News & Press
Multi-million-pound Order For Versa Turn Hollow Spindle Lathes, Confirms PTG's Ability To Bring Greater Versatility To Manufacturing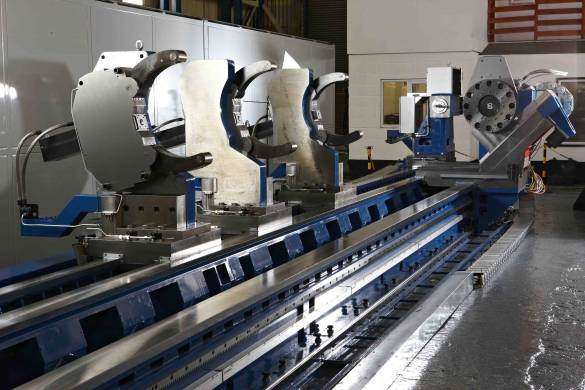 UK-based PTG Heavy Industries has secured an order from a leading Indian manufacturing company for the supply of two of its Versa Turn hollow spindle heavy-duty lathes. The lathes will be used for a variety of machining processes, for the production of steel components of up to 12 metres in length.
Putting the customer first
PTG Heavy Industries was awarded the order not simply because of its reputation for providing high-precision manufacturing technologies, but also as a result of its willingness to produce machines of a modular design and with the flexibility to accommodate the customer's most specific requirements.
"At PTG Heavy Industries," comments Sales Manager, Chris Cheetham, "we always listen to the needs of customers, in order to adapt our solutions to satisfy their individual manufacturing strategies. The result is a wholly bespoke machine, developed specifically for the task in hand."
Well recognised across industry
The advantages of using hollow spindle lathes are well recognised across a number of industrial sectors, particularly where longer material lengths need to be machined and where restrictions on floor space can limit the use of lathes with a longer machine bed.
Significant new advantages
The Versa Turn series of hollow spindle lathes from PTG Heavy Industries, however, presents manufacturers with a number of significant advantages to the hollow spindle lathe concept – each of which is helping to firmly establish the Versa Turn range as a preferred choice across sectors as wide ranging as shipbuilding, oil & gas production, power generation, aerospace, automotive and defence.
The optimal solution
"We designed the Versa Turn range to offer a modern, totally modular concept in hollow spindle lathe design," adds Chris Cheetham. "As such," he continues, "Versa Turn models retain a traditional flat bed configuration, something that we believe provides the optimal solution between stability, capacity and cost, yet enables us to create unique permutations for totally different manufacturing environments and applications.  For example, positioning the headstock between two bed sections enables simultaneous machining operations to take place at both ends of the lathe – something which has a dramatic effect on machine efficiencies and cycle times."
CNC and manual operations
Equipped with full CNC control as standard, and using the customer's preferred system, each Versa Turn lathe also meets the requirements for manual operations for turning and facing, using power-assisted Micro-Handwheel controls. The machine headstock, which is clutchless, benefits from a powerful 80kW (107hp) rated Siemens Digital AC Spindle Drive, supporting a 450mm spindle bore.
The Versa Turn hollow spindle lathe – Key benefits / options at-a-glance:
'Y' axis with +/- 100mm of travel for both first and second carriage
Second carriage with turret and extra-wide full across saddle with extended single piece cross slide
150-200mm (6-8") heavy-duty, interchangeable boring bar holder for second carriage
Heavy-duty chip conveyor to the full-length rear of the machine
Powered clamping of the tailstock to the machine bed
Motorised towing pin for tailstock positioning via CNC control
Air-conditioning unit for electrical cabinet and CNC pendant
CNC 'C' axis with hydraulic disk brake for 360,000 continuous path +/- .01 degree accuracy
PTG. The first name in precision
Incorporating the brands of Binns & Berry, Crawford Swift, Holroyd and Holroyd Precision Components, PTG has established itself at the forefront of high precision machine tool design, build and supply. The PTG range includes heavy duty lathes, deep hole drilling machines, friction stir welding machines, ultra precision grinding machines for rotor, thread and gear operations; rotor milling machines and special purposemachine tools for the manufacture of precision components. Industrial sectors served range from aerospace, medical and mould tool & die to marine, power generation, mining, oil & gas, steel, high end and heavy automotive.
Ends…
Photograph caption:
Versa Turn from PTG Heavy Industries: the totally modular concept in hollow spindle lathe design.
For more press information, please contact:
Neil Jones – Group Business Development Director, PTG
Tel: + 44 (0) 1706 526 590
Email: neil.jones@ptgltd.com