News & Press
New CNCs, As Two Holroyd Rotor Grinding Machines Turn Twenty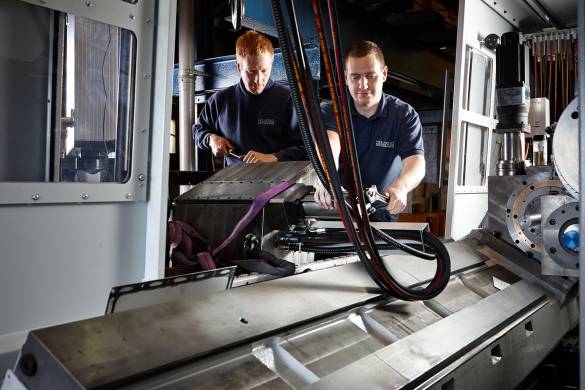 As part of its 'Absolute Care' machine tool maintenance programme, Rochdale-based Holroyd Precision is offering a range of CNC upgrade packages and full machine refurbishment solutions for its older rotor milling and grinding technologies.
Recognising the value of keeping its Holroyd machines functioning like new, one of North America's leading rotary displacement pump manufacturers has just opted for a full CNC upgrade for its two, twenty-year-old Holroyd TG 350 rotor and thread grinding machines – purely to guard against any risk of software obsolescence.
"Even though our high precision rotor milling and grinding technologies are built to provide many years of reliable service, we were nevertheless delighted when the customer concerned approached us for nothing more than a CNC upgrade for machines that have been in daily use since 1996," comments Holroyd Sales Manager, Mark Curran.
"On visiting their manufacturing facility earlier this year, it was genuinely rewarding to see that after so many years of regular use, the TG 350 rotor grinders only needed an upgrade of their electrical systems and software to protect them against legacy issues and ensure that they would continue to keep on operating efficiently."
Avoiding impact on production
To avoid impacting on the customer's production strategies, Holroyd plans to complete the CNC upgrades individually. Each refit will typically take a month to complete, with work being carried out on site. The first machine to be upgraded will then be fully tested and re-commissioned before the second machine is taken off-line.
Once the upgrades have been completed, the TG 350 models will offer the same functionality and capability as before, but benefit from up-to-date control technologies, with the backing of an extensive support package and a comprehensive 12-month warranty on all work carried out, as well as on new components.
A cost-effective alternative
Where existing customers do not need the very latest machining capabilities, but simply require their machines to continue operating as they did when new, Holroyd is finding that its range of machine upgrade services is proving to be an increasingly popular, cost-effective alternative to buying new.
Benefiting from latest control technologies
Electrical upgrades typically involve the use of current Fanuc, Bosch or Siemens CNC systems, as well as modern drives, scales, decoders, wiring and software. Where necessary, full mechanical refurbishments, involving recalibration and re-engineering services are also available.
Guarding against obsolescence
"From providing the latest control system and performance upgrades to full refurbishments, we offer an extensive range of services that can help guard against obsolescence and the risk of breakdown, and equip machine tools with new levels of functionality," adds Mark Curran. "Our extensive stockholding of legacy CNC technologies and PCBs also enables us to provide prompt repairs.
PTG. The first name in precision
Incorporating the brands of Holroyd, Binns & Berry, Crawford Swift and Holroyd Precision Rotors, PTG has established itself at the forefront of high precision machine tool design, build and supply. The PTG range includes ultra precision grinding machines for rotor, thread and gear operations; rotor milling machines; heavy duty lathes; deep hole boring machines; friction stir welding machines and special purpose machine tools for the manufacture of precision components. Industrial sectors served range from aerospace, medical and mould tool & die to marine, power generation, mining, oil & gas, steel, high end and heavy automotive.