News & Press
New Holroyd WG 'grinding stations' bring ultra-precision to worm gear manufacture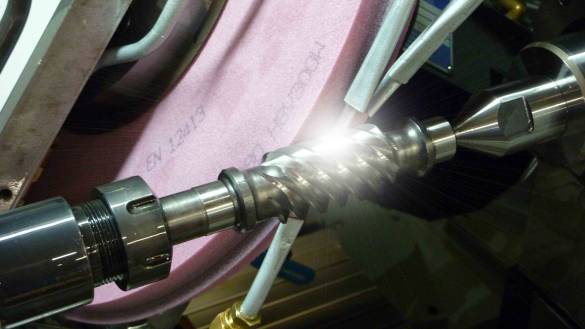 Known as the WG Series, these new worm gear 'grinding stations' incorporate Holroyd's award-winning 'SMART' probe and self-correction CNC technology. Depending on the model selected, users can grind precision worm shafts to AGMA 14/DIN 2 in sizes ranging from 3mm to 500mm diameter and thread lengths up to 1600mm, with a 130mm diameter through bore work head to accommodate long shaft lengths.
Reputation for precision
As the specialist machine tool design, manufacture and supply division of UK-based Precision Technologies Group (PTG), Holroyd Precision Limited is already well known for its worm gear and helical screw rotor manufacturing technologies. Through the introduction of the WG range, however, the company brings the uncompromisingly high levels of accuracy and finish that have made it a world leader in the supply of helical profiling machines, to worm gear shaft manufacture.
Setting the benchmark
"We are already well known for setting new benchmarks in the production of precision rotors and helical gears," comments Sales Manager, Steven Benn.
"It, therefore, seemed only appropriate to offer worm gear manufacturers the same high levels of excellence as provided by our industry leading TG Series Rotor Grinding machines and GTG2 Gear Grinding models."
High power for deep grinding
Designed and manufactured in the UK, to the highest engineering standards, Holroyd's new WG gear grinding stations combine high power for deep grinding operations, with exacting levels of finish and fast set up to maximise production and minimise operating costs.
Holroyd CNC control
Each WG machine also benefits from Holroyd's CNC system – a purpose-developed controller with graphical, menu-driven user interface that makes it both simple and straightforward for operators to take data from gear drawings, to produce profile and grinding paths and to generate standard tooth forms or perform topological modifications to tooth profiles in a controlled and easy way.
Integrated drive technology
Each WG model's high power capability stems from the use of advanced digital servo drives and high torque density synchronous servo motors. Holroyd's digital drive technology offers a small, neat and reliable drive package and incorporates 'Safety on Board Technology'. Performance is also enhanced by the use of 3D measurement and an integrated correction probe. This improves production rates by removing any need for off-machine inspection of ground components. It also means that parts can be precision-ground and measured, with any deviations being automatically corrected before the completion of the cycle.
Ensuring greater consistency
Other user benefits of the WG range – and, indeed, Holroyd Precision's other gear machines – include the introduction of a gear manufacturing and design analysis program. Reducing the margin for error during worm gear manufacture, the program also helps ensure greater consistency and longer gear life. This is achieved by providing benefits such as the ability to grind worm gears off-load, in order to offset distortion due to loading during use.
World record in worm gear efficiency
Although the Holroyd Precision name is perhaps more frequently associated with high precision rotor and gear profile grinding technologies, the organisation already leads the way in worm gear precision manufacturing and holds the world record for worm gear efficiency, set at over 98%. This was made possible by Holroyd's unique worm gear profile and worm gear materials. It is also a key reason why the company has become a main supplier to many organisations requiring precision in worm gears.
Particularly interesting worm gear projects carried out by Holroyd Precision include the development of accurate worm gears for the smooth operation of film equipment used by a Hollywood production company, and the supply of dual gear leads for the precise positioning of a telescope at a large astronomical observatory in Chile. Other customers stem from a wide range of industrial sectors, including elevator manufacture, steel mills and tool indexing systems.
Holroyd WG worm gear grinding stations– key features at-a-glance
Worm gear shafts, precision ground to AGMA 14/DIN 2 in sizes ranging from 3mm to 500mm diameter and thread lengths up to 1600mm, with a 130mm diameter through bore work head to accommodate long shaft lengths.
Holroyd HTG 8-axis CNC system with advanced touch screen interface and award-winning 'SMART' probe and self-correction technology.
Fully automatic programmable cycles, including: dressing with full compensation for dressing disk wear and gear tooth grinding with probing and form measurement.
Fully automatic grinding wheel balancing system built into machine spindle, with power monitoring for machine overload protection.
2-axis CNC controlled wheel dresser with diamond dressing disk; programmable rough and finish grinding and automatic wheel profile calculation.
Optional automatic inspection station – Renishaw SP80 Scanning Probe with resolution of 1µm in X, Y and Z axes for measurement of tooth position shaft run-out, tooth depth, helical lead etc.
Digital drives to all CNC servo axes, incorporating fibre-optic Serial Real-time Communications System (S.E.R.C.O.S.) and digital closed loop feedback.
WG range machine specifications:
Minimum Diameter                        3mm
Maximum Diameter                       500mm
Maximum Thread Length              1600mm
Maximum Component Length      2m plus 130mm dia. through bore work head
Spindle Speed                                 Up to 3000 rpm
Feed Rate                                        Variable to 7.5m/min
Photograph caption:
The new Holroyd WG range – absolute precision in worm gear manufacture.
For more press information, please contact:
Neil Jones – Group Business Development Director, PTG
Tel: + 44 (0) 1706 526 590
Email: neil.jones@ptgltd.com