News & Press
New PTG Holroyd machine is first of kind to precision grind both worms and gears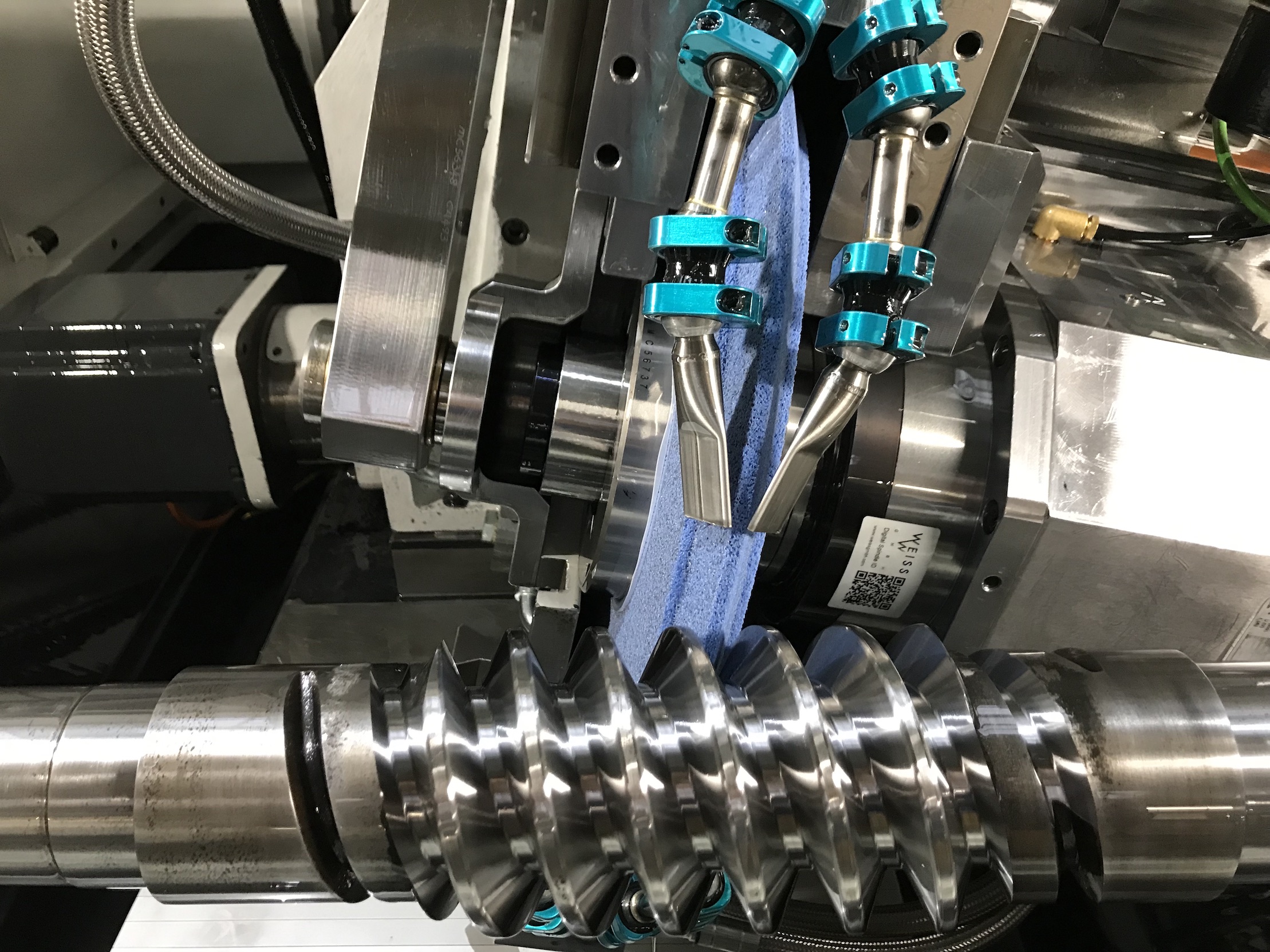 Manufacturing high-accuracy worm gears and screws alongside precision spur and helical gears has traditionally required the use of two quite different CNC grinding machines. Thanks to PTG Holroyd's newly launched HG350-WG worm and gear grinding centre, however, just one machine can now complete both tasks.
"Since the launch of our HG350-G [gear-only] grinding centre in 2021, we've been investigating ways of bringing manufacturers of worms or gears, or both, greater levels of flexibility and efficiency in their manufacturing processes," comments Mark Curran, sales director of UK-based PTG Holroyd.
"The result of a £multi-million machine tool development programme," he continues, "our new HG350-WG worm and gear grinding centre does just that. Taking the concept behind the PTG Holroyd HG350 range a stage further, the dual-capability 'WG' model has been designed not only for the one-off and batch grinding of high-accuracy worms and screws, but also for precision grinding spur and helical gears of up to 350 mm in diameter. Primarily, that means significantly improved versatility for manufacturers who need to quickly switch between grinding processes. Many other businesses will now only need to invest in one type of helical grinding machine tool while, for others, selecting a HG350-WG model will mean being able to expand their manufacturing capability to either worms or gears."
Designed from the ground up to bring greater levels of efficiency and accuracy to the production of specialised gears and tooth forms, this latest member of the PTG Holroyd HG350 family features an advanced version of the company's acclaimed HPMS (Holroyd Profile Management System) for rapid programming and seamless background calculations of both worms and gears. In fact, operators will only need to input the profile shape and size they wish to achieve for a precise dressing path to be created.
First to use Sinumerik ONE CNC
Just like all PTG Holroyd HG350-G gear grinding machines, the new HG350-WG worm and gear variant is controlled by Siemens' highly intuitive Sinumerik ONE future-proof CNC. PTG Holroyd was the first UK machine tool manufacturer to embrace the benefits of the Sinumerik ONE control, a decision which has helped to equip its HG350 range with class-leading integrated safety and failsafe features, enhanced reporting of machine health and performance data, and uncompromising levels of industrial security.
"Using the Sinumerik ONE CNC has also allowed us to equip HG350-WG models with Siemens' 'Create my virtual machine' and 'Run my virtual machine' software capabilities," adds Mark Curran. "When used in tandem with our own internal machine design packages, these features have enabled our teams to build virtual 'digital twin' HG350-WG worm and gear grinding centres on the desktop, then grind virtual gears and threads – all while observing entire manufacturing cycles, and testing safety and failsafe capabilities. The software also makes acceptance testing exceptionally straightforward, as our customers are able to sign off on their new machine before it has even been built. Then, following installation, they too can benefit from carrying out 'virtual' gear and worm grinding to ensure right-first-time results."
First machine of kind to use Renishaw Sprint 3D scanning probe alongside Sinumerik ONE CNC
Maintaining PTG Holroyd's pedigree of delivering industry firsts, the new HG350-WG is believed to be the first machine of its kind to use Renishaw's Sprint 3D scanning probe, alongside Siemens' Sinumerik ONE CNC,  for rapid precision scanning for infinitesimal profile corrections. "We have worked in close association with Renishaw and Siemens to use orthogonal data from the grinding machine's  X, Z [linear] and C [turning axis] to create a virtual Y-axis for use by the Sprint probe," says Mark Curran.
About the HG350-WG worm gear and gear grinding centre
PTG Holroyd's HG350-WG machines feature the high power required for deep grinding operations. A specially developed extended machine bed allows screws and worm shafts of up to one metre in length to be accommodated. Dedicated software compensates for helical twist, and full topological capability comes as standard. Embracing the Sinumerik ONE CNC's Profinet capabilities, IO-Link communication technology will be offered with all new HG350-WG machines – as will RFID scanning, an option that will be particularly suitable for machines destined for production cells, by helping ensure that virtually any component or tooling item that needs to be switched between manufacturing cycles, is correctly changed for each gear grinding operation.
Simplifying the most complex processes
Continuing the PTG Holroyd tradition of building machines that simplify even highly complex manufacturing processes, the HG350-WG combines extreme rigidity with high power for both CBN and conventional deep grinding operations. On-board features include automatic coordinate adjustment, in-cycle wheel dressing, integrated profile management and coordinate measurement. Grinding cycles are included for: spur gears; helical gears; crowned helical and spur gears with root or tip relief; worm gears of the form ZK, ZI, ZN and ZA; dual lead (duplex) worm gears; and splines.