News & Press
No Fewer Than 14 Holroyd Machines For North American Air Compressor Co.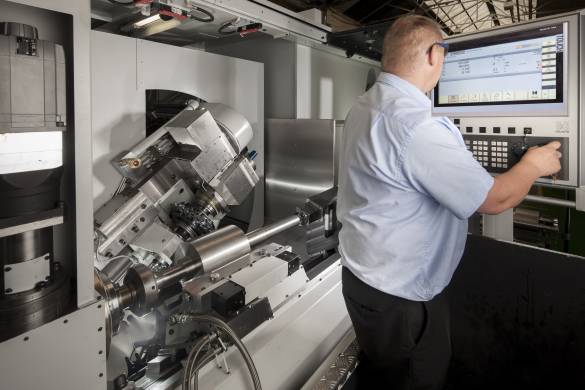 If repeat orders are a reflection of trust, Rochdale-based Holroyd Precision can have little doubt about the faith that one of North America's leading air compressor specialists places in its rotor milling and grinding technologies.
Having already invested in 12 Holroyd machines over recent years, the business concerned has now placed an order for two new Holroyd EX Series rotor millers. Worth in excess of $6.2 million, the models ordered – a 3EX-R rotor production centre and a 5EX rotor milling machine – are in the final stages of build at Holroyd's UK manufacturing centre.
Screw threads for largest stationary compressors
The 3EX-R will be used for rough milling blanks of up to 350mm in diameter to produce rotors for several of the North American organisation's larger portable and stationary compressors. The 5EX machine will rough mill screw threads in excess of 400mm in diameter for use in some of the firm's largest stationary compressors.
Highest levels of reliability
"It is always immensely satisfying to establish long-term customer relationships," comments Holroyd Sales Manager, Mark Curran. "You can therefore imagine how very pleased we are to have secured a further significant order from this important customer. Before the end of the year, they will have no fewer than 14 Holroyd milling and grinding technologies at their Indiana site. The new EX Series machines will join a wide range of Holroyd technologies – including an existing 3EX-R rotor production centre and two TG Series rotor grinding machines – all of which have provided the highest levels of reliability."
Holroyd EX Series – speed, precision and efficiency
Holroyd EX Series CNC rotor milling machines have earned global acclaim for their high speed, high precision, high levels of efficiency and unrivalled build quality. Delivering class-leading reliability and performance, the EX range begins with the 1EX – a machine capable of milling helical components of as little as 150mm diameter – and offers stepped increases in capability, right up to the 8EX (850mm maximum component diameter) rotor miller. A 'special order' 10EX machine is also available for components exceeding one metre in diameter. In addition, various bespoke EX models are available.
Cutting accuracy
EX machines cut a full-depth groove by traversing the cutting tool through the material at the relevant helix angle, whilst at the same time rotating the component in the 'C' axis. Accurate synchronisation between the axes is maintained via CNC, with digital drive technology controlling all axis movements. The cutting head is able to remove so much material in one step because the majority of heat generated is transferred to the swarf chips. These are then removed from inside the machine by means of a conveyor system.
At-a-glance, the EX Series of rotor milling machines
The flexibility of EX Series rotor milling machines means they are equally efficient at producing complex components with helical screw profiles, as they are at producing gear parts such as worm shafts. Indeed, in all manufacturing environments they will improve productivity through a combination of high-speed operation, powerful menu-driven touchscreen CNC programming, quick-change tooling, high power spindles and unbeatable rigidity.
The Holroyd EX range includes:
1EX for parts up to 150mm diameter
2EX for parts up to 250mm diameter
3EX-R for parts up to 350mm diameter
5EX for parts up to 550mm diameter
6EX for parts up to 650mm diameter
8EX for parts up to 850mm diameter
PTG. The first name in precision
Incorporating the brands of Holroyd, Binns & Berry, Crawford Swift and Holroyd Precision Rotors, PTG has established itself at the forefront of high precision machine tool design, build and supply. The PTG range includes ultra precision grinding machines for rotor, thread and gear operations; rotor milling machines; heavy duty lathes; deep hole boring machines; friction stir welding machines and special purpose machine tools for the manufacture of precision components. Industrial sectors served range from aerospace, medical and mould tool & die to marine, power generation, mining, oil & gas, steel, high end and heavy automotive.
Photograph caption:
Absolute precision makes all the difference: the Holroyd 3EX-R rotor production centre.
For more press information, please contact:
Neil Jones – PTG
Tel: + 44 (0) 1706 526 590
Email: neil.jones@ptgltd.com