News & Press
OBE For PTG's Chief Executive Officer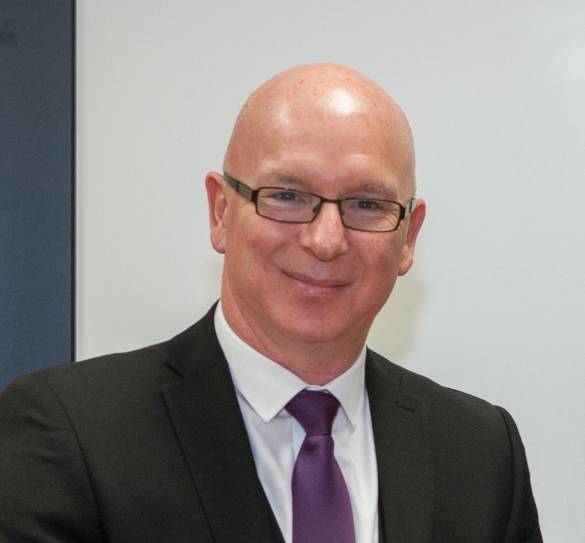 Dr Tony Bannan, 52, Chief Executive Officer of Rochdale-based Precision Technologies Group (PTG), has been appointed an Officer of the Order of the British Empire in the Queen's Birthday Honours List 2016.
The OBE has been given in recognition of Dr Bannan's services to the UK economy, international trade and inward investment.
Dr Bannan joined PTG company, Holroyd Precision, as Technical Director in 1999, becoming Managing Director of PTG's machine tools divisions (Holroyd Precision, Binns & Berry and Crawford Swift) in 2007. He became Group Chief Operating Officer in September 2008, and then PTG's Group Chief Executive Officer in June 2010.
98% of products destined for export
PTG is an export-driven manufacturer of special purpose CNC machine tools, such as the globally acclaimed Zenith 400 helical profile grinder and the Powerstir range of friction stir welders, as well as ultra-precise rotors. Typically, 98% of all PTG products are exported, with 70% destined for Greater China.
Considerable success in Greater China
Under the leadership of Dr Bannan, PTG's approach across Greater China became so successful that in June 2010, the organisation was acquired by Chongqing Machinery & Electric Co. Ltd. (CQME), a large Chinese industrial group that employs approximately 40,000 people, is listed on the Hong Kong stock exchange and achieves annual sales in the region of $1.5billion (USD).
Securing substantial investment
Throughout the acquisition process, Dr Bannan's main focus was to promote and protect PTG as a strong driver of innovation and technology, and secure substantial investment to develop new markets, all while safeguarding the company's UK and German (PTG Deutschland GmbH) businesses and employees.
Developing new products and markets
Since acquisition, PTG has experienced considerable sales growth, with turnover in excess of £20 million in 2015. On its part, parent company, CQME, has invested considerably in the Rochdale business, further securing the future of PTG's UK workforce. CQME allows for a significant proportion of PTG's profits to be retained in the UK for the development of new products and markets, and to support investment in R&D, training and skills, trade exhibitions and publicity.
"A tremendous honour and very surprising"
Referring to his appointment, Dr Bannan said: "To receive the OBE is obviously a huge thrill, a tremendous honour and very surprising. In business you occasionally meet people who have been granted such recognition, but never imagine it might happen to you. It is also very humbling, because you are being rewarded as an individual for what is, in truth, the combined and sustained efforts and creativity of many people in business – many of whom have gone before you and laid the foundations of success."
"Benefiting from a strong legacy"
"Without the commitment, skills and imagination of the people who have worked in and led PTG – and before that, Holroyd – what has been built and exists today might never have been," he continued. "I am lucky to have benefited from a strong legacy, and I remind myself and those around me of this fact very often. It is very important to recognise our duty to successive generations."
2015 Queen's Award for Enterprise
As a further example of PTG's achievements, in 2015 Holroyd Precision was presented with the Queen's Award for Enterprise, the UK's highest accolade for business success. Holroyd received the award for International Trade, having achieved year-on-year growth in exports. This was the fourth occasion that Holroyd won the Queen's Award.
PTG. The first name in precision
Incorporating the brands of Holroyd, Binns & Berry, Crawford Swift and Holroyd Precision Rotors, PTG has established itself at the forefront of high precision machine tool design, build and supply. The PTG range includes ultra precision grinding machines for rotor, thread and gear operations; rotor milling machines; heavy duty lathes; deep hole boring machines; friction stir welding machines and special purpose machine tools for the manufacture of precision components. Industrial sectors served range from aerospace, medical and mould tool & die to marine, power generation, mining, oil & gas, steel, high end and heavy automotive.
Photograph caption:
Dr Tony Bannan OBE – Group Chief Executive Officer of Precision Technologies Group.
Notes for editors
About Dr Tony Bannan
Born and raised in Accrington, Lancashire, Tony Bannan first studied engineering on day-release at Blackburn Technical College. While progressing through various shop floor, technical, supervisory and management roles, he continued his academic studies part-time, achieving BSc Engineering Sciences (The Open University) and MSc Project Management (Lancaster University). He then completed a PhD in Fluid Mechanics at the University of Manchester Institute of Science and Technology (UMIST),
Today, in addition to his role as Group Chief Executive Officer of Precision Technologies Group, Dr Bannan is a Director and Officer of Chongqing Machine Tools International (CHMTI),
Dr Bannan is a Chartered Mechanical Engineer (CEng, Fellow of IMechE),
In 2010 the Chongqing State Institutes appointed him as a 'Liang Jiang Scholar' (Professor), with the objective of introducing Western technological expertise to CHMTI's products.
Other roles and responsibilities include:
Vice-President and Director of the Manufacturing Technologies Association (MTA), responsible for governance of the Technical Standards Committee, 2001 to present,
Global Ambassador for Manchester, representing the city's economic and technological development, and regeneration opportunities to internal investors,
A 'Manufacturing Champion' – as part of the Manchester 'New Economy' initiative.
About Precision Technologies Group and Holroyd Precision
·      PTG company, Holroyd Precision, has received Queen's Awards on no fewer than four occasions, winning in 2015 for International Trade and in 2004 for Innovation in the field of thread and gear grinding technology,
·      In recent years, Holroyd Precision has secured other high profile accolades. These include the 2014 and 2016 Greater China Business Award for the North West of England, and recognition in the inaugural Sunday Times PA Consulting Inward Investment Track as one of twenty up and coming medium-sized subsidiaries of foreign companies,
·      PTG is committed to staff development and training, and each year looks to take on a number of young people through a robust, engineering-based modern apprenticeship programme that is run in association with Rochdale Training,
·      As proof of the quality of PTG's staff training programmes, in 2014 Holroyd Precision was named as Apprentice Employer of the Year in the prestigious Rochdale Business Awards.  Also in 2014, one of Holroyd's young engineers was presented with the respected AMTRI scholarship at the Manufacturing Technologies Association (MTA) awards dinner,
·      In 2010 PTG became part of Chongqing Machinery & Electric Co. Ltd. (CQME), a large Chinese industrial group listed on the Hong Kong stock exchange,
·      A major local employer, PTG employs close to 200 people from the local community and has seen generations of families from the Milnrow (Rochdale) area make up its highly skilled team,
·      Holroyd Precision has been based in the North West of England ever since it was established in 1860, and has had a factory on the same site for more than 100 years,
·      PTG is a founder member of the Manchester-China Forum – a body that is passionate about strengthening ties between China and the city region.
For more press information, please contact:
Neil Jones – PTG
Tel: + 44 (0) 1706 526 590
Email: neil.jones@ptgltd.com