News & Press
Presenting PTG's Rotor Milling, Rotor Grinding And Friction Stir Welding Expertise At EMO Hannover 2019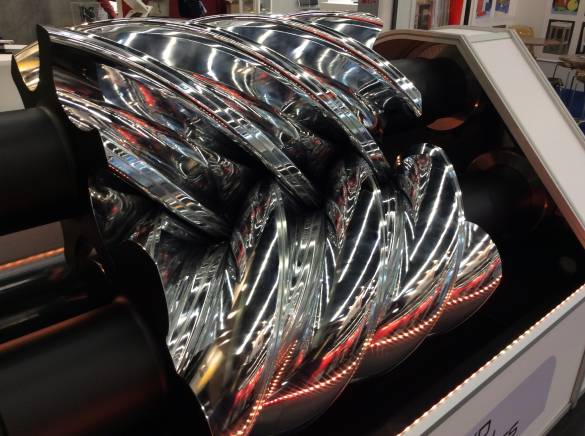 Precision Technologies Group (PTG) will be presenting the capabilities of its advanced machine tools at EMO Hannover 2019. A pair of 642 mm diameter stainless steel rotors, that have been precision-milled on a PTG Holroyd 8EX rotor milling machine, will also be on display. The rotors are expected to be of particular interest to visitors.
Delegates visiting Stand E96 in Hall 26 will be able to find out about PTG Holroyd's gear, rotor and thread grinding and rotor milling technologies, as well as the PTG Powerstir range of friction stir welders – machines which are rapidly gaining acclaim across the automotive industry.
Rotor milling and grinding
PTG Holroyd's rotor and thread grinding and rotor milling machines are widely regarded as producing the world's most accurate rotors, gears and threads, as well as ultra-precise components for a range of industries. Sectors include: heating, refrigeration, ventilation, aerospace, marine, power generation and high-end automotive. Components produced include: compressor rotors, pump screws and high-accuracy gears. "For EMO 2019, we have decided to take the unusual step of displaying a pair of large stainless steel helical rotors, so that potential customers will be able to see – first hand – the uncompromising levels of accuracy and finish offered by our high-precision rotor milling machines," comments PTG Holroyd regional sales director, Steven Benn.
Friction stir welding
Since their launch, PTG Powerstir FSW machines have been widely used to produce components for the aerospace industry, as well as railway carriage panels for use in the manufacture of high-speed trains. The recent, rapid growth in the development of battery electric and plug-in hybrid electric vehicles (BEV and PHEV), however, has seen PTG receive significant enquiries and orders from automotive OEMs. As a result, the business has developed FSW machines specifically for the fabrication of lightweight, robust and highly aesthetic vehicle battery trays and housings, coolant units and body panels.
"Around the world, our Powerstir friction stir welding technologies are recognised as providing an innovative way of creating superior high-strength joints, with proven weld quality, excellent mechanical properties, virtually no porosity and the opportunity for reduced wall thickness in many applications," adds Steven Benn. "At EMO 2019, we look forward to showcasing the capabilities of Powerstir friction stir welding and our helical rotor milling and grinding machines."
PTG. The first name in precision
Incorporating the brands of Holroyd and Holroyd Precision Rotors, PTG has established itself at the forefront of high-precision machine tool design, build and supply for specialised applications. The Holroyd range includes advanced machine tools for the production of complex helical components such as compressor rotors, pump screws and high-accuracy gears, and machine tools for friction stir welding advanced alloys used in transport applications. With production facilities in the UK, USA and China, Holroyd Precision Rotors manufactures the special purpose, ultra-precision helical components used in a wide range of industries, including refrigeration, air-conditioning, gas and vacuum pumping, industrial air handling, aerospace, medical equipment, motion control, power transmission, power generation, oil & gas, fluid transfer and high-end automotive. PTG also provides advanced technical consulting services.