News & Press
PTG: Bringing Ultra-precision To Grindtec 2016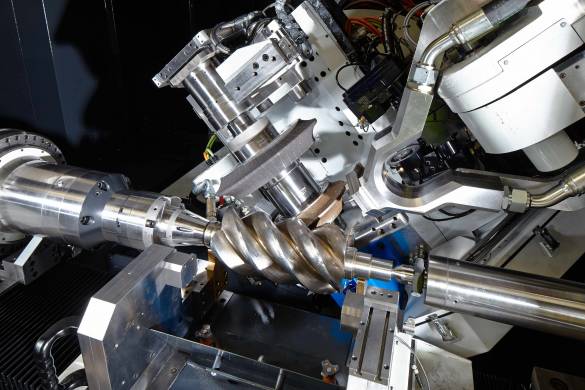 PTG Deutschland GmbH, the German division of UK-based Precision Technologies Group, has chosen GrindTec 2016 – the International Trade Fair for Grinding Technology – to showcase its parent company's ultra-precise milling and grinding machines.
Visitors to Stand No. 2082 will be able to discover the full capabilities of PTG technologies such as the Zenith 400 helical profile grinder, the EX series rotor milling machines and the GTG2 gear-grinding centre. All machines are built in the UK by Precision Technologies Group company, Holroyd Precision Limited.
"GrindTec 2016 is the perfect platform from which to present our ultra-precise milling and grinding machines to the widest possible audience," comments Johann Haugg, Managing Director of PTG Deutschland GmbH. "In addition to showing the immense capabilities of our technologies," he continues, "we will also be displaying a number of ultra-precise helical components."
Zenith 400 helical profile grinder
The Zenith 400 represents the very pinnacle of PTG's helical profile grinding technologies and is the first machine of its kind to offer three grinding wheel options: aluminium oxide, ultra hard plated CBN and vitrified, dressable CBN. For exceptional levels of versatility, the Zenith 400 combines a 420mm diameter grinding capability, with a maximum component weight of 700kg. In addition to being a high precision, helical profile grinding machine, the Zenith 400 also offers high stock removal rates and aggressive semi finishing, with production rates and accuracies tailored to each customer's needs.
EX series rotor milling machines
Holroyd EX series rotor milling machines have earned worldwide acclaim for their high speed, accuracy and unbeatable build quality. The standard range of EX series models can cut rotor or worm helix profiles in blanks up to 850mm diameter. Where 850mm is too small, Holroyd can build a 10EX machine that can perform the same functions on blanks exceeding one metre diameter. The flexibility of EX series milling machines means that they are equally efficient at producing complex components with helical screw profiles and gear parts such as worm shafts.
GTG2 helical gear grinder
The GTG2 helical gear grinder sets new standards in the production of ultra-precise gears in diameters of up to 350mm. Effectively a self-contained production cell within a single machine, the GTG2 offers: fast set-up to optimise production and minimise operating costs, fully automatic programmable cycles, a fully automatic grinding wheel balancing system, and the high power required for deep grinding operations. The GTG2 provides uncompromising levels of precision finish (approaching DIN3).
PTG. The first name in precision
Incorporating the brands of Holroyd, Binns & Berry, Crawford Swift and Holroyd Precision Components, PTG has established itself at the forefront of high precision machine tool design, build and supply. The PTG range includes ultra precision grinding machines for rotor, thread and gear operations; rotor milling machines; heavy duty lathes; deep hole boring machines; friction stir welding machines and special purpose machine tools for the manufacture of precision components. Industrial sectors served range from aerospace, medical and mould tool & die to marine, power generation, mining, oil & gas, steel, high end and heavy automotive.
For more press information, please contact:
Neil Jones – Group Business Development Director, PTG
Tel: + 44 (0) 1706 526 590
Email: neil.jones@ptgltd.com