News & Press
PTG Heavy Industries Achieves New Heights In Friction Stir Welding Exotic Alloys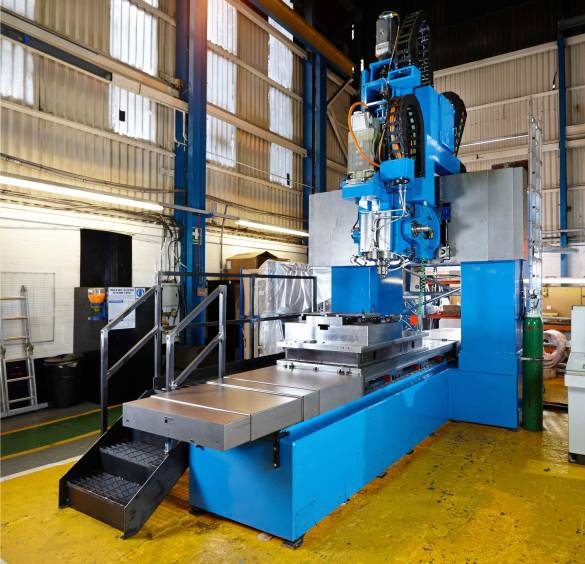 Ever since the launch of its Crawford Swift 'Powerstir' CNC Friction Stir Welding (FSW) machines in 2000, PTG Heavy Industries has been acknowledged as a global leader in this innovative means of jointing metals.
Exotic steel and titanium for aerospace
Recent research and development activities at PTG Heavy Industries' UK-based HQ, however, have taken the capabilities of the welding specialist's FSW machines further than ever before – to include the successful jointing of exotic steel and titanium alloys that are particularly suited to the uncompromising requirements of space and aerospace applications.
Aerospace-grade titanium of 3mm – 8mm in thickness
"We have successfully welded both aerospace-grade steel alloy and aerospace-grade titanium in thicknesses of 3mm and 8mm, using our proprietary PTG fixed pin tooling techniques," comments PTG Heavy Industries' Sales Manager, Chris Cheetham.
"Although each presented distinct challenges, including the potential for workpiece distortion and ensuring sufficient heat transfer when blending thicker materials, these issues were overcome."
Comprehensive research programme
As part of its research activities, PTG Heavy Industries also achieved excellent results when working with various exotic aluminium alloys ranging from 2mm to 35mm in a number of challenging configurations. These included:
Longitudinal welding of flat plates, using PTG fixed pin, retracting pin and bobbin 'floating' pin tooling technologies
PTG bobbin tool welding of aluminium aerospace-grade alloys
Rotary (C axis) welding of flat plates using PTG fixed pin and retracting pin technologies
Longitudinal seam welding of large diameter cylinders using PTG fixed pin and retracting pin technologies
Rotary (C axis) radial welding of large diameter cylinders using PTG retracting pin FSW technology
Rotary (C axis) welding of dome-shaped spheres using PTG retracting pin tool technology
PTG welding fixtures designed and supplied for all the above welding technologies and component structures / configurations
Impressive results with exotic alloys of 40mm in depth
"Our successes have been such that we now look forward to applying our findings, approach and technologies to robust testing on other bespoke alloys that are used across the avionics sector," adds Chris Cheetham. "For example, we have also achieved good results working with exotic alloys of as much as 40mm in depth.
"While our Powerstir FSW technologies are already used widely across global avionics, as well as across a wide range of other sectors, we believe this latest capability from PTG Heavy Industries provides considerable opportunities for design engineers looking to balance weight and structural rigidity in order to achieve performance, capability and efficiency in fuselage and component design."
Superior welding for planes and high-speed trains
Since their launch, Powerstir Friction Stir Welding (FSW) machines have attracted considerable interest from organisations seeking an innovative way of creating superior high-strength welded joints, without the detrimental and visible effects typically associated with conventional welding.
From small, intricate components to automotive products, aircraft manufacturing, railway carriage panels and shipbuilding, Powerstir Friction Stir Welding provides a clean, highly aesthetic alternative to traditional welding. A method that delivers proven weld quality, FSW offers excellent mechanical properties and virtually no porosity.
Over recent years, however, Powerstir models have found particular favour with companies from across the avionics and high-speed rail sectors. In a joint venture with its technology partner, the China Friction Stir Welding Center (CFSWC), for example, PTG Heavy Industries developed a Powerstir model for use in the manufacture of railway car bodies similar to those used with China's record-breaking 'Harmony' high-speed train. This required the design and build of a Powerstir machine with a 30m x 4m gantry – a machine not only able to produce the longest single FSW railway panel welds in China at over 15 metres in length, but also proof of PTG Heavy Industries' commitment to meeting each customer's most exacting requirements.
About Crawford Swift Powerstir Friction Stir Welding
Patented by TWI (The Welding Institute), Friction Stir Welding is a unique and innovative means of jointing metals. The process combines frictional heat with precisely controlled forging pressure to produce extremely high-strength joints that are virtually defect free. Friction Stir Welding transforms the parent metal from a solid to a plasticised state. This occurs during a process that involves mechanically stirring the materials together to form a high-integrity, full-penetration welded joint.
PTG Heavy Industries' Crawford Swift Powerstir Friction Stir Welding machines have been developed for a broad range of industrial applications, where special attention is paid to structural rigidity. Offering far-reaching opportunities for jointing often difficult to weld alloys, Powerstir machines are able to accommodate even the heaviest of welding loads and offer superior weld properties.
PTG. The first name in precision
Incorporating the brands of Binns & Berry, Crawford Swift, Holroyd and Holroyd Precision Components, PTG has established itself at the forefront of high precision machine tool design, build and supply. The PTG range includes heavy duty lathes, deep hole drilling machines, Friction Stir Welding (FSW) machines, ultra precision grinding machines for rotor, thread and gear operations; rotor milling machines and special purposemachine tools for the manufacture of precision components. Industrial sectors served range from aerospace, medical and mould tool & die to marine, power generation, mining, oil & gas, steel, high end and heavy automotive.
PTG Heavy Industries is a technology partner of the China Friction Stir Welding Center and works closely with The Welding Institute (TWI).
Photograph caption:
Crawford Swift Powerstir Friction Stir Welding, from PTG Heavy Industries.
For more press information, please contact:
Neil Jones – Group Business Development Director, PTG
Tel: + 44 (0) 1706 526 590
Email: neil.jones@ptgltd.com