News & Press
PTG Heavy Industries Provides A Stirring Solution To Aluminium Foil Jointing For Andritz Sundwig GMBH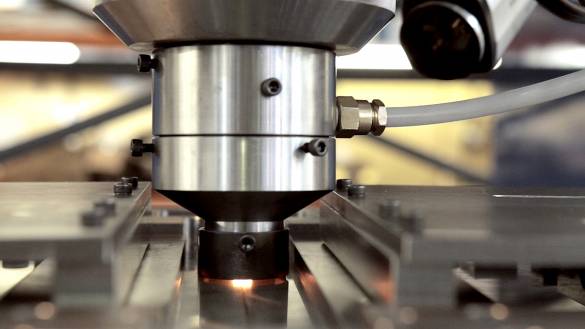 Precision Technologies Group company, PTG Heavy Industries, has secured an order valued at $1.5 million to supply two of its Crawford Swift Powerstir Friction Stir Welders to ANDRITZ Sundwig GmbH, of Hemer, Germany.
ANDRITZ Sundwig GmbH is a leading specialist in the design and development of specialist turnkey systems for the production of hot- and cold-rolled strip, made from stainless steel, coated metals, non-ferrous metals and special materials.
The Crawford Swift Powerstir Friction Stir Welders will be used in two aluminium foil processing lines that ANDRITZ Sundwig GmbH is currently developing. They will joint aluminium foil strips of up to 2 metres wide and from 0.4 to 6mm in thickness.
Bringing FSW expertise to aluminium foil manufacture
"We are particularly pleased to have been asked to supply two Crawford Swift Powerstir machines to ANDRITZ and, in doing so, work with them on this exciting project," comments Chris Cheetham, Sales Manager of Yorkshire, UK-based, PTG Heavy Industries. "ANDRITZ Sundwig GmbH is a premier global provider of strip processing lines, cold rolling mills, finishing lines and plant automation. It is, therefore, immensely rewarding to be recognised by them for the advantages that can be gained by incorporating our internationally acclaimed Powerstir Friction Stir Welding technologies into their manufacturing solutions."
A stirring alternative to stitching
Traditionally, aluminium foil strip ends are joined by 'stitching' them together, to provide a continuous roll for production purposes. By its very nature, however, stitching can create rough joints that can sometimes cause damage to elements of the processing line. By contrast, Powerstir Friction Stir Welding uses frictional heat combined with precisely controlled forging pressure to produce high integrity, full penetration welded joints that are smooth and virtually defect free.
About Crawford Swift Powerstir Friction Stir Welding
Ever since their launch in 2000, Crawford Swift Powerstir Friction Stir Welding machines from PTG Heavy Industries have attracted considerable interest from organisations seeking an innovative way of creating superior, high strength welded joints, without the detrimental and visible effects typically associated with conventional welding.
A broad range of FSW applications
PTG Heavy Industries' expertise in Friction Stir Welding ranges from small travelling table R&D machines to large gantry, multi-axis models. The company's Crawford Swift Powerstir Friction Stir Welding machines have been developed for a broad range of industrial applications where special attention is paid to structural rigidity. These include locomotive and passenger carriage panels, aircraft fuselage development, ship panel sections, truck bodies, fuel tanks, bulk containers and electronics enclosures. Offering far-reaching opportunities for jointing often difficult to weld alloys, Powerstir machines are able to accommodate even the heaviest of welding loads and offer superior weld properties.
PTG. The first name in precision
Incorporating the brands of Binns & Berry, Crawford Swift, Holroyd and Holroyd Precision Components, PTG has established itself at the forefront of high precision machine tool design, build and supply. The PTG range includes heavy duty lathes, deep hole drilling machines, Friction Stir Welding (FSW) machines, ultra precision grinding machines for rotor, thread and gear operations; rotor milling machines and special purposemachine tools for the manufacture of precision components. Industrial sectors served range from aerospace, medical and mould tool & die to marine, power generation, mining, oil & gas, steel, high end and heavy automotive.
Photograph caption:
Crawford Swift Powerstir Friction Stir Welding, from PTG Heavy Industries.
For more press information, please contact:
Neil Jones – Group Business Development Director, PTG
Tel: + 44 (0) 1706 526 590
Email: neil.jones@ptgltd.com