News & Press
PTG Heavy Industries Supports Academia In Friction Stir Welding Research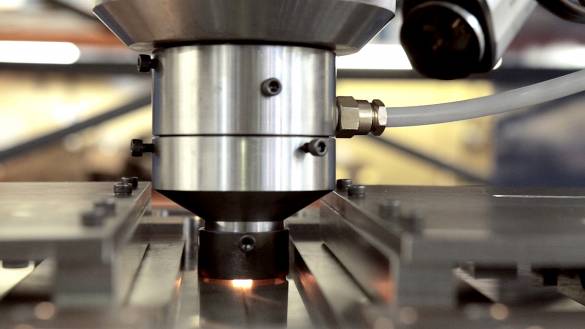 As growing numbers of manufacturers embrace the benefits that Friction Stir Welding (FSW) provides, UK-based PTG Heavy Industries reports considerable interest from universities and research institutes in its smaller 'laboratory' FSW machines.
"Our larger Powerstir Friction Stir Welders have long been a favoured choice among organisations wishing to achieve superior high strength welded joints, without the detrimental and visible side effects of conventional welding," comments PTG Group Business Development Director, Neil Jones.
Helping advance FSW technology
"Powerstir models are typically used in the manufacture of railway carriage panels for high speed trains, as well as in avionics, the space industry and across many other sectors," adds Neil Jones, "However, the recent upsurge in demand for our laboratory models clearly indicates an increasing desire to apply Friction Stir Welding to an even greater range of manufacturing processes. As such, we are keen to help advance the use of FSW technology and welcome enquiries from academic institutions that are interested in acquiring one of our Powerstir laboratory machines, or partnering with PTG in their research activities."
Powerstir laboratory machine for RWTH Aachen University
The globally-renowned ISF Welding and Jointing Institute at RWTH Aachen University, in North Rhine-Westphalia, is just one of the research organisations to invest in PTG Heavy Industries' Powerstir technology.  The University's Faculty of Mechanical Engineering has recently taken delivery of a PTG Powerstir laboratory machine for a research programme that will include investigating the potential to accelerate the speed of the Friction Stir Welding process. RWTH Aachen selected the PTG model for its uncompromising build quality and stability, as well as for its ability to provide real-time data logging – vital feedback of precise performance data, such as production monitoring, force control, weld temperature monitoring and joint tracking.
RWTH Aachen is not alone in recognising the unrivalled expertise offered by PTG Heavy Industries in the field of Friction Stir Welding. The University of Manchester's Institute of Science and Technology (UMIST), for example, was one of the first academic institutions to acquire a Powestir laboratory machine. Since then, research departments from across the global aerospace and transport sectors have also made Powerstir laboratory machines central to their studies into creating stronger, lighter and more aesthetically pleasing welds. Finally, in the UK, The Welding Institute uses a Powerstir machine for its ongoing work into FSW processes, joint strength and tool development.
Superior, high strength joints
Launched in 2000, PTG's Powerstir machines offer far-reaching opportunities for jointing often difficult to weld alloys, where special attention is paid to structural rigidity. Used primarily for the jointing of aluminium, magnesium, copper, titanium, steel, lead and zinc, the Powerstir FSW process providesa clean, highly aesthetic alternative to traditional welding. It delivers proven weld quality, excellent mechanical properties, virtually no porosity and the opportunity for reduced wall thickness in many applications.
PTG's Powerstir laboratory models are typically used for educational and research purposes or for the manufacture of small components. They are particularly suited to welding thin wall sections, such as: hydraulic cylinders, suspension dampers and heat exchanger components.
Typical Powerstir FSW applications
Locomotive train and carriage panels (aluminium)
Aircraft fuselage and avionics development
Truck bodies, caravans and space frames
Heat sinks and electronics enclosures
Boat and ship panel sections
Flat and cylindrical fuel tanks and bulk liquid containers
Aluminium bridge sections, architectural structures and frames
Pipelines and heat exchangers
Electrical motor housings
To find out more about Powerstir Friction Stir Welding:
Call +44 (0)1422 379 222
Email Chris.Cheetham@ptgheavyindustries.com
Enter 'Powerstir Friction Stir Welding' on YouTube
PTG. The first name in precision
Incorporating the brands of Binns & Berry, Crawford Swift, Holroyd and Holroyd Precision Components, PTG has established itself at the forefront of high precision machine tool design, build and supply. The PTG range includes heavy duty lathes, deep hole drilling machines, Friction Stir Welding (FSW) machines, ultra precision grinding machines for rotor, thread and gear operations; rotor milling machines and special purposemachine tools for the manufacture of precision components. Industrial sectors served range from aerospace, medical and mould tool & die to marine, power generation, mining, oil & gas, steel, high end and heavy automotive.  PTG Heavy Industries is a technology partner of the China Friction Stir Welding Center and works closely with The Welding Institute (TWI).
Photograph caption:
Crawford Swift Powerstir Friction Stir Welding, from PTG Heavy Industries.
For more press information, please contact:
Neil Jones – Group Business Development Director, PTG
Tel: + 44 (0) 1706 526 590
Email: neil.jones@ptgltd.com