News & Press
PTG Signs 'Memorandum Of Understanding' With The University Of Huddersfield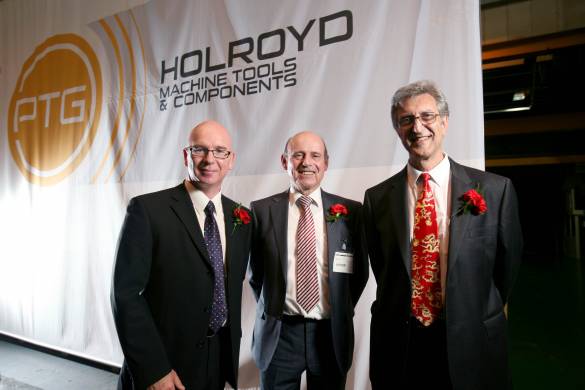 Committed to the advancement of machine tool technologies, Precision Technologies Group (PTG) has signed a 'Memorandum of Understanding' with The Centre for Precision Technologies at the University of Huddersfield.
Precision Technologies Group and the University of Huddersfield have worked together on a range of projects over a number of years. In signing the agreement, both parties have shown their commitment to collaborate with the aim of creating a Research and Development Centre in Machine Tool Technology at the University.
'Chair in Machine Tool Technology'
As part of the agreement, the position of 'Chair in Machine Tool Technology' will be created and, in the first instance, held by Professor Alan Myers of the University of Huddersfield. Additionally, 'Visiting Researcher' status will be granted to an individual nominated by Precision Technologies Group and approved by the University.
In the first instance, this role will be held by Professor Christopher Holmes, General Manager of PTG division, Holroyd Advanced Developments. As a further benefit of the agreement, Precision Technologies Group will be given access to the University's on-campus, high-performance computing resources, which will make intensive simulations very much faster.
Advising on thermal behaviour
"Professor Myers has taken part in meetings with our designers and advised us on thermal behaviour," comments PTG's Professor Holmes. "The work we plan to do is ambitious. We are discussing software modelling of machine tools to predict static deflections, dynamic responses, and thermal behaviour, all of which have an effect on accuracy. By modelling these factors in advance, we can assist our designers. We also hope to have a software model of a machine, which will permit virtual parts to be machined and control software to be developed, without the need for a real machine to be available."
Embarking on an exciting partnership
"We are delighted to have embarked on this exciting partnership with the University of Huddersfield," comments PTG Group Business Development Director, Neil Jones. "At Precision Technologies Group, we have a reputation for not only embracing the very latest manufacturing technologies, but also for innovation. Consequently, we look forward to the benefits that working with the University of Huddersfield can bring to our global customer base."
Professor Myers, who recently visited CHMTI (the machine tool division of PTG's Chinese parent company) with PTG Chief Executive Officer, Dr. Tony Bannan, added: "The Centre for Precision Technologies at the University of Huddersfield has established a growing relationship with PTG over a number of years now and has also welcomed several Chinese executives and engineers. The Memorandum of Understanding will take our partnership with PTG to a new level as we seek to push the boundaries of machine tool technology. Additionally, I am delighted to welcome Professor Christopher Holmes as a Visiting Researcher at the University. His vast experience will bring that specialist industrial knowledge to our work that will be crucial in what we hope to accomplish."
Dedicated to the advancement of technology, Precision Technologies Group is also platinum sponsor for City University London's biennial International Conference on Compressors and their Systems. The conference is widely regarded as one of the world's leading events in compressor technology, and City University London is globally recognised as a premier centre of excellence for compressor design and development. PTG has sponsored the event since it was first held in 1999.
Photograph caption:
From left to right: Dr. Tony Bannan (PTG), Professor Alan Myers (University of Huddersfield), and Professor Christopher Holmes (PTG).
For more press information, please contact: 
Neil Jones – Group Business Development Director, PTG
Tel: +44 (0) 1706 526 590
Email: neil.jones@ptgltd.com