News & Press
PTG to Present Real 'Intelligence in Production' at EMO Hannover 2013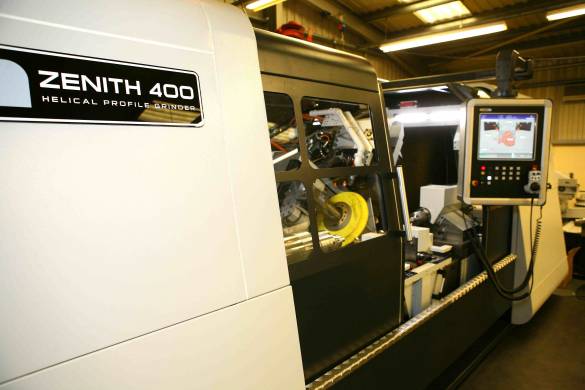 The theme of the 2013 EMO Hannover metalworking trade fair – 'Intelligence in Production' – couldn't be more appropriate for UK-based Precision Technologies Group (PTG).
As a leading global provider of ultra-precision rotor and thread grinding machines, rotor milling machines, heavy duty lathes, deep hole boring machines and friction stir welding technologies, PTG has built its reputation on developing intelligent manufacturing solutions.
The Zenith of grinding technology
Officially launched at EMO 2011, the Zenith 400 helical profile grinding machine, from PTG company, Holroyd Precision Limited, has the capability to grind rotors of up to 420mm diameter and is able to use tooling from other Holroyd grinding machines, as well as tooling from competitors.
Representing a whole new generation in grinding machine technology, the Zenith 400 features an easy-to-use intuitive control system that incorporates both a development and production software suite. It is also the first Holroyd grinder to embrace all three grinding technologies: aluminium oxide, 'diamond hard' plated Cubic Boron Nitride (CBN) and vitrified, dressable CBN.
Powerstir Friction Stir Welding
Powerstir Friction Stir Welders, from PTG Heavy Industries, provide yet another example of PTG's commitment to intelligent metalworking. Offering far-reaching opportunities for jointing often difficult to weld alloys, where special attention ispaid to structural rigidy, Powerstir models produce superior high strength welded joints without the detrimental and visible effects often associated with conventional welding.
In 2012, a Powerstir machine was developed for use in the manufacture of railway car bodies for China's high speed rail network. This feat of design and construction further demonstrated PTG's precision engineering capabilities – particularly as in building the machine in question, the organisation also had to develop a 30m x 4m gantry.
Presenting a wide range of intelligent solutions
Visitors to Stand 026 B51 will be able to explore the wide range of technologies and services that is provided by the following PTG companies: Holroyd Precision Limited, PTG Heavy Industries, Precision Components and PTG Customer Care.
In addition to ultra-precise large screw rotors, produced using Holroyd Precision Limited's Zenith 400 helical profile grinding machine, a number of bespoke helical forms from Precision Components Limited will also be on display.
Delegates will also be able to view the superior, high strength welded joints created by Powerstir Friction Stir Welders from PTG Heavy Industries, as well as components and tooling.
"Over the years, EMO Hannover has established itself as the global meeting point for the entire international metalworking sector," comments PTG Chief Executive Officer, Dr. Tony Bannan. "At EMO 2013, we intend to demonstrate exactly why the Precision Technologies Group is a leading choice for intelligent metalworking solutions."
www.holroyd.com
For more press information, please contact:
Neil Jones – Group Business Development Director, PTG
Tel: + 44 (0) 1706 526 590
Email: neil.jones@ptgltd.com
Note to editors:
The friction stir welding process is patented by TWI (The Welding Institute).
Ends…