News & Press
PTG's Adam Displays True Mettle – and Secures the 2014 Amtri Scholarship!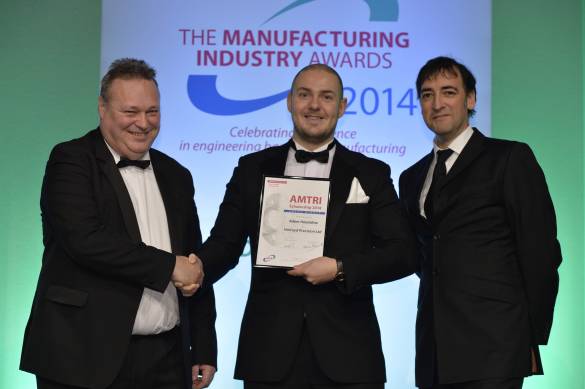 The Manufacturing Technologies Association (MTA) awards dinner, held at Birmingham's International Convention Centre on 6 February 2014, provided Adam Hazeldine – one of PTG Holroyd's young engineers – with an incredible reason to celebrate.
That's because during the event, Adam, 26, was richly rewarded for his diligence and hard work to-date by the presentation of the special AMTRI Scholarship. Supported by Lloyds TSB Commercial, the scholarship will assist Adam in completing an MBA in order to pursue his goal of a management position with his Rochdale-based employer.
Two other Precision Technologies Group employees, Bradley Mooney, 27, and Jordan Beard, 25, were short-listed for the prestigious MTA Young Engineer of the Year award – further proof of the high quality of PTG's personnel and the importance the organisation places on providing first-class staff training.
Seeking a more craft-based future
Speaking of Adam Hazeldine's AMTRI achievement, PTG HR Director, Don Whittle, said: "Adam joined the business in 2005 as an Apprentice Machine Tool Fitter. Although he'd previously completed A levels in Business, Law and Psychology, he decided that it wasn't the right time for university and he'd like a more craft-based career.
"With his apprenticeship complete (Some five months earlier than expected!), and having gained both an ONC and HNC in Manufacturing Engineering," adds Don Whittle, "Adam then joined the business in a permanent role, as a Machine Tool Fitter. Driven by ambition, he also decided to take an evening course in Computer Aided Design, which was self-funded. His objective was to gain sufficient skills to be selected for a role within our Machine Design team."
Sponsored to complete BEng
Through demonstrating a real work ethic, considerable skills on the shop floor and a genuine commitment to the business, it wasn't long before Adam was invited to assist PTG Holroyd's service personnel and represent the company on customer sites. Here, his ability to develop close bonds with customers and colleagues, combined with a truly proactive style, reaped real dividends. It was, therefore, decided to provide him with a six-month trial in the Design Office, with the promise that if he did well, the company would sponsor him to complete a degree in engineering. Inevitably, Adam lived up to expectation and the opportunity to study for a BEng (Hons) Mechanical Engineering degree at Manchester Metropolitan University was realised.
Heavily involved in development work
A valued and well-respected member of the PTG Holroyd team, Adam is now employed as a Design Engineer with the company. He offers a solid understanding of its technologies and has been heavily involved in development work surrounding the leading edge Holroyd Zenith 400 helical profile grinder. In recognition of his abilities and achievements, he has also recently been made a member of the company's Lean Manufacturing team and an Internal Auditor. He also works as a Junior Project Engineer, involved in PTG Holroyd's latest machine tool developments.
Going from strength to strength 
"Adam has gone from strength to strength during his time with us," adds Don Whittle.  "Indeed, it is fair to say that the more difficult or complex the task, the greater his determination to analyse and resolve it, and take on greater responsibility."
"On behalf of everyone at Precision Technologies Group, I would like to congratulate Adam on securing the AMTRI Scholarship, one of the most significant awards in the field of manufacturing. I also pass on my sincere congratulations to Bradley and to Jordan for coming so close in the running for the MTA Young Engineer of the Year award. As an organisation, we are committed to providing the highest levels of staff training and development – an approach that the achievements of Adam, Bradley and Jordan have confirmed as being extremely worthwhile."
PTG. The first name in precision
Incorporating the brands of Holroyd, Binns & Berry, Crawford Swift and Holroyd Precision Components, PTG has established itself at the forefront of high precision machine tool design, build and supply. The PTG range includes ultra precision grinding machines for rotor, thread and gear operations; rotor milling machines; heavy duty lathes; deep hole boring machines; friction stir welding machines and special purposemachine tools for the manufacture of precision components. Industrial sectors served range from aerospace, medical and mould tool & die to marine, power generation, mining, oil & gas, steel, high end and heavy automotive.
www.holroyd.com
Notes to editors
In 2011, Holroyd Development Engineer, Simon Theaker, won the AMTRI Scholarship. He used the funding to help him continue his research into coolant technologies, complete his Masters degree in Engineering at Sheffield Hallam University and pursue further studies at Cranfield University.
The two Precision Technologies Group employees shortlisted for the MTA Young Engineer of the Year award are Bradley Mooney (of PTG Heavy Industries), who is currently understudying the division's Electrical and Software Manager; and Jordan Beard (of PTG Holroyd), who works as an Electrical Design Engineer. Both nominees were joint winners of Rochdale Training Association's coveted Apprentice of the Year Award in 2008.
The AMTRI Scholarship is a financial package intended to promote excellence in machinery development and engineering-based manufacturing. Open to professional and/or graduate engineers in machine tools, undertaking Continuous Professional Development, it aims to encourage cooperation between industry and the higher education sector.
AMTRI was once the acknowledged UK leader in machine tool engineering consultancy, providing special purpose machinery, automation systems and specialist technical consultancy for manufacturing. During its formative years, AMTRI put aside a trust fund to support and provide assistance for the promotion of education and training in the manufacturing machines industry.  Following the closure of the company, the trustees of the AMTRI Fund requested the MTA to take over stewardship of the trust fund and to apply the funds towards providing a scholarship aimed at professional engineers operating in the development of machinery technology and application.
Photograph caption
Making a great impression:  Richard Holden of Lloyds Bank (left), presents the 2014 AMTRI Scholarship to Adam Hazeldine (centre), with impressionist and comic, Alistair McGowan (right).
For more press information, please contact:
Neil Jones – Group Business Development Director, PTG
Tel: +44 (0) 1706 526 590
Email: neil.jones@ptgltd.com