News & Press
PTG's Chief Executive Officer Is Presented With OBE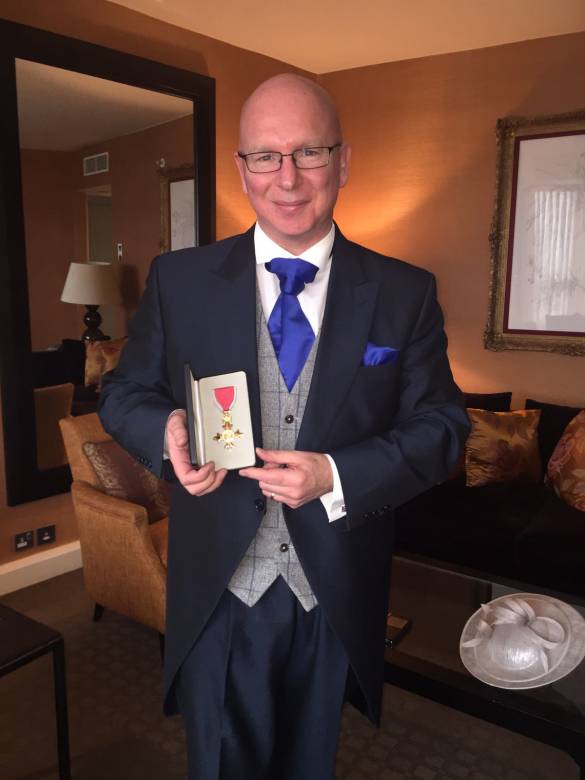 Dr Tony Bannan, 52, Chief Executive Officer of Rochdale-based Precision Technologies Group (PTG), received the OBE from HRH The Prince of Wales at an investiture at Buckingham Palace on Friday, 27 January 2017.
Dr Bannan was appointed an Officer of the Order of the British Empire in the Queen's 90th Birthday Honours List 2016, in recognition of his services to the UK economy, international trade and inward investment.
After joining PTG company, Holroyd Precision, as Technical Director in 1999, Dr Bannan became Managing Director of PTG's machine tools divisions (Holroyd Precision, Binns & Berry and Crawford Swift) in 2007. He was appointed as Group Chief Operating Officer in September 2008, and then PTG's Group Chief Executive Officer in June 2010.
98% of products destined for export
PTG is an export-driven manufacturer of special purpose CNC machine tools, such as the globally acclaimed Zenith 400 helical profile grinder and the Powerstir range of friction stir welders, as well as ultra-precise rotors. Typically, 98% of all PTG products are exported, with 70% destined for Greater China.
"Very proud and humbled"
Referring to his appointment, Dr Bannan said that he was: "Very proud and humbled to be recognised with such a great honour," and that "Credit for the accolade must be given to my family, for the many years of patience and support as I've travelled the world on behalf of the business – and to the many colleagues, past and present, that I've been lucky enough to work with."
"Benefiting from a strong legacy"
"Without the commitment, skills and imagination of the people who have worked in and led PTG – and before that, Holroyd – what has been built and exists today might never have been," he continued. "I am lucky to have benefited from a strong legacy, and I remind myself and those around me of this fact very often. It is very important to recognise our duty to successive generations."
2015 Queen's Award for Enterprise
As a further example of PTG's achievements, in 2015 Holroyd Precision was presented with the Queen's Award for Enterprise, the UK's highest accolade for business success. Holroyd received the award for International Trade, having achieved year-on-year growth in exports. This was the fourth occasion that Holroyd won the Queen's Award.
PTG. The first name in precision
Incorporating the brands of Holroyd, Binns & Berry, Crawford Swift and Holroyd Precision Rotors, PTG has established itself at the forefront of high precision machine tool design, build and supply. The PTG range includes ultra precision grinding machines for rotor, thread and gear operations; rotor milling machines; heavy duty lathes; deep hole boring machines; friction stir welding machines and special purpose machine tools for the manufacture of precision components. Industrial sectors served range from aerospace, medical and mould tool & die to marine, power generation, mining, oil & gas, steel, high end and heavy automotive.