News & Press
Seventeenth PTG Holroyd EX Series rotor milling machine for premier air compressor manufacturer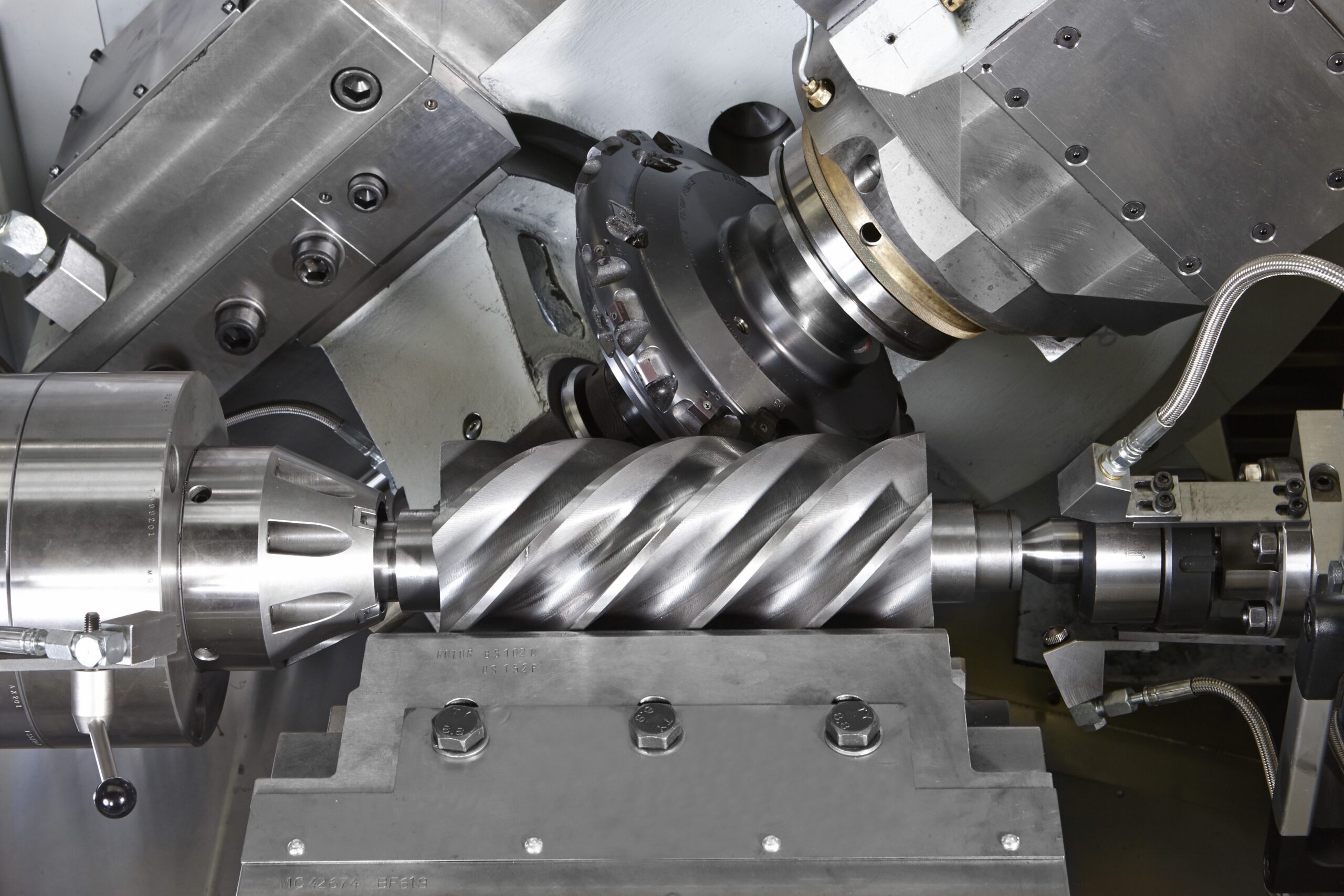 One of the world's leading air compressor machinery specialists has ordered what will be its seventeenth EX Series rotor milling machine from UK-based PTG Holroyd. Scheduled for build at PTG-Holroyd's Rochdale-based technology centre later this year, the machine, a 3EX-R model, will be installed at one of the air compressor company's North American manufacturing facilities. Able to rough mill rotor blanks of up to 350 mm in diameter, it will be used to produce rotors for portable and stationary air compressors.
A relationship going back more than 60 years
"Over the years, we have sold more than thirty of our advanced machine tool technologies to this organisation," comments PTG Holroyd Sales Director, Mark Curran. "In fact they purchased their first Holroyd machine back in the 1950s. Models sold to date include EX Series rotor milling machines, CS Series cutter sharpener machines, and TF Series test fixture machines which are used to ensure the accurate measuring of rotor profile clearances. If repeat orders are an indication of the trust a company places in a supplier and the quality of its technologies, service and support, this latest order is a tremendous accolade for our business."
PTG Holroyd's EX Series CNC rotor and pump-screw milling machines have earned global acclaim for their high speed, high precision, high levels of efficiency and unrivalled build quality. Delivering class-leading reliability and performance, the EX range begins with the 2EX – a machine capable of milling helical components of up to 250 mm in diameter – and offers stepped increases in capability, right up to the 8EX (850 mm maximum component diameter) rotor milling machine. There are models with the additional capability to mill Roots-type blowers, and a 'custom-build' 10EX machine for milling blanks in excess of 1000 mm in diameter.
EX machines cut a full-depth groove by traversing the cutting tool through the material at the relevant helix angle, whilst at the same time rotating the component in the 'C' axis. Accurate synchronisation between the axes is maintained via CNC, with digital drive technology controlling all axis movements. The cutting head is able to remove so much material in one step because the majority of heat generated is transferred to the swarf chips. These are then removed from inside the machine by means of a conveyor system.
Extremely flexible in their manufacturing capabilities, EX Series machines are equally efficient at producing complex components with helical screw profiles, as they are when milling gear parts such as worm shafts. Developed to improve productivity through a combination of high-speed operation, powerful menu-driven touchscreen CNC programming, quick-change tooling, high-power spindles and immense rigidity, EX Series machines deliver class-leading performance, reliability and repeatability, and benefit from advanced technologies such as on-machine probing and dry milling techniques for certain materials.
The PTG Holroyd EX Series at a glance:
Designed for vastly improved productivity
Powerful, menu-driven touch screen CNC programming
Choice of CNC systems
Quick change tooling for accelerated setup
High-precision rotational accuracy
High-efficiency, high-speed milling spindle
Outstanding metal removal rates
Optional hollow spindle for longer components
Extensive chucking and workholding options
Engineered for complete integration with automated parts handling systems
PTG. The first name in precision
Incorporating the brands of PTG Holroyd, PTG PowerstirÒ Friction Stir Welding and Holroyd Precision Rotors, PTG has established itself at the forefront of high-precision machine tool design, build and supply for specialised applications. The range includes advanced machine tools for the production of complex helical components such as compressor rotors, pump screws and high-accuracy gears, and PowerstirÒ machine tools for friction stir welding advanced alloys used in transport applications. With production facilities in the UK, USA and China, Holroyd Precision Rotors manufactures the special purpose, ultra-precision helical components used in a wide range of industries, including refrigeration, air-conditioning, gas and vacuum pumping, industrial air handling, aerospace, medical equipment, motion control, power transmission, power generation, oil & gas, fluid transfer and high-end automotive. PTG also provides advanced technical consulting services.