News & Press
Taiwanese Compressor Co. Returns To Holroyd For Class-leading Rotor Milling Expertise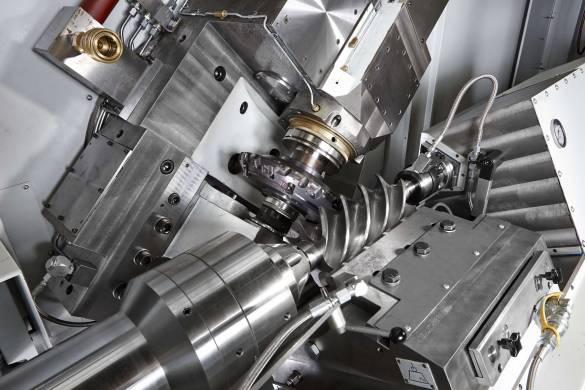 When one of Taiwan's leading air and refrigeration compressor specialists required superior rotor milling capability, there was really only one choice: a 3EX-R rotor production centre from UK-based Holroyd Precision Limited.
Having invested in several rotor milling and grinding machines over recent years from Holroyd, a Precision Technologies Group company, the customer knew they would receive both the technology and support necessary to meet their demanding manufacturing strategies.
Installed in August 2015, the 3EX-R has equipped the customer with class-leading performance and reliability for rough milling rotor blanks of up to 350mm (13 inches) in diameter.
Appreciating uncompromising quality
"We were incredibly pleased to secure repeat business from such a longstanding and valued customer," comments PTG Group Business Development Director, Neil Jones. "Over recent years, we have supplied them with three rotor milling machines, a TG350 grinding machine and a tool management centre. Being more than familiar with the uncompromising standards offered by our machinery, they did not wish to take a chance on performance, repeatability and productivity by selecting an alternative solution."
EX Series: globally-recognised capabilities
Holroyd EX CNC rotor production centres have earned global acclaim for their high speed, high precision and unrivalled build quality. Standard EX rotor production centres can cut rotor or worm helix profiles in blanks of as little as 50mm (2 inches) to 850mm (33 inches) in diameter. Where 850mm diameter milling is not sufficient, Holroyd also build a bespoke model designed for blanks exceeding one metre in diameter.
3EX-R rotor production centres, such as that chosen by the Taiwanese customer, provide superior levels of power and torque for accelerated performance when milling larger diameter components. To further improve their performance, 3EX-R centres also incorporate an enhanced workhead and cutter head.
Class-leading performance
All Holroyd EX high speed rotor production centresoffer class-leading performance and repeatability. This is due in no small part to advanced technology and includes the company's development of on-machine probing, and dry milling techniques. The flexibility of the EX Series also means all derivatives are exceptionally efficient at producing complex components with helical screw profiles, as well as gear parts such as worm shafts.
Cutting accuracy
Holroyd EX centres cut a full-depth groove by traversing the cutting tool through the material at the relevant helix angle, whilst at the same time rotating the component in the 'C' axis. Accurate synchronisation between the axes is maintained via CNC, with digital drive technology controlling all axis movements. The cutting head is able to remove so much material in one step because the majority of heat generated is transferred to the swarf chips. These are then removed from inside the centre by means of a conveyor system.
Power and precision
Holroyd milling machines have always been designed with immense rigidity and power for the rough cutting operation, and with the accuracy and precision required for finish profile milling. This technique is the preferred process when machining steep sided profiles and also for components that are manufactured in materials such as aluminium.
PTG. The first name in precision
Incorporating the brands of Holroyd, Binns & Berry, Crawford Swift and Holroyd Precision Components, PTG has established itself at the forefront of high precision machine tool design, build and supply. The PTG range includes ultra precision grinding machines for rotor, thread and gear operations; rotor milling machines; heavy duty lathes; deep hole boring machines; friction stir welding machines and special purposemachine tools for the manufacture of precision components. Industrial sectors served range from aerospace, medical and mould tool & die to marine, power generation, mining, oil & gas, steel, high end and heavy automotive.
Photograph caption:
Holroyd 3EX-R rotor production centre– performance and reliability.
For more press information, please contact:
Neil Jones – Group Business Development Director, PTG
Tel: + 44 (0) 1706 526 590
Email: neil.jones@ptgltd.com