News & Press
The AMTRI Scholarship. A Happy Story and A Sad One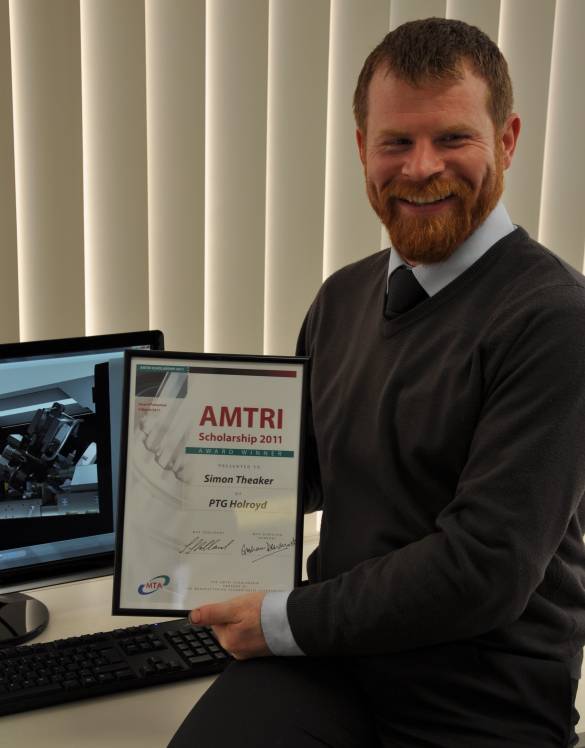 Many stories with a happy ending come out of sad beginnings. And this one is no exception. Because, when PTG Holroyd was dealt a catastrophic blow with the untimely death of its senior designer, Graham Shutt, back in 2009, one of the company's young development engineers, Simon Theaker, stepped into the breach to play a leading role in the development of Holroyd's new profile grinder.
Not only that but Simon's efforts have been richly rewarded with the award of the special MTA AMTRI Scholarship, supported by Lloyds TSB Commercial, which will enable him to continue his research into coolant technologies, complete his Masters in Engineering at Sheffield Hallam University and pursue further studies at Cranfield University.
AWARDS FOR SIMON, REWARDS FOR PTG
Holroyd's long and proud history as a machine tool manufacturer and innovator can be traced back over 150 years. But, like all innovators, Holroyd remains keen to keep one step ahead of its competitors, which is why the company embarked upon a rethink and a complete redesign of its flagship profile grinder.
The challenge PTG faced consisted of developing a new machine that would deliver the precision for which its machines have become globally renowned whilst using simpler controls, fitting in a standard container for shipment, utilising CBN (plated and vitrified) and standard vitrified aluminium oxide wheels and incorporating a substantially larger component in line with industry trends.
With the death of Graham Shutt, who had laid the foundations by completing some of the early conceptual work, the project could easily have floundered. But this was PTG's first major new development project for five years and therefore essential to the company's future prospects. And, fortunately for PTG, it had recently hired Simon Theaker, a young development engineer from JCB who, despite limited machine tool experience, showed a maturity and engineering skill set beyond his years.
A HIGH PROFILE PROJECT
In the space of a mere eighteen months, it's fair to say that Simon Theaker has risen to the challenge magnificently by bringing into being, with support and encouragement from his colleagues and especially Holroyd's ex-Chief Engineer, John Hallowes, a whole new concept of machine that incorporates the latest technologies and takes the company's methodology on to a whole new level. The result for Holroyd is its most versatile design yet which, enabling a larger component to be manufactured to the same high standards of precision but on a smaller machine, with the option of adapting to all three modes of grinding, is destined to secure the company's position as undisputed market leader in its sector.
The new suite of software will incorporate Holroyd's rotor manufacturing knowledge, to provide simpler operation with excellent visual graphics and automatically handle many of the tasks currently performed by hand upon loading a component.
In addition to the obvious benefits in terms of productivity, the machine will occupy a smaller footprint, be accessible from ground-level and grind rotors significantly larger in diameter and length than the largest profile grinding machines.
Currently in the final stages of manufacture, this innovative new machine tool will be shown for the very first time at EMO 2011 in Hanover in September, the world's leading machine tool exhibition.
THE VITAL COMPONENTS OF A WELL-OILED MACHINE: IT'S PEOPLE
As Rod Macdonald, Managing Director of Holroyd Precision, says: 'In the current financial climate, although we pay lip service to the notion of our personnel being valuable assets, as an industry we often cut investment in our people when profits are down. At PTG we understand the need to invest in our own personnel and develop their knowledge and skills base to secure both the business and UK manufacturing for the generations to come. As a business, we will continue to use all the funding at our disposal to ensure that Simon and our other up-and-coming engineers benefit from the best training available'.
THE AMTRI SCHOLARSHIP. MANUFACTURING GREAT ENGINEERS
AMTRI was once the acknowledged UK leader in machine tool engineering consultancy, providing special purpose machinery, automation systems and specialist technical consultancy for manufacturing. During its formative years AMTRI had put aside a trust fund to support and provide assistance for the promotion of education and training for the machinery manufacturing industry. Following the closure of the company, the trustees of the AMTRI fund asked the MTA to take over stewardship of the trust fund to use in providing a scholarship aimed at professional engineers operating in the development of machinery technology and application.