News & Press
The Zenith Of Precision For Leading Pumping Technologies Manufacturer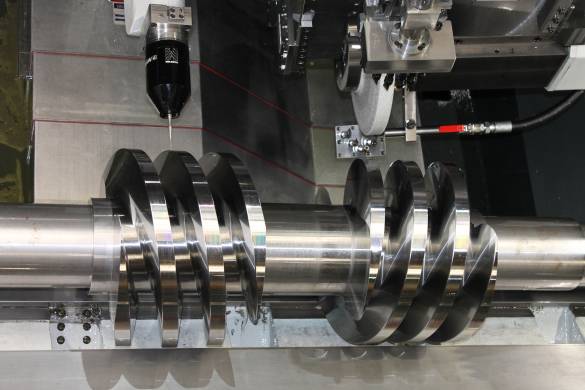 NETZSCH, one of Europe's leading manufacturers of pumping technologies and their systems, has purchased a 'special version' Zenith 400 helical profile grinding machine from Precision Technologies Group (PTG) company, Holroyd Precision.
The Zenith 400 will be installed and commissioned at NETZSCH's manufacturing facility in Brazil during early 2018. NETZSCH will use the Zenith 400 to produce a range of pump screws. These will then be used in a number of the company's innovative pumping technologies, which include cavity, multi-screw and rotary lobe pumps.
"We are delighted that NETZSCH has recognised the high-precision capabilities offered by the Zenith 400," comments Holroyd Regional Sales Director, Steven Benn. "The immense flexibility that Zenith 400 machines bring to production strategies was also a major factor in NETZSCH deciding to place this high value order with us."
The Zenith 400 helical profile grinder
Representing the very pinnacle of Holroyd's helical profile grinding technologies, Zenith 400 models provide high stock removal rates and aggressive semi finishing, with production rates and accuracies tailored to the most demanding of manufacturing requirements. Encompassing advanced innovations and a new control system that incorporates development and production software, Zenith 400 machines have been designed to suit all user needs, in either research and development or mass production.
Three grinding capabilities, one machine
In standard form, the Zenith 400 is the first machine of its kind to offer all three grinding technologies: aluminium oxide, ultra hard plated CBN and vitrified, dressable CBN – effectively providing roughing and finishing capabilities on one machine. Holroyd Precision has also developed a process whereby ultra hard plated CBN can be used for rough grinding, after which a vitrified CBN finishing wheel can be used on the same arbor. "This newly developed technique means we can use high-efficiency plated CBN for rough grinding and the versatility of the vitrified CBN process for finish grinding," adds Steven Benn. "The vitrified CBN enables us to change the shape of the wheel and also re-dress the wheel in light of any wear."
Holroyd 3D CMM component scanning
In choosing the Zenith 400, NETZSCH has also been able to benefit from the unique Holroyd 3D CMM component-scanning probe with fully automatic compensation feedback. Offering class-leading accuracy and improved production rates, the scanning technology removes any need for off-machine component inspection. Instead, parts can be accurately ground then measured, with any deviations being automatically corrected before completion of the manufacturing cycle.
Key features of Zenith 400 helical profile grinding machines include:
Vitrified Al2O3, vitrified CBN and plated CBN grinding wheel options
Accelerated set-up, with fully automated grinding wheel balancing system
Powerful, menu-driven touch screen programming
High stock removal rates, aggressive semi-finishing and precision fine finishing
Holroyd's unique on-board 3D CMM component scanning probe with full automatic compensation feedback
High speed spindles and advanced in-process dressing systems to maintain profile accuracy and keep the grinding wheel in optimum condition
Complete integration with automated parts handling systems
PTG. The first name in precision
Incorporating the brands of Holroyd, Holroyd Precision Rotors, Binns & Berry and Crawford Swift, PTG has established itself at the forefront of high precision machine tool design, build and supply. The PTG range includes ultra precision grinding machines for rotor, thread and gear operations; rotor milling machines; heavy duty lathes; deep hole boring machines; friction stir welding machines and special purpose machine tools for the manufacture of precision components. Industrial sectors served range from aerospace, medical and mould tool & die to marine, power generation, mining, oil & gas, steel, high end and heavy automotive.