News & Press
Third Holroyd Rotor Milling Machine For Leading Air Compressor Specialist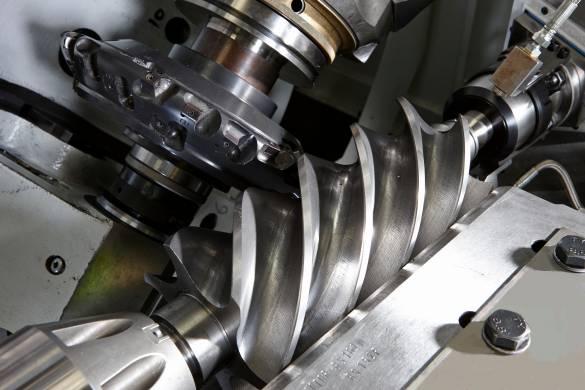 One of Europe's premier manufacturers of air compressor technologies has ordered a new EX Series rotor milling machine from Precision Technologies Group company, Holroyd Precision.
The machine – a 2EX model – will be used to rough mill helical rotors of up to 250 mm in diameter. Scheduled for delivery in October 2020, it will join a Holroyd 3EX rotor miller and a Holroyd 4-EX-R-BL Roots-type blower air-end machine that are already in daily use at the air compressor specialist's manufacturing facility.
"There can be no greater testimony to the quality of our technologies than repeat orders," comments Holroyd Regional Sales Director, Steven Benn. "While the customer concerned had looked at various other machine tool providers, they came back to us for our ability to provide the precise rotor milling capability they required, as well as for the proven reliability and high levels of performance and repeatability that are associated with our machines. With two Holroyd machines already on site, the opportunity to provide their operators with a machine tool they would clearly be familiar with was also cited as a key advantage."
About the EX Series of rotor milling machines
The Holroyd EX Series 'standard build' range begins with the 2EX, a machine capable of milling parts of up to 250 mm (9") in diameter. The 'largest capacity' standard build EX model is the 8EX which is able to cut rotor or worm helix profiles in blanks of up to 850 mm (33") in diameter. Where this diameter is too small, a custom-built 10EX model is also offered for milling blanks that are greater than 1000 mm (39") in diameter.
Immensely flexible in their manufacturing capabilities, EX Series rotor milling machines are equally efficient at producing highly complex components with helical screw profiles as they are when being used to mill gear parts such as worm shafts. Engineered for complete integration with automated parts handling systems, all EX Series machines deliver class-leading performance, reliability and repeatability, and benefit from advanced technologies such as on-machine probing and dry milling techniques for certain materials.
PTG. The first name in precision
Incorporating the brands of Holroyd, PTG Powerstir Friction Stir Welding and Holroyd Precision Rotors, PTG has established itself at the forefront of high-precision machine tool design, build and supply for specialised applications. The range includes advanced machine tools for the production of complex helical components such as compressor rotors, pump screws and high-accuracy gears, and Powerstir machine tools for friction stir welding advanced alloys used in transport applications. With production facilities in the UK, USA and China, Holroyd Precision Rotors manufactures the special purpose, ultra-precision helical components used in a wide range of industries, including refrigeration, air-conditioning, gas and vacuum pumping, industrial air handling, aerospace, medical equipment, motion control, power transmission, power generation, oil & gas, fluid transfer and high-end automotive. PTG also provides advanced technical consulting services.